Reflections and Advice:
1.) What do you think makes your school unique relative to other boarding schools?
Milton effortlessly straddles two ideals in boarding school education: offering a nurturing home away from home for students while at the same offering a great amount of independence. No matter what you want to do at Milton, the ENTIRE community (students, faculty, administration) will get behind you and make sure that you succeed. One example of this independence on a day-to-day level is our lack of a formalized dress code. Faculty and administration trust students to make their own decisions about what is appropriate to wear to school, and students respect this trust. Milton really values the ability of its students to make the right decision on their own.
2.) What was the best thing that happened to you in boarding school?
Leaving Milton, I really think, more than anything, that I learned how to learn. More than just any individual facts, Milton teaches its students how to think critically and how to study--it is incredible preparation for later in life/college.
3.) What might you have done differently during your boarding school experience?
I would have definitely signed up for more outdoor program trips and for the fitness program (Darlings). These are just incredible programs to have access to in high school and for free, and I regret not taking advantage of them as I should have.
4.) What did you like most about your school?
As noted, I loved the trust the school had in me. When I wanted to organize an event, they would get behind me 100%, whether through attendance or financial support or anything else they could do. Milton let me be an independent thinker and all-around person. That is a very unique quality in a school.
5.) Do you have any final words of wisdom for visiting or incoming students to your school?
Some students dislike Class IV English, but you should come into your freshman year ready to love the class. All of the English teachers are incredible and by the end of your time at Milton, you will truly have learned to write. Much of the foundations of good writing are taught in Class IV English: take advantage of the class.
Academics:
1.) Describe the academics at your school - what did you like most about it?
Most of the academics at Milton use the Socratic method, with the belief that the things we learn from our peers through discussion will be far more valuable to us than a list of facts from a straight lecture. Teachers here talk with students, not at them. They are always available for extra help and take a real interest in their students. No student graduates Milton without a close friendship (yes, friendship) with at least one faculty member (generally more). The school recognizes that we are all equally involved in the learning process, and my education was that much greater as a result.
Athletics:
1.) Describe the athletics at your school - what did you like most about it?
Athletics at Milton are incredibly deep, with just about every sport offered on three levels: Varsity, JV, and Freshman. This depth ensures that anyone who wants to play, can play. Most JV teams have no cuts, so even casual athletes can experience the fun of representing their school while competing around the ISL. Our varsity teams are always among the most competitive in the ISL. At the same time, our athletes are not just "athletes" they are poets and dancers and straight A students. Everyone at Milton is involved in multiple pursuits; that's what makes our school so special and our students so multi-dimensional.
Art, Music, and Theatre:
1.) Describe the arts program at your school - what did you like most about it?
Our arts programs are unparalleled, with opportunities for every level of involvement. We have orchestra, chamber orchestra, glee club, chamber singers, and a jazz program, many of which tour around Europe and South Africa every other year. We also have four a cappella groups and gospel choir, as well as a bimonthly open-mic night for all students. Our theater program puts on at least three plays every season (with a musical and Freshman play every fall) and allows everyone to get involved. We have lots of great visual artists, too, and dozens of credit classes offered at every level for visual arts, music, and theater.
Extracurricular Opportunities:
1.) Describe the extracurriculars offered at your school - what did you like most about it?
Milton has literally dozens and dozens of extracurricular offerings, from political clubs to cultural affinity groups to current issues clubs. We have a student government (SGA) with elections twice a year, a student activities association also with elections, and an athletic association. We also have full time Community Service and Outdoor programs. The former will help you find a volunteer opportunity during a free period and will arrange for free transport to that location, every week. The latter has frequent weekend trips around New England, with all of the equipment provided for.
Dorm Life:
1.) Describe the dorm life in your school - what did you like most about it?
There are eight dorms on campus (four boys, four girls), each making up its own family of students. Most students leave Milton feeling like they have thirty new brothers or thirty new sisters--the school really does a great job of fostering a sense of community within the dorms. There are tons of activities each weekend and as Milton is just twenty minutes outside of Boston, you will never be bored.
Dining:
1.) Describe the dining arrangements at your school.
Most of the dining exists through one central dining hall, Forbes, where lunch is served to all students, both Day and Boarding, as well as faculty and staff and dinner/breakfast for boarders. There are also dining halls in Millet (serving three dorms) and Goodwin (serving two). The food quality is actually pretty great and the offerings are really diverse (rarely will the same meal appear twice in one month). Every lunch, you can choose from multiple hot lunch options, the salad bar, the sandwich bar (and four panini makers), two soups, homemade bread, bagels, peanut butter/jelly, two desserts, and ice cream.
Social and Town Life:
1.) Describe the school's town and surrounding area.
Milton's campus is itself beautiful and is located within a beautiful and prosperous town. The Town of Milton is located just minutes from downtown Boston, but could be mistaken for a classic small New England town somewhere in New Hampshire or Vermont. Relations between the school and the town are very good on the whole, and there are many outside opportunities to participate in throughout the town.
2.) Describe the social life at your school - what did you like most about it?
I love that the social life at Milton is so diverse and mixed. There are no cliques, boarders and day students integrate easily, and there is just very little social pressure--everyone wants to friends with everyone else. Our school community is incredibly supportive of one another, and you will frequently see your friends come out to support you at your play, just as you would go watch there game.
Daily Schedule:
Weekday
Weekend
9:00 AM
Breakfast in Forbes
Milton has an impressive dedication to the collaborative learning process. The Harkness table is a stalwart of the school and something I am deeply appreciative of.. . .
Milton is unique primarily due to the major emphasis on discussion in many classes through the harkness table method. This is prevalent in English and history classes. The organization of the student center allows for. . .
Milton Academy is a pretty racially diverse school. We don't really have social hierarchies. Our location is very convenient, and our grass is always green and healthy.. . .
Show more reviews (

5 reviews

)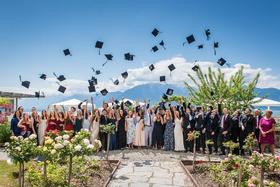 Nurturing Futures: A Journey through Boarding at Haut-Lac School in Switzerland
Nestled in the hills overlooking Lake Geneva in the French-speaking part of Switzerland lies an educational gem that embodies a unique blend of academic excellence, cultural richness and a profound sense of community. Founded over 30 years ago, Haut-Lac International Bilingual Day and Boarding School is now home to both 600 day students and a maximum of 30 boarders from around the world.
What To Wear at Your Job Interview
Navigating job interviews can be stressful, but knowing what to wear shouldn't be. Our comprehensive guide covers the essential dress code tips for men and women interviewing at boarding schools. Make your first impression count with style and professionalism.
Navigating the Modern Maze: Emerging Challenges for Boarding Schools
Explore the pressing challenges facing boarding schools, from marketing difficulties and rising insurance costs to facility maintenance and recruitment of competent trustees and teachers. This article delves into these complex issues and proposes innovative strategies to overcome them.