Reflections and Advice:
1.) What do you think makes your school unique relative to other boarding schools?
Milton Academy is a pretty racially diverse school. We don't really have social hierarchies. Our location is very convenient, and our grass is always green and healthy.
2.) What was the best thing that happened to you in boarding school?
I think I've become more eloquent. Having Harkness table discussions in class has taught me to flush out my ideas clearly and properly in front of others. I have also become way more independent. I've learned how to cook for myself, do my own laundry, clean my own room, and take care of myself etc...
3.) What might you have done differently during your boarding school experience?
I would advise kids going to boarding school to really be bold and try new things. When I first came here, I had no clue what step was, but I decided to audition. And I must say that I absolutely LOVED being a part of the step team over my 3 years at Milton. I loved performing during prep rallies.
4.) What did you like most about your school?
The teachers. The teachers here are SO PASSIONATE about teaching and genuinely care about your progress. They really want you to improve, and will devote as much time as needed to help you.
5.) Do you have any final words of wisdom for visiting or incoming students to your school?
The omlettes on the weekends in the Eliot dining hall are pretty good. Our magic bars also taste incredibly delicious!Check out Pritzker, the science building! I think it's the most beautiful building on campus because it's a glass building.
Academics:
1.) Describe the academics at your school - what did you like most about it?
Milton does not have a cut throat environment; it has a very supportive environment.I loved how the teachers are always very helpful, and always tell you to meet with them if you need any help. Teachers are also very understanding, and will grant you extensions for major assignments/assessments if you are swamped. I also love our classroom discussions and hearing the perspectives of peers of different backgrounds.
Athletics:
1.) Describe the athletics at your school - what did you like most about it?
To fulfill PE requirement, underclassmen are required to participate in all 3 seasons of athletics while upperclassmen are required to participate in only 2 seasons of athletics.I was on the varsity girls' volleyball team. Our team had a lot of spirit. We had team outings to ice-cream places and spirit days on which we wear weird/crazy costumes. My favorite spirit day theme was scrubs. The JV girls' volleyball team and the varsity team are also really close. We cheer for them during their games, and they make us posters whenever we have big games.
Art, Music, and Theatre:
1.) Describe the arts program at your school - what did you like most about it?
I was in the winter dance concert. The winter dance concert is a HUGE thing at Milton. The tickets sold out really quick-- everyone wants to come support their friends. Although we had dance rehearsals on the weekends, it was a lot of fun. I met so many new people through dance, and I'm proud to say that most of my best friends from high school participated in the dance concert too. I especially loved how students could choreograph. It was really cool being in a dance that my friends choreographed.
Extracurricular Opportunities:
1.) Describe the extracurriculars offered at your school - what did you like most about it?
There are a wide range of extracurricular opportunities available at Milton, like Conservative club, chess club, math team, hip hop club, or community service opportunities. There is definitely something for EVERYONE at Milton. And if the extracurricular is not already offered, then you can easily start a new club or request to start a particular extracurricular at Milton. We have many cultural groups on campus, and I was the board member of Asian Society. It was fun helping to plan out activities and events for the club. My favorite club event was the Chinese New Year celebration. On the first day of Chinese New Year, Asian students get a day off and we all gather in one of the dorms. We watch Asian TV movies, play mahjong and cards, wrap dumplings, and eat copious amounts of food. The highlight of the event is probably getting a red packet from our Asian Society faculty advisor-- Ms. WuWong.
Dorm Life:
1.) Describe the dorm life in your school - what did you like most about it?
Milton has eight dorms, four girls and four boys. Every boarder stays in the same dorm all four years. Room set-ups depend on the dorm. I loved and still love my dorm--Millet-- since "Once a Millet girl, forever a Millet girl." All the girls in my dorm are like my sisters. I love all our dorm traditions, like Cakes for Flakes where we split up into advisory groups and try to cut as many paper snowflakes as possible and the winner gets cake. I also love the night before we go on Winter Break because we have boarder dinner where everyone dresses nicely and we all have good food. After that, we unwrap our final secret Santa gifts and also listen to the boys from the boys' dorm carol to us.
Dining:
1.) Describe the dining arrangements at your school.
There are 3 dining halls at Milton. The main dining hall where we have lunch is called Forbes. There are a lot of options at Milton's dining halls. When I first came here as a sophomore, it was when they added a new froyo machine. My personal favorite is the salad bar and sandwich bar/panini machine.For boarders, we have required sit-down dinners every Monday, Tuesday, and Thursdays from 6-6:30 where we eat with our dorm-- it is a great way to unwind after a long day by talking to our dorm-mates.
Social and Town Life:
1.) Describe the school's town and surrounding area.
There is a Tedeschi's nearby-- a 10 minutes walk. There is a huge mall called the Southshore mall which has everything you would possibly need; it is around a 15-minute drive away. There is also an outdoor strip mall called Legacy Place which has a Whole Foods; it is around a 20-minute drive away.Boston is also super close to Milton. Without traffic, it is only 25 minutes away by car.Milton has a super convenient location. It has its own peace and quiet since its in a town but is also pretty close to the city center.
2.) Describe the social life at your school - what did you like most about it?
At first, I was afraid that I wouldn't make any friends because I was Asian and people would look down upon me because of my race. However, it was totally not the case. People at Milton are really friendly.Also, there is a pretty good amount of mixing between grades. Many of my friends are from different grades.
Milton has an impressive dedication to the collaborative learning process. The Harkness table is a stalwart of the school and something I am deeply appreciative of.. . .
Milton is unique primarily due to the major emphasis on discussion in many classes through the harkness table method. This is prevalent in English and history classes. The organization of the student center allows for. . .
Milton Academy is a pretty racially diverse school. We don't really have social hierarchies. Our location is very convenient, and our grass is always green and healthy.. . .
Show more reviews (

5 reviews

)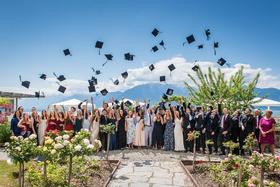 Nurturing Futures: A Journey through Boarding at Haut-Lac School in Switzerland
Nestled in the hills overlooking Lake Geneva in the French-speaking part of Switzerland lies an educational gem that embodies a unique blend of academic excellence, cultural richness and a profound sense of community. Founded over 30 years ago, Haut-Lac International Bilingual Day and Boarding School is now home to both 600 day students and a maximum of 30 boarders from around the world.
What To Wear at Your Job Interview
Navigating job interviews can be stressful, but knowing what to wear shouldn't be. Our comprehensive guide covers the essential dress code tips for men and women interviewing at boarding schools. Make your first impression count with style and professionalism.
Navigating the Modern Maze: Emerging Challenges for Boarding Schools
Explore the pressing challenges facing boarding schools, from marketing difficulties and rising insurance costs to facility maintenance and recruitment of competent trustees and teachers. This article delves into these complex issues and proposes innovative strategies to overcome them.