Reflections and Advice:
1.) What do you think makes your school unique relative to other boarding schools?
While at Brewster I really enjoyed being on a spacious campus. I have attended other boarding schools, where everything was tight and compact. At Brewster I had a feeling of freedom because of the beautiful campus. Especially with the lake being only a few feet away. My favorite thing about BA was the teachers' desire for us to learn; there were always countless opportunities for us to get extra help if we needed it, because our teachers were dedicated to us.
2.) What was the best thing that happened to you in boarding school?
My favorite memory of graduating from Brewster was the actual graduation. Not because I was ready to leave but accomplishing a goal that my whole senior class aimed for. It was very special to graduate with people who I have built life long relationships with. As well as seeing how proud our teachers and coaches were for us all. We went through the year as a family and tight community, and we got to feel the benefits of all of our hard work together as a family. It was a great feeling.
3.) What might you have done differently during your boarding school experience?
My advice to kids going to boarding school for the first time would be to create and cherish as many relationships as you can; because although you may see it as "corny" right now, these times will soon be some of the best memories of your life.
4.) What did you like most about your school?
I like the I never felt alone at Brewster, I was always fully aware that any type of help i would ever need is right under my nose.
5.) Do you have any final words of wisdom for visiting or incoming students to your school?
The cheese steaks at the snack bar are amazing. There's nothing better than living in the Quad!
Academics:
1.) Describe the academics at your school - what did you like most about it?
The teachers' dedication and enthusiasm for us to learn was always my favorite part of learning at Brewster. While I was at BA, I found the teachers' persistence to be annoying, but as time went on and I began to get good grades constantly, I realized that it was the best thing they could have done for me. I appreciate that time in my life.
Athletics:
1.) Describe the athletics at your school - what did you like most about it?
What I liked most about the Basketball program was definitely the community support we got from everyone. During my time at BA, we sometime won basketball games on the backs of our student body and our community. There is nothing like having your community being apart of your team during games, and actually winning-- as a team.
Art, Music, and Theatre:
1.) Describe the arts program at your school - what did you like most about it?
The arts were fun with Mr. Hodges in the computer lab.
Extracurricular Opportunities:
1.) Describe the extracurriculars offered at your school - what did you like most about it?
There were always opportunities for us to do things like trips to Walmart, and other things.
Dorm Life:
1.) Describe the dorm life in your school - what did you like most about it?
What I liked about dorm life was the family atmosphere living in the dorm promoted. From the roommates to the dorm parents, we were always together. Living in the dorms enabled me to mature into a responsible young adult.
Dining:
1.) Describe the dining arrangements at your school.
My favorite part of dining was the buffet style serving, I was never hungry and I could always have as much as I could eat.
Social and Town Life:
1.) Describe the school's town and surrounding area.
The town was kind and quiet. The lake and nearby restaurants were always a favorite.
2.) Describe the social life at your school - what did you like most about it?
The social life was nice at BA. Though everyone came from different states and other parts of the world, BA always promoted a feeling of being one Brewster family.
Daily Schedule:
Weekday
Weekend
The biggest thing that makes Brewster unique is the location. Brewster is located right on the water front of Lake Winni, and directly in the center of the town of Wolfeboro. Students are able. . .
Being in a small town located on a lake (the only Lakes region boarding school that was on a lake may I add) made our school not only unique but also gorgeous. Our classes. . .
Going to boarding school was arguably one of the best decision that my parents and I made. While going away from home was hard at first, I soon integrated into the high school community. By. . .
Show more reviews (

7 reviews

)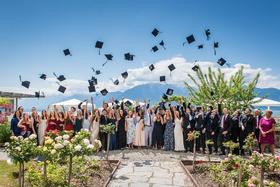 Nurturing Futures: A Journey through Boarding at Haut-Lac School in Switzerland
Nestled in the hills overlooking Lake Geneva in the French-speaking part of Switzerland lies an educational gem that embodies a unique blend of academic excellence, cultural richness and a profound sense of community. Founded over 30 years ago, Haut-Lac International Bilingual Day and Boarding School is now home to both 600 day students and a maximum of 30 boarders from around the world.
What To Wear at Your Job Interview
Navigating job interviews can be stressful, but knowing what to wear shouldn't be. Our comprehensive guide covers the essential dress code tips for men and women interviewing at boarding schools. Make your first impression count with style and professionalism.
Navigating the Modern Maze: Emerging Challenges for Boarding Schools
Explore the pressing challenges facing boarding schools, from marketing difficulties and rising insurance costs to facility maintenance and recruitment of competent trustees and teachers. This article delves into these complex issues and proposes innovative strategies to overcome them.