Reflections and Advice:
1.) What do you think makes your school unique relative to other boarding schools?
Going to boarding school was arguably one of the best decision that my parents and I made. While going away from home was hard at first, I soon integrated into the high school community. By the time I graduated, I was extremely attached to Brewster, its teachers, and my fellow students. Thinking back, Brewster was such a great fit for two reasons. First of all, the teachers really work together to make you succeed. This may be frustrating as someone who wants to fly under the radar but I really appreciated by the time I graduated, as it made me realize and be my best self. On top of the teachers working together, they play many different roles at school. Your science teacher may be your dorm parent who may be your crew coach. That allows you to form bonds with them as you get to know teachers on various levels.
2.) What was the best thing that happened to you in boarding school?
I owe so much of my college-readiness to Brewster. I grew academically and socially at high school but really, the best thing that happened there was the friends that I made and the independence I gained. I actually ended up earning the award for service learning at graduation which was amazing to me, as that wasn't something that I had originally cared about as a freshman but then learned the importance of it through the years.
3.) What might you have done differently during your boarding school experience?
I know this is easier said than done but I would have been more outgoing and less nervous. I would have made a point to get involved earlier and would have also prepared myself more for the winter.
4.) What did you like most about your school?
I love the people. The teachers and students are amazing. That doesn't mean that it is perfect, nowhere is perfect. But you get to carve out relationships that will last way past graduation. You also learn a lot of skills that one uses and develops in college. For example, I was able to build relationships with my professors where other peers, from various day schools, felt uncomfortable going to office hours their freshman years of college.
5.) Do you have any final words of wisdom for visiting or incoming students to your school?
Definitely stop by Westlake and make sure to grab sandwiches, slush puppies, and snacks from the Three Sisters with friends from your dorms. I would say to definitely be prepared for the winter you are going to face if you're from somewhere warm. All the dorms have different pros and cons but be honest on the dorm survey as this will dictate where you'e going to live and who you will live with. Finally, be flexible and open to new experiences. Your life will change when you get to Brewster but if you come at it with the right attitude, it will change for the better.
Academics:
1.) Describe the academics at your school - what did you like most about it?
I learned to love academia at Brewster Academy. Along with standard grading, teachers watch to make sure you are also reaching basic competency in classes. This leads to what level you are placed in (foundational, standard, and accelerated). If you are really strong in one subject, you will be placed in accelerated standing where tests and subject matter are a little more advanced. However, if you are struggling in another class, you may be put on the foundational level where you receive a little extra support and emphasis is put on the more basic concepts. Regardless of what level you are on, you are placed in class with people of other levels so you can either help, or receive help, from your peers.The teachers are enthusiastic and seem excited to teach you, regardless of where you stand. The only thing I struggled with was that sometimes it seemed harder to be more challenged if you started in a lower level but really, as long as you communicate with your teachers, they are willing to hear you out on problems like that.There is also an IS, instructional support class, that you can be with. These classes are either one-on-one with a teacher or one teacher and two students. This can be great as you get the individual support on academic and personal levels with that still being part of the mainstream program. I did become frustrated my senior year, as I had less of a need for IS, but that is when my teacher and I decided I did not need the program anymore and I was able to drop the class.
Athletics:
1.) Describe the athletics at your school - what did you like most about it?
I liked learning what it meant to be part of a team. It was fun to bond with my peers on that level but then also be able to come back to the dorms and hang out with my teammates. I did feel like sometimes Brewster was overly focused on interscholastic sports which left those with different interests feeling a bit left out. For example, you had to commit to at least one trimester of interscholastic sports a year unless you did art all three trimesters.
Art, Music, and Theatre:
1.) Describe the arts program at your school - what did you like most about it?
I loved being involved in the drama program and the choir. This allowed me to make some of my closest friends and it also forced me to push myself outside of my comfort zone. It was frustrating as the arts get much less funding and all around attention than sports do. However, the art teachers are dedicated and will help you reach whatever goals you may have, whether that is having fun or something more advanced.
Extracurricular Opportunities:
1.) Describe the extracurriculars offered at your school - what did you like most about it?
I loved the different opportunities that you could seek out as a student. This allowed me to learn new skills and branch out on different levels. For example, I tried debate having never done it before and discovered that I loved it. It also allowed me to pursue my passions, just how I did in the environmental club.
Dorm Life:
1.) Describe the dorm life in your school - what did you like most about it?
I loved being in a dorm. I think that is part of what gave me so much independence. By the time I left for college, I was ready to go. There are pretty strict curfew and lights-out policies, as there are with boys coming into girls dorms and girls going into boys dorms. But when you are a senior, you do get more leeway with that. My biggest problem was the lack of transparency with the room selection process. Do keep in mind, that dorms are small so it allows for a lot of bonding but there is the possibility for drama, but drama happens at day school or at boarding school.
Dining:
1.) Describe the dining arrangements at your school.
I liked the food. There was always a selection, ranging from basic choices like peanut butter and jelly to more advanced choices like nice dishes made by the cook. The hours were pretty limited and there was options late at night in a snack bar, but then you had to spend your own money for that.
Social and Town Life:
1.) Describe the school's town and surrounding area.
I loved the town but it was pretty small and sometimes hard to find things to do, especially in the winter as its advertised as a summer resort, but that did make the students grow closer. There are restricted hours when you can go into town (after school hours and before curfew) unless you are a senior.
2.) Describe the social life at your school - what did you like most about it?
I liked the social life and gained friends but it can be hard to integrate into the community if you are not the most normal student. However, I learned that there is a place for everyone, it's just a matter of finding that place.
Daily Schedule:
Weekday
3:00 PM
Afternoon Activities (sports, arts, etc...)
6:00 PM
Free time - occasional optional activities
8:00 PM
dorm meeting, study hall, or free time *depends on status and day*
Weekend
12:00 AM
Check-in before 12:00 with teacher on duty
8:00 PM
Check in with Dorm parent
The biggest thing that makes Brewster unique is the location. Brewster is located right on the water front of Lake Winni, and directly in the center of the town of Wolfeboro. Students are able. . .
Most people are attracted to Brewster for the campus, but the community is worth so much more than the photographs. In all my years of education, I have never met faculty and staff so devoted. . .
Being in a small town located on a lake (the only Lakes region boarding school that was on a lake may I add) made our school not only unique but also gorgeous. Our classes. . .
Show more reviews (

7 reviews

)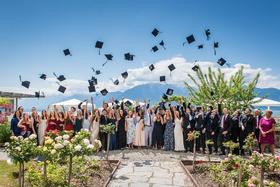 Nurturing Futures: A Journey through Boarding at Haut-Lac School in Switzerland
Nestled in the hills overlooking Lake Geneva in the French-speaking part of Switzerland lies an educational gem that embodies a unique blend of academic excellence, cultural richness and a profound sense of community. Founded over 30 years ago, Haut-Lac International Bilingual Day and Boarding School is now home to both 600 day students and a maximum of 30 boarders from around the world.
What To Wear at Your Job Interview
Navigating job interviews can be stressful, but knowing what to wear shouldn't be. Our comprehensive guide covers the essential dress code tips for men and women interviewing at boarding schools. Make your first impression count with style and professionalism.
Navigating the Modern Maze: Emerging Challenges for Boarding Schools
Explore the pressing challenges facing boarding schools, from marketing difficulties and rising insurance costs to facility maintenance and recruitment of competent trustees and teachers. This article delves into these complex issues and proposes innovative strategies to overcome them.