Brewster Academy - Review #3
About the Author:

College Enrolled
University of Alabama
Home Town, State (Country)
Topsfield, MA
Years Attended Boarding School
4
Activities During Boarding School
There was always something to do every weekend. Sometimes it would be dances (Both at Brewster and our neighboring boarding schools) , movie nights, and mall trips. We'd also have ski trips, pumpkin carving, cookie decorating. There was also an abundance of clubs, one for everyone! I was co head of the Polar Bear Plunge and every Wednesday Morning we'd jump in the lake at 6:30AM sharp!
Review

Description

Boston University

The biggest thing that makes Brewster unique is the location. Brewster is located right on the water front of Lake Winni, and directly in the center of the town of Wolfeboro. Students are able. . .

University of North Carolina

Most people are attracted to Brewster for the campus, but the community is worth so much more than the photographs. In all my years of education, I have never met faculty and staff so devoted. . .

University of Alabama

Being in a small town located on a lake (the only Lakes region boarding school that was on a lake may I add) made our school not only unique but also gorgeous. Our classes. . .

University of North Carolina at Chapel Hill

We have a beautiful view of the lake right as you drive onto campus where you have a clear view of the mountains and even a view of Gunstock. Along with the physical attributes of. . .

Siena College

Brewster's location and community makes it a special place compared to any other prep school in New England. With the lake bordering our athletic fields, and the mountains off in the distance, the opportunity to. . .

Show more reviews

(5

reviews)
April 20, 2018
Actually, there is no secret to getting your child into boarding school. Just a lot of hard work and a heavy commitment of time.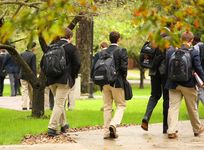 March 22, 2018
Some cynics think single-sex education is old-fashioned. The Kiski School shows how educating boys in a single-sex school is successful.
March 08, 2018
The wide range of fine academic, athletic, and other facilities found in boarding schools underscores the determination of schools to provide the very best for their students.