Reflections and Advice:
1.) What do you think makes your school unique relative to other boarding schools?
Being in a small town located on a lake (the only Lakes region boarding school that was on a lake may I add) made our school not only unique but also gorgeous. Our classes were tired by skill level: Accelerated, Standard, and Foundational so we were able to learn with our grade without being separated. At the Academy we also had levels of "freedom" by statuses. If you were JBS you had no required study halls, could take as many nights out as you wanted (you must be in the dorm by 11 P.M), and access to a quiet study lounge. Regular status required you to be in your dorm for 8-10 study hall with one night out. Finally, Off Status meant you had to be in the Academic Building for study hall with no nights out. It was a very structured school that allowed students to work for freedom.
2.) What was the best thing that happened to you in boarding school?
I have grown so much as a person from being at Brewster. Starting as a freshman I was so quiet and skittish you wouldn't recognize me today. People used to forget I was even there I was so quiet, but now I have full conversations with complete strangers. I have grown so much as a person in the past years and I can't help but to thank Brewster
3.) What might you have done differently during your boarding school experience?
I probably would've gotten more involved with the town. There was always things to do and ways to volunteer in the town and I wish I did more.
4.) What did you like most about your school?
I loved the campus, it was so beautiful. There was a bell tower that made the campus seem so much more alive and makes you remember how blessed you are to be at a place like Brewster.
5.) Do you have any final words of wisdom for visiting or incoming students to your school?
When you go to the Bob Cat Den under Esta (our dining hall) get an oreo milkshake. Bonus points if you can grab one before your afternoon art activity (If you're not playing a sport that semester). Also, they're just as good in the winter and perfect currency if you don't to leave your dorm to print out a paper.
Academics:
1.) Describe the academics at your school - what did you like most about it?
The Academics were as challenging as you made them. We had a 3 tiered system so if you weren't so good in math you'd be foundational, if you were really awesome in history you'd be in Accelerated, and if you were average in English you'd be standard. The teachers would give us an appropriate workload for each class that wouldn't overload us but still push us to do our best.
Athletics:
1.) Describe the athletics at your school - what did you like most about it?
We had amazing athletics at our school. All of our teams were highly competitive so every game was super fun to watch with friends. We had Lacrosse, basketball, field hockey, tennis, soccer, and every field sport any other school would have (except football). But since we had a lake we also had water sports like crew/rowing and sailing. But even though the lake froze over in the winter we still used it for our annual Alumni vs student hockey game which was held on the lake with hot coco and warm treats in the boat house which overlooked the lake.
Art, Music, and Theatre:
1.) Describe the arts program at your school - what did you like most about it?
Our arts program was not as strong as our sports, however they still had strong suits. We most recently renovated our chapel for all schools, our weekly school meetings. We now use this stage for our theater department. All of our teachers in the arts have real world experience and a love for their subject that they share with both art inclined and beginner students.
Extracurricular Opportunities:
1.) Describe the extracurriculars offered at your school - what did you like most about it?
I always loved how people found clubs. It wasn't only chess clubs, photography clubs, and newspaper. We had silly clubs too. There was one club that never truly met but they were deemed the bow tie club. Every Friday they would all wear bow ties because it broke from the normal dress code while not breaking any rules, a teacher came up with this club to make friday's fun.
Dorm Life:
1.) Describe the dorm life in your school - what did you like most about it?
I loved my dorms, every year without a doubt. You always had a friend in your dorm that you could have fun with. There was communal bathrooms, a fridge for everyone to use, as well as a microwave. On the weekends you were able to sleep at other peoples dorms (of your own gender) with proper permission. If you were an upper classman you were allowed into the common room of the upperclassmen dorms of both gender, but no going in rooms of the opposite sex. If you ever had a problem with your roommate or dorm they were very understanding and would try to figure out the best course of action.
Dining:
1.) Describe the dining arrangements at your school.
The dining was okay, it was cafeteria food so it was either a hit or miss. If was really that bad there were options available like sandwiches, soups, and cereals. The cookies however are school wide famous, you'd have to try them to understand why we'd sneak extras to eat in class.
Social and Town Life:
1.) Describe the school's town and surrounding area.
Wolfeboro is probably the cutest towns I've ever seen. There was so many cute little shops and restaurants to go to on the weekends or during free blocks during the day. We also had a dunkin donuts and a rite aid, but those were the only chain stores in town. The town is extremely safe and if something happens that could put the students at risk Brewster was very quick to act in alerting students and teachers.
2.) Describe the social life at your school - what did you like most about it?
You find your friends extremely fast. This is a small boarding school so you know everyone. Everyone is relatively nice to each other, I'd be lying if I said everyone got along but no one truly went out of their way to be nasty to each other. The social life is a very active and inclusive one where everyone is if not best friends they are at least friendly.
The biggest thing that makes Brewster unique is the location. Brewster is located right on the water front of Lake Winni, and directly in the center of the town of Wolfeboro. Students are able. . .
Being in a small town located on a lake (the only Lakes region boarding school that was on a lake may I add) made our school not only unique but also gorgeous. Our classes. . .
Going to boarding school was arguably one of the best decision that my parents and I made. While going away from home was hard at first, I soon integrated into the high school community. By. . .
Show more reviews (

7 reviews

)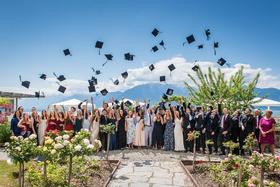 Nurturing Futures: A Journey through Boarding at Haut-Lac School in Switzerland
Nestled in the hills overlooking Lake Geneva in the French-speaking part of Switzerland lies an educational gem that embodies a unique blend of academic excellence, cultural richness and a profound sense of community. Founded over 30 years ago, Haut-Lac International Bilingual Day and Boarding School is now home to both 600 day students and a maximum of 30 boarders from around the world.
What To Wear at Your Job Interview
Navigating job interviews can be stressful, but knowing what to wear shouldn't be. Our comprehensive guide covers the essential dress code tips for men and women interviewing at boarding schools. Make your first impression count with style and professionalism.
Navigating the Modern Maze: Emerging Challenges for Boarding Schools
Explore the pressing challenges facing boarding schools, from marketing difficulties and rising insurance costs to facility maintenance and recruitment of competent trustees and teachers. This article delves into these complex issues and proposes innovative strategies to overcome them.