Reflections and Advice:
1.) What do you think makes your school unique relative to other boarding schools?
Berkshire's small, intimate size is an asset that makes its unique, community-based mission possible. Faculty interact with students in all aspects of school life, whether it be on the playing field, in the classroom, in the dorm, or informally at meals. The bond forged between faculty and students goes far beyond the traditional, one-dimensional academic relationship. Teachers get to know students in more ways than just in the classroom, and this enables them to extend education out of the classroom and reach out to students in extremely meaningful ways.
2.) What was the best thing that happened to you in boarding school?
The best thing that happened to me at Berkshire might have been the day I got into college. Of course my advisor and college counselor were happy, but other teachers that I didn't even have seemed to know about it. It was then that I realized how integrated the school community actually was.
3.) What might you have done differently during your boarding school experience?
I would have gotten involved in my extracurricular activities. Looking back on it, there are some that I wish I could have done. So my advice would be to start early and do as many as you can.
4.) What did you like most about your school?
The relationships I formed were the best part of my experience. With faculty: I was able to become more mature in dealing with adults and seeing how they treat you with respect when you work hard. With friends: there were so many students from so many walks of life and I felt privileged to learn so much about them.
5.) Do you have any final words of wisdom for visiting or incoming students to your school?
Sean's Place is the snack bar located in the student center. Buffalo chicken wraps and oreo milkshakes are the favorites. A word of advice: get on good terms with the man who works there, Ruben, because he will be generous with your food.
Academics:
1.) Describe the academics at your school - what did you like most about it?
Berkshire's academics are rigorous. The course offerings are diverse and there are many AP classes offered. I found myself challenged and prepared for the work in college. Though the faculty challenge students, there are many opportunities for students to seek extra help with their teachers. It is clear that they want their students to do well and they help do that any way that they can. The Academic Support Program offers additional resources as well. This is what I liked best: that I could be challenged yet know that teachers were there to help.
Athletics:
1.) Describe the athletics at your school - what did you like most about it?
The athletic program is one of the best in New England. I played three sports and in all three competed with some of the country's best teams. In my time I reached the playoffs in all three sports and reached the New England Championship in one. All of my coaches prepared me well to play at the next level in college. Athletics are mandatory, but that is often misinterpreted. There are several non-athletic options that a student can do.
Art, Music, and Theatre:
1.) Describe the arts program at your school - what did you like most about it?
Since I left Berkshire, the performing arts have moved to new, state of the art facilities. They have all been a part of the greater school community, with student art exhibitions, plays, and performances at various points in the school year.
Extracurricular Opportunities:
1.) Describe the extracurriculars offered at your school - what did you like most about it?
There is a wide range of extracurriculars on campus. One of the most unique activities is the Maple Syrup Club. Berkshire has its own sugar shack and boils its own maple syrup.
Dorm Life:
1.) Describe the dorm life in your school - what did you like most about it?
The administration does not banish all of the freshman to their own dorm. Most dorms are mixed with students of all classes and I liked that very much. As a freshman it gives you the opportunity to befriend students outside of your own class. And as a senior it lets you mentor younger students.
Dining:
1.) Describe the dining arrangements at your school.
The dining hall is open three times per day. Most meals are cafeteria style During the fall and spring one dinner per week is formal, which means that students wear classroom dress, meals are served family style, and a teacher is present at the table. Wednesday lunch is with the advisee group and the advisor. Overall the food is good, offering several hot options, bagels, salad bar, cereal, and sandwiches.
Social and Town Life:
1.) Describe the school's town and surrounding area.
The surrounding area is fairly rural, but Sheffield's downtown section is five minutes away and Great Barrington is about ten minutes away. There are movie theaters, stores, and restaurants there.
2.) Describe the social life at your school - what did you like most about it?
Social bonds are forged in all aspects of student life. Whether it is on a sports team, in the dining hall, or around the dorm, students are able to connect in several different ways. Due to the small community, it is possible for students to get to know a wide range of the student body well.
Daily Schedule:
Weekday
Weekend
During my three years at Berkshire, I was able to take advantage of many unique opportunities that other boarding schools just did not offer. For example, I was able to attend The Island School during. . .
One unique aspect of a boarding school could be its integration of technology and innovative teaching methods. The school might have a strong focus on incorporating technology into the learning process, using interactive educational tools. . .
Every year at Berkshire School, the school holds a Pro Vita week. During this week, students get to take classes that vary from their typical classes. These classes span from learning how to cook sustainability. . .
Show more reviews (

15 reviews

)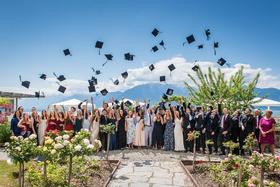 Nurturing Futures: A Journey through Boarding at Haut-Lac School in Switzerland
Nestled in the hills overlooking Lake Geneva in the French-speaking part of Switzerland lies an educational gem that embodies a unique blend of academic excellence, cultural richness and a profound sense of community. Founded over 30 years ago, Haut-Lac International Bilingual Day and Boarding School is now home to both 600 day students and a maximum of 30 boarders from around the world.
What To Wear at Your Job Interview
Navigating job interviews can be stressful, but knowing what to wear shouldn't be. Our comprehensive guide covers the essential dress code tips for men and women interviewing at boarding schools. Make your first impression count with style and professionalism.
Navigating the Modern Maze: Emerging Challenges for Boarding Schools
Explore the pressing challenges facing boarding schools, from marketing difficulties and rising insurance costs to facility maintenance and recruitment of competent trustees and teachers. This article delves into these complex issues and proposes innovative strategies to overcome them.