Reflections and Advice:
1.) What do you think makes your school unique relative to other boarding schools?
Berkshire's campus in unparalleled. The pristine architecture fits into the pristine beauty of the surrounding mountains beautifully.
2.) What was the best thing that happened to you in boarding school?
The best thing at Berkshire was my friends and my superb teachers. I made honor roll every semester and won an award in journalism upon graduation. I wouldn't change my experience at Berkshire for anything!
3.) What might you have done differently during your boarding school experience?
My advice would be to connect with the faculty as much as possible. Over 10 years later, I am still in contact with a few of the faculty I became close to. The teachers are wonderful and it is great to form real bonds with them.
4.) What did you like most about your school?
The teachers, the classes, the liberal atmosphere, the campus, the mountains, the activities, the dorms, going to Great Barrington, the mountains.
5.) Do you have any final words of wisdom for visiting or incoming students to your school?
Definitely explore the mountains as much as possible. There is great hiking, and it is beautiful. The hike to black rock is especially great.
Academics:
1.) Describe the academics at your school - what did you like most about it?
The class sizes are small and you get personal attention from the teachers and always a chance to have your voice heard. The teachers are always available outside of class with flexible schedules to meet about work if you have any questions or need any guidance.
Athletics:
1.) Describe the athletics at your school - what did you like most about it?
Not being an athlete, I liked that I was able to pursue after-school activities that suited my interests more such as theatre, art, music, and independent study.
Art, Music, and Theatre:
1.) Describe the arts program at your school - what did you like most about it?
I loved being in the Jazz band at Berkshire. I also took part in the amazing theatre program and took as many art classes as possible. All of them were great, and all the teachers were amazing.
Extracurricular Opportunities:
1.) Describe the extracurriculars offered at your school - what did you like most about it?
I liked the most that they catered to my interests and that they were fun!
Dorm Life:
1.) Describe the dorm life in your school - what did you like most about it?
I loved connecting with and making unexpected friends within my dorm. I also had an incredible roommate who became one of my best friends for life, and the dorm buildings and dorm rooms are spacious and amazing.
Dining:
1.) Describe the dining arrangements at your school.
There was good food, many options, vegan and vegetarian options, and a beautiful dining hall.
Social and Town Life:
1.) Describe the school's town and surrounding area.
Great Barrington is an incredible place. I took every possible opportunity to go there. There are numerous quaint boutique shops, amazing food, and a beautiful river walk.
2.) Describe the social life at your school - what did you like most about it?
Over ten years after graduating my some of my very best friends are from Berkshire. Growing up together, we were more like siblings.
During my three years at Berkshire, I was able to take advantage of many unique opportunities that other boarding schools just did not offer. For example, I was able to attend The Island School during. . .
Every year at Berkshire School, the school holds a Pro Vita week. During this week, students get to take classes that vary from their typical classes. These classes span from learning how to cook sustainability. . .
A unique aspect of Berkshire School is its Advanced Math and Science Research program. Students work with the head of the program in Berkshire's lab and are also often mentored by faculty of labs around. . .
Show more reviews (

14 reviews

)
Mastering the Boarding School Selection Process: A 5-Step Guide
Discover the ultimate 5-step guide to choosing the perfect boarding school for your child. Explore essential factors, such as academics, campus facilities, extracurricular activities, and more. Make an informed decision to provide your child with an enriching and transformative educational experience. Read now!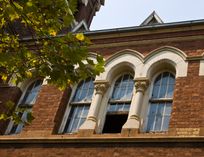 5 Founders and Their Boarding Schools
What prompts somebody to start a boarding school? The motives range from idealism to munificence right on through to capitalism. The common thread seems to be ample capital and a vision of what education can do.