Reflections and Advice:
1.) What do you think makes your school unique relative to other boarding schools?
For me, SMS is unique because it is truly a second home that anyone can be a part of. The sense of community also builds around the school motto, "As we grow in age, may we grow in grace." What really separates SMS from other boarding schools is that the school really shapes around the students and value their own uniqueness. Whenever I think of my graduated class, I immediately think of how different each individual is from each other and even how we came to SMS with different expectations, but by the time we all stood together on Graduation Day, our experiences at SMS proved to us that when we came together, we could achieve so much.
2.) What was the best thing that happened to you in boarding school?
The best thing that has happened to me in a small boarding school like St. Margaret's is that I was able to connect with friends, regardless of the grade, age, culture, personality, etc. I still keep in touch with my closest group of friends who are now in all different grades and living in different parts of the country and the world. I know that the friends that I made throughout my time at SMS are truly my sisters because even though I no longer physically see them every day, I know that the support system that we have for each other is just priceless. The strong sense of community at SMS is what I could have never asked for more from my four years of high school. Without the strong guidance from my advisor, the unconditional support from my friends, the valuable life lessons learned from different aspects of SMS, and the independent growth supported by the school mission and programs, I cannot become the young woman I am today.
3.) What might you have done differently during your boarding school experience?
I would strong encourage any first-year students to get involved on campus right away. It does not matter if students are native speakers or from foreign countries. What really matters is that first-year students are able to find their places at their new home-away-from-home, and the only way they can achieve this goal is to get involved as much as possible. The experience at a boarding school can only be as good as what you make out of it. Therefore, I suggest first-year students jump right in volunteer opportunities, social events, and even leadership positions.
4.) What did you like most about your school?
I like the people at SMS the most. I know that going so far away from home for high school was not easy for me, but I got through four years successfully because of the help and support from the people at SMS. Both teachers, especially my advisor and dorm counselors, and students are always willing to listen to me, give me the best advice, make me laugh, wipe away my tears, and teach me how I can always count on them. They are truly my role models because they motivate, give me honest criticism, and cheer me on so that I can always try my best in classes, on the dance floor, during a crew race, in the dorms, etc.When you are surrounded by so many wonderful young women and you are inspired to become the best person you can be, you know that you have found the true sisterhood and the true second home.
5.) Do you have any final words of wisdom for visiting or incoming students to your school?
Visiting or incoming students to SMS should ask about or be aware of different but all exciting traditions at SMS that really tie the students together as sisters and connect the students and faculty and staff. The swing by B-house is the best place to enjoy the beautiful view of the river or to simply start a fresh day. Even though I spent all four years living in Latane, I would encourage students to try out all three dorms during their time at SMS because each of them has different pros and cons and students can get to know different dorm counselors every year.
Academics:
1.) Describe the academics at your school - what did you like most about it?
I like how the academics at St. Margaret's School is designed uniquely for every student. In other words, two ninth-graders might not be in all of the same classes with each other. That way, each student has the chance to take classes that suit her best and push her to work up to her potential. From my own experiences, the work load was challenging at first; however, as time went on, I learned more and more about managing my time and getting used to good study habits. Honestly, the strong academics program at SMS prepared me so well for college. As an international student, I could have never asked for a better preparation for college. I remember being so confused the first time my English teacher went over citing sources for papers, and by the time I graduated, I had had so much practice that I am now more familiar with college-level writing than any of my American friends in college. In addition to writing, the skills that I learned from math and science courses at SMS make me feel confident in being a girl studying a male-dominated field of study in college.
Athletics:
1.) Describe the athletics at your school - what did you like most about it?
What I like most about the athletics program at SMS is the spirit of sportsmanship. The Varsity teams are strong in developing skills as well as building cooperative teams. Some sports are offered at the Junior Varsity level to those who never play those sports before. The daily schedule at SMS is well-planned so that athletes can balance between classes and sports. In addition, the facilities at SMS get better every year to support the athletes' needs. The Scotties (the school mascot) spirit is shown not only from soccer field, tennis court, to basketball court but also at every athletes banquet at the end of each trimester. Athletics program is another example of how the school works with every individual. Coming to SMS, I had never thought that I would be able to play any sports because I could not even pass the swim test my first year; however, the swim coach and the athletic director worked closely with me, so by the end of my senior year, I was able to not only successfully pass the swim test but also actively participate in my favorite sport, rowing.
Art, Music, and Theatre:
1.) Describe the arts program at your school - what did you like most about it?
The Visual Arts, Music, and Theater program gives students various opportunities to learn how to express themselves through arts. Even when I thought that I could not ever be creative, the visual and performing arts classes at SMS proved me wrong because they taught me how to let my creativity flow naturally. Also, I love how the arts program at SMS is meant to give back to the bigger community of Tappahannock. For example, the plays, dance performances, and visual arts shows are open to public. Every year, there is at least one visual art project that goes along with community service, from making wired birds out of beads for display at the local hospital to panting a life-sized Noah's Ark for children at the local church.
Extracurricular Opportunities:
1.) Describe the extracurriculars offered at your school - what did you like most about it?
At SMS, a small boarding and day school, almost every student can find at least one suitable extracurricular activity to participate in. Along with the variety of activities, I like how these activities are built on top of each other. That way, first-year students can always start with small positions and work up to larger positions with more responsibilities. However, even when students come in their junior or senior year, they can still step up as leaders and take on responsibilities. Another advantage of going to a small school is that students can always be involved without even being titled "leaders." As a church school, SMS encourages students to reach out and offers them with so many volunteer opportunities, whether on a weekend or a two-week mission trip during Minimester. Most importantly, students can always suggest new groups and activities because once again, the school shapes around its students.
Dorm Life:
1.) Describe the dorm life in your school - what did you like most about it?
What I like most about dorm life is how much I learned to be independent from my family. The residential program is created in a way so that each student is able to bring her uniqueness but at the same time make up a strong and bonded community. Different activities in the dorm and during Residential Meeting help students explore their self-identities and learn about others in the community who might come from a different state, country, cultural background, or even economic status. I definitely learned from those activities how to be accepting to myself and others around me. The dorm life also pushed me to go beyond my comfort zone, beyond my language barrier, and beyond my close group of friends. Had I stayed at home and been dependent on my parents, I would have never learned so many useful life lessons and met so many amazing girls who are now my sisters and life-long friends or so many dedicated dorm counselors who are now my supportive mentors.
Dining:
1.) Describe the dining arrangements at your school.
I especially like the round tables in the dining hall of SMS. Sitting at those round tables, each student can always feel like she is an inclusive part of a circle, a conversation, an argument, or a meeting. That way, students are encouraged to listen to one another as well as speaking up their own voices. The seated Advisor/Advisee or Peer lunches allow students to either update their advisors, bond with the rest of the advisee group, or just simply connect with different students and faculty.As far as the food goes, most of the time, the dining hall offers a variety of options, from cereal bar, salad bar, sandwiches to main courses that provide students with a lot of necessary nutrients. Also, students can make their own food with the waffle or stir fry bar.
Social and Town Life:
1.) Describe the school's town and surrounding area.
The town is small and safe with quite a few nice restaurants, coffee shops, and ice cream shops. Usually, on the weekends, students can always walk to town with friends to either buy a drink from Java Jack's or check out some cute shops along the way.In addition, the school campus is by the Rappahannock River which can be utilized for a lot of water activities in the fall and spring. Students have the opportunities to explore the nation's capital, Washington, D.C., which is only two and a half hours away, or to travel to Williamsburg and Jamestown to learn more about the history of Virginia. Also, a lot of shopping, outdoor, and culture trips in Richmond are offered on the weekends.
2.) Describe the social life at your school - what did you like most about it?
The best thing about going to an all-girls school is that you are never alone! Depending on what activities are offered on the weekends, students can never be bored or run out of things to do. Those activities vary from going to town for a movie, taking a bus to Short Pump with girls who love shopping just like you, to walking to town for a nice seated dinner, and dressing up to attend mixers with other co-ed, all-boys, and all-girls schools. In addition, even when students decide to stay on campus for the weekend, they always have company. On the weekends, the common areas are always full of girls chatting, watching movies, playing board games, seeking advice from the dorm counselors, or just laughing at random jokes. Sometimes, I would find my room packed with friends coming over on the weekends to order food, watch a romantic movie, and just talk, talk, and talk. Students are always encouraged to suggest what activities they would like to do on and off campus. Overall, the social activities at SMS really allow me to get to know teachers and other students on a one-on-one basis.
Daily Schedule:
Weekday
7:30 AM
Breakfast and Breakfast sign-in
12:30 AM
Advisor/ Advisee Lunch
3:00 PM
Classes done - TA (Teacher Available) starts
7:15 PM
Study Hall (2 hours) starts
Weekend
9:00 AM
Wake up for breakfast
10:00 AM
Call home and plan for the weekend
12:00 AM
Lunch (either go to town or to the dinning hall)
1:00 PM
Laundry and take naps
5:30 PM
Dinner (either go to town or to the dinning hall)
6:30 PM
Spend time with friends
7:30 PM
Either go to dorm activities or sign out for off campus trips
The diversity at SMS is quite unique and out-stands the most. The school accepts each student or themselves and works with them according to their pace. The faculty at SMS is also quite supportive. They. . .
At St. Margaret's School, girls have the opportunity to not just gain a better education, but also to be around people whom they will have with them through their lives. As a senior, I have. . .
For me, SMS is unique because it is truly a second home that anyone can be a part of. The sense of community also builds around the school motto, "As we grow in age. . .
Show more reviews (

4 reviews

)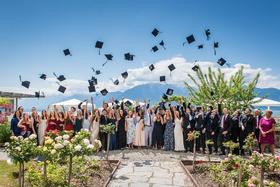 Nurturing Futures: A Journey through Boarding at Haut-Lac School in Switzerland
Nestled in the hills overlooking Lake Geneva in the French-speaking part of Switzerland lies an educational gem that embodies a unique blend of academic excellence, cultural richness and a profound sense of community. Founded over 30 years ago, Haut-Lac International Bilingual Day and Boarding School is now home to both 600 day students and a maximum of 30 boarders from around the world.
Navigating the Modern Maze: Emerging Challenges for Boarding Schools
Explore the pressing challenges facing boarding schools, from marketing difficulties and rising insurance costs to facility maintenance and recruitment of competent trustees and teachers. This article delves into these complex issues and proposes innovative strategies to overcome them.
What To Wear at Your Job Interview
Navigating job interviews can be stressful, but knowing what to wear shouldn't be. Our comprehensive guide covers the essential dress code tips for men and women interviewing at boarding schools. Make your first impression count with style and professionalism.