Reflections and Advice:
1.) What do you think makes your school unique relative to other boarding schools?
SMS creates an environment that encourages a students individuality. Faculty encourage students to stretch outside of their comfort zones and enables girls to reach their ultimate potential. The focus of SMS is to create empowered women who will change the world.
2.) What was the best thing that happened to you in boarding school?
The best thing that happened to me during my time at SMS was the encouragement that I received from faculty that got me out of my comfort zone and allowed me to become a leader and confident adult.
3.) What might you have done differently during your boarding school experience?
I am not sure what I would have done differently as my mistakes allowed me to learn, but I think that I would be more open to the experience from the beginning. It was such an amazing opportunity to learn and grow in a beautiful environment and it is easy to not fully appreciate it until looking back years later.
4.) What did you like most about your school?
I loved the community feel. The teachers and my classmates have become lifelong cheerleaders and supporters for me in every phase of my life. The bond does not end at graduation and is not limited to women at the school at the same time period. I have met women who graduated in a variety of decades that have all embraced the SMS sisterhood and really added value to my life.
5.) Do you have any final words of wisdom for visiting or incoming students to your school?
Don't forget to sit on the back lawn and soak in the beauty of the river. It is a perfect place to meditate, journal, etc.
Academics:
1.) Describe the academics at your school - what did you like most about it?
The small class sizes and individualized learning allowed students to tailor their education to reach their ultimate goals. I was able to foster solid relationships with my teachers that allowed me to have the confidence to also foster relationships with my college professors at a much larger university.
Athletics:
1.) Describe the athletics at your school - what did you like most about it?
I love the student athlete model at SMS. There are a variety of sports every season and the structure of a boarding school allows for creativity for practice and activities.
Art, Music, and Theatre:
1.) Describe the arts program at your school - what did you like most about it?
I was involved in the theatre program and was really inspired by the support received from the school as well as the community. Due to the small size of the school, all programs can be altered to fit the student body.
Extracurricular Opportunities:
1.) Describe the extracurriculars offered at your school - what did you like most about it?
There are a large amount of extra-curricular activities and a schedule that allows students the opportunity to be involved in a variety of activities which leads to a well balanced student. I was able to participate in sports as well as community service and cultural activities.
Dorm Life:
1.) Describe the dorm life in your school - what did you like most about it?
Since the majority of the school lives in the dorms, the sense of community is very strong. There are a number of dorms and each has a different feel and atmosphere so students can live in the environment that suits them best. The dorm selection was fair and the school had proper procedures in place to handle any disputes or roommate transfers.
Dining:
1.) Describe the dining arrangements at your school.
The dining room itself was a highlight of the school. It is amazing to eat in a dining hall overlooking the Rappahannock River. The dining services options are also quite spectacular and offer the students and staff a large amount of options and variety. There is always a large option for hot menu items as well as a well stocked salad, soup, cereal bar. The cafeteria staff are great at offering seasonal and fun options that can be quite festive for certain holidays!
Social and Town Life:
1.) Describe the school's town and surrounding area.
The town itself has small town charm, but the real appeal in the surrounding area is the school's waterfront on the Rappahannock and the accessibility to the Chesapeake bay. The small town charm is balanced by ease of travel to both the state and the nations capitals.
2.) Describe the social life at your school - what did you like most about it?
The student life activities were very diverse and were very flexible to desires from students. The day students were very integrated, despite the large percentage of students being boarding students. The community of boarding schools in the state is quite large leading to lots of joint school activities.
The diversity at SMS is quite unique and out-stands the most. The school accepts each student or themselves and works with them according to their pace. The faculty at SMS is also quite supportive. They. . .
At St. Margaret's School, girls have the opportunity to not just gain a better education, but also to be around people whom they will have with them through their lives. As a senior, I have. . .
For me, SMS is unique because it is truly a second home that anyone can be a part of. The sense of community also builds around the school motto, "As we grow in age. . .
Show more reviews (

4 reviews

)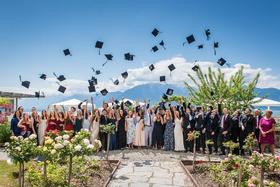 Nurturing Futures: A Journey through Boarding at Haut-Lac School in Switzerland
Nestled in the hills overlooking Lake Geneva in the French-speaking part of Switzerland lies an educational gem that embodies a unique blend of academic excellence, cultural richness and a profound sense of community. Founded over 30 years ago, Haut-Lac International Bilingual Day and Boarding School is now home to both 600 day students and a maximum of 30 boarders from around the world.
Navigating the Modern Maze: Emerging Challenges for Boarding Schools
Explore the pressing challenges facing boarding schools, from marketing difficulties and rising insurance costs to facility maintenance and recruitment of competent trustees and teachers. This article delves into these complex issues and proposes innovative strategies to overcome them.
What To Wear at Your Job Interview
Navigating job interviews can be stressful, but knowing what to wear shouldn't be. Our comprehensive guide covers the essential dress code tips for men and women interviewing at boarding schools. Make your first impression count with style and professionalism.