Reflections and Advice:
1.) What do you think makes your school unique relative to other boarding schools?
Here at St Margaret you feel welcome, part of a community, everybody is eager to help you! The school is next to the river which is an advantage for water sports, they have kayaking, river tubing which is so much fun!
2.) What was the best thing that happened to you in boarding school?
I asked my daughter same question, and she said: Mommy this experience helps me a lot with my self steem,before I used to be a little shy to talk to somebody or make conversation cause dont want to feel rejected, but now dont care, I just be me, respecting other but being me! And share it cause may be helpful to somebody!
3.) What might you have done differently during your boarding school experience?
Just do not be afraid of changes, get out of your comfort zone and go with an open positive mind!
4.) What did you like most about your school?
I am so grateful for the experience that my daughter is acquaring in St Margaret, Mr.Bell and his whole staff are doing a awsome job, keep the good work guys!
5.) Do you have any final words of wisdom for visiting or incoming students to your school?
To get different results , you must make different decisions!!
Academics:
1.) Describe the academics at your school - what did you like most about it?
My daughter is taking Pre-Cal being a Sophomore, she was a little scare at the beginning, but Ms. Howard is a wonderful teacher, that have the patience to explain and help her, and she love Biology too, Ms. Belfield not just give theory they have labs too which she loves!
Athletics:
1.) Describe the athletics at your school - what did you like most about it?
SMS have tennis, voleyball, rowing, track. My daughter loves tennis, there is only 7 girls on the team, during the season the compete with other school, it help her a lot she never compete before and now she got the opportunity, they have great coaches!
Art, Music, and Theatre:
1.) Describe the arts program at your school - what did you like most about it?
In SMS they have musical theater, they do plays, it help you manage the stage fright , I wish they have an orchestra.
Extracurricular Opportunities:
1.) Describe the extracurriculars offered at your school - what did you like most about it?
They have every weekend activities for them, open pool, open town, twice a year the school have Family weekend where parents get to involved with school activities, we got so much fun, they have a walk/run activity we participate we were out of breath but so happy to share some time with her, later on we play voleyball, we had a blast!
Dorm Life:
1.) Describe the dorm life in your school - what did you like most about it?
Rooms are spacious and bathrooms too, 4 girls share a big bathroom, she feel happy and at home, girls help each other, they bond. They have curfew for the electronics for 9 and 10th grades, wich I approve.
Dining:
1.) Describe the dining arrangements at your school.
The food is pretty good, has variety , but when she tired , the school dorm has kitchen too and my daughter likes to cook sometimes on weekends.
Social and Town Life:
1.) Describe the school's town and surrounding area.
Is a quiet small town, we came from a busy city, so she is learning to adapt, the good part are ice cream and burger places near by, which girls enjoy!
2.) Describe the social life at your school - what did you like most about it?
It has a lot diversity, which is good for her to see from different point of views, traditions, customes.
The diversity at SMS is quite unique and out-stands the most. The school accepts each student or themselves and works with them according to their pace. The faculty at SMS is also quite supportive. They. . .
At St. Margaret's School, girls have the opportunity to not just gain a better education, but also to be around people whom they will have with them through their lives. As a senior, I have. . .
For me, SMS is unique because it is truly a second home that anyone can be a part of. The sense of community also builds around the school motto, "As we grow in age. . .
Show more reviews (

4 reviews

)
Mastering the Boarding School Selection Process: A 5-Step Guide
Discover the ultimate 5-step guide to choosing the perfect boarding school for your child. Explore essential factors, such as academics, campus facilities, extracurricular activities, and more. Make an informed decision to provide your child with an enriching and transformative educational experience. Read now!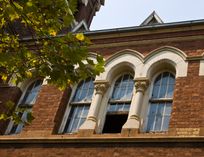 5 Founders and Their Boarding Schools
What prompts somebody to start a boarding school? The motives range from idealism to munificence right on through to capitalism. The common thread seems to be ample capital and a vision of what education can do.