Reflections and Advice:
1.) What do you think makes your school unique relative to other boarding schools?
I think that the school under one roof concept that St. Mark's embodies is essential to understanding the essence of the St. Mark's experience. Under the roof of the main building of the school, classrooms, library, student center, dining hall, and most dormitories reside. There is nothing better than being able to move within one building to each class while also keeping all students in the same general area during the class day. Having this at St. Mark's contributes to the community in which people feed off of each other's energy. This is illustrated best in the weekly school meetings held in the Forbes Center every Wednesday and Saturday where both students and faculty can address the entire community.
2.) What was the best thing that happened to you in boarding school?
I had many academic and athletic achievements that followed my hard work in my time at St. Mark's. I grew to realize who I was as person then and who I want to become. It is easy to just go through the motions of highschool, but if you actually give it all you've got, no one can stop you. And that's what I did; from school work to athletics to friends, I did all I could do.
3.) What might you have done differently during your boarding school experience?
Throw yourself into the school. There are so many different opportunities to take advantage of. Don't worry about fitting in with anyone because honestly, no one fits in. Everyone is different and that what makes the boarding school experience cool. The learning process doesn't just stop once you leave the classroom. Students are constantly learning about different cultures and relationship skills.
4.) What did you like most about your school?
I liked the relationships that I formed with the people I care most about, teachers and peers alike. I will not be forgetting about any memories any time soon.
5.) Do you have any final words of wisdom for visiting or incoming students to your school?
Enjoy Your Time. Get involved in every aspect of the School. St. Mark's is whatever you make it to be, so take advantage of it.
Academics:
1.) Describe the academics at your school - what did you like most about it?
My favorite part of the academics at St. Mark's was the group collaboration and the reliance on group discussions. This is best illustrated in the presence of the Harkness Tables in many English, History, Language, and Religion classes at St. Mark's. The teachers are all very passionate about their subject and are more than willing to meet with students outside of the classroom. The workload is very manageable as long as one stays on top of their work and establishes a great relationship with their teachers.
Athletics:
1.) Describe the athletics at your school - what did you like most about it?
Although the girl's teams at St. Mark's weren't always the most competitive in the ISL, each of my teams was family. I made my best friends on these teams and I built my character learning how to lead them as their captain. My coach for two of my sports was also my academic advisor and I can not say enough good things about her. She not only was there for me whenever I needed a laugh or just to talk about anything, she taught me all she knew about each sport with much enthusiasm, which ended up carrying over into my playing. My relationships with every member of my teams, including my coaches, are ones that I will forever be grateful for and cherish.
Art, Music, and Theatre:
1.) Describe the arts program at your school - what did you like most about it?
I never did participate in any of the Music or Visual Arts at St. Mark's but each semester I did attend the concerts that the students put on or the seasonal play that was happening. All I can say is that the effort that was put into those plays and music lessons was not wasted. They never ceased to amaze me.
Extracurricular Opportunities:
1.) Describe the extracurriculars offered at your school - what did you like most about it?
Though clubs do exist at St. Mark's, the hectic daily schedule of the typical St. Marker rarely left time for these clubs to meet. The Green Team is probably the most prominent club on campus as they sponsor the Earth Day festivities and other events scattered throughout the year.
Dorm Life:
1.) Describe the dorm life in your school - what did you like most about it?
I was a day student at St. Mark's for all four years, but that certainly does not mean that I was not a part of dorm life. I was named an Honorary Member of the Gaccon Girl's Dorm and spent much of my time from 9:30 pm on in the dorm rooms of all my friends. At no moment did I ever feel excluded from dorm life or activities as the Day Student dorm Burnett House held their own events while I was also included in the Gaccon and Thayer Dorm Activities.
Dining:
1.) Describe the dining arrangements at your school.
I like the options at the dining hall for every meal. Although I was a day student, I did eat all three meals at school and I felt that most days there was something nutritious for me to eat. Two times a week we had seated meal for lunch where there would be assigned seats and the food is served to you. Other than that, the dining hall is free seating every meal of every day. Plus if you don't like what is being served for a meal, call up Domino's Pizza or Panda House and they won't let you down.
Social and Town Life:
1.) Describe the school's town and surrounding area.
St. Mark's is located in the rural town of Southborough, Massachusetts. This is such a pretty town that has a great relationship with our school. I may be biased as I grew up in the next town over, but I feel that the location is perfect for a boarding school. Only a short ride from the city of Boston, but secluded enough to maintain student life on campus during the weekends. Route 9 is right down the road from St. Mark's and is filled with stores and restaurants. It is not uncommon for teachers or advisors to take groups of students to the local Starbucks or Coldstones for a little treat.
2.) Describe the social life at your school - what did you like most about it?
The school does a great job of incorporating weekend activities into Student Life at St. Mark's. More than not there is a dance on a Saturday night or a movie showing in the Performance Hall or Broomball on the Ice Rink. Either way, students are eager to interact with each other. And on those nights when there isn't much going on at St. Mark's, that doesn't stop St. Markers from making their own fun.
Daily Schedule:
Weekday
7:30 AM
Wake-up, Breakfast Date
12:15 AM
Seated Lunch Begins
Weekend
8:00 AM
Wake-up, Breakfast Date
8:00 PM
Dance or other Week-end activity
The school's layout makes for quite a unique and homey atmosphere. All classes are located in the main building, and the building itself is centered around Forbes, the student center. The main building also houses. . .
Several things set St. Mark's apart from other schools, the main factor being the close proximity of students and faculty members. Nicknamed "the school under one roof," St. Mark's houses the entire academic day. . .
St. Mark's is extremely community based, and I believe it has made both students and faculty proud to be a member of this school. Because a majority of the school functions within one or two. . .
Show more reviews (

4 reviews

)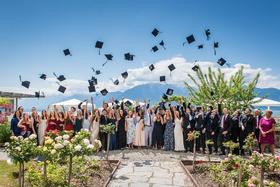 Nurturing Futures: A Journey through Boarding at Haut-Lac School in Switzerland
Nestled in the hills overlooking Lake Geneva in the French-speaking part of Switzerland lies an educational gem that embodies a unique blend of academic excellence, cultural richness and a profound sense of community. Founded over 30 years ago, Haut-Lac International Bilingual Day and Boarding School is now home to both 600 day students and a maximum of 30 boarders from around the world.
What To Wear at Your Job Interview
Navigating job interviews can be stressful, but knowing what to wear shouldn't be. Our comprehensive guide covers the essential dress code tips for men and women interviewing at boarding schools. Make your first impression count with style and professionalism.
Navigating the Modern Maze: Emerging Challenges for Boarding Schools
Explore the pressing challenges facing boarding schools, from marketing difficulties and rising insurance costs to facility maintenance and recruitment of competent trustees and teachers. This article delves into these complex issues and proposes innovative strategies to overcome them.