Reflections and Advice:
1.) What do you think makes your school unique relative to other boarding schools?
Several things set St. Mark's apart from other schools, the main factor being the close proximity of students and faculty members. Nicknamed "the school under one roof," St. Mark's houses the entire academic day, along with four dorms of students and faculty members in one building. This is a feature not found at any other school. All members of the community spend the day together, see each other in the hallways, the dining hall, common areas, and are able to form an extremely close-knit atmosphere on a daily basis.
2.) What was the best thing that happened to you in boarding school?
The best thing that ever happened to me was making the decision to attend St. Mark's. I owe everything in my life to my experience as a St. Marker. I 100% transformed as student, athlete, artist, and person. I feel as though I blossomed as an individual, thanks to the close-knit, supportive environment. I feel as though even my college experience does not even come close to my St. Mark's experience. I feel particularly proud to have developed into such a strong writer, artist, and athlete. I would not have found nearly as much success in college without the guidance I received at St. Mark's.
3.) What might you have done differently during your boarding school experience?
I would not have done anything differently as a St. Marker. By branching out, trying new classes, sports, and allowing myself to open up to the many teachers and students from all over the world, I feel as though I completely lived the true St. Mark's lifestyle. I would encourage all future St. Markers to do the same. The St. Mark's experience is what you make of it. It is possible to just "get by," however, you truly miss out on the beauty of such a tight community.
4.) What did you like most about your school?
I love everything about St. Mark's. I would not have changed my experience in any way. While I might not have completely appreciated it while I was a student, I now value the traditional expectations and curriculum of the school, as it taught me valuable life lessons and skills. I appreciate the necessity for students to try new classes and activities, as it allows them to fully engage the liberal arts experience of the school.
5.) Do you have any final words of wisdom for visiting or incoming students to your school?
I encourage future St. Markers to find one or two faculty members to really guide you through your time. The teachers, coaches, and advisors of SM are still influential figures in my life to this day. While being away from home for the first time can be tough for many students, having these people in your lives to help you can very powerful. The younger faculty, in particular, are very valuable to students, as they can relate on more of a peer-to-peer level with the students, while still maintaining a sense of authority.
Academics:
1.) Describe the academics at your school - what did you like most about it?
The academics at St. Mark's are appropriately challenging. The curriculum is tough - and stronger than that of many other independent schools. However, the curriculum is manageable; students do not feel completely overwhelmed or in over their heads. Students work hard for their grades, but are able to balance outside life on top of the workload.
Athletics:
1.) Describe the athletics at your school - what did you like most about it?
The athletics program is equally as challenging, and incredibly rewarding. Students are asked to participate in two or three sports, depending on their year, and the school provides Varsity, JV, and 3rds level teams for just about every sport. Many Varsity teams are extremely successful both in the ISL and New England, and are coached by renowned college and professional athletes. My favorite part of the athletic program were the many different offerings that are not always a part of other athletic programs, such as rowing.
Art, Music, and Theatre:
1.) Describe the arts program at your school - what did you like most about it?
Like the athletic program, students are asked to commit at least one year to the arts program. This proved to be very influential to my development as a student, as I was able to channel an area of academics never once used before, the artistic side. Coming from a very strict, Catholic school, with no budget for the arts, my required first year of art opened my eyes to a whole new subject area that was completely unfamiliar to me. I ended up sticking with studio art throughout my entire time at SM, as well as continuing that area in college. I would have never tried studio art, since it was so foreign to me, had it not been for that curriculum requirement.
Extracurricular Opportunities:
1.) Describe the extracurriculars offered at your school - what did you like most about it?
I most enjoyed athletics, particularly crew. Rowing is a great sport to try at St. Mark's because virtually everyone is new to the sport, so all rowers start out on the same playing field, as opposed to other sports where students come in with up to 10 years of playing experience in a particular sport. I loved developing into a Division 1 rower, but at the same time, being able (and being encouraged) to balance my heavy athletic schedule with other academic extracurricular activities, like Classics Club. Not only did Classics Club meet regularly as a group, but we also competed in a New England-wide competition against many other schools. I was thrilled to be able to do many activities like these at the same time.
Dorm Life:
1.) Describe the dorm life in your school - what did you like most about it?
Dorm life is very vibrant at St. Mark's, particularly because the majority of the student body boards (80%). Coming from a independent school with a 50/50 boarding/day ratio, the community aspect of SM was significantly more positive and close-knit. I appreciated living in a dorm with girls as far away as Hong Kong, and as close as Framingham. We were all treated equally and were able to learn so much about each other.
Dining:
1.) Describe the dining arrangements at your school.
The dining arrangements are similar to most other schools, with a main dining hall available to all students, faculty, and staff for all three meals a day. The food is good, and there are up to four or five hot options for people each meal. In addition, full sandwich, salad, and cereal bars are available. You definitely will not go hungry at SM.
Social and Town Life:
1.) Describe the school's town and surrounding area.
Southborough is a beautiful, classic New England town. It is perfect for a boarding school setting because the school is situated in a very suburban, picturesque environment, but is very close to the booming Rt. 9 10-mile stretch of stores, restaurants, malls, and only a 30 minute drive in and out of Boston. I couldn't imagine going to a school in a rural, remote setting, as I would have felt trapped as a boarder. St. Mark's location in metrowest Boston is easily accessible to large cities, commercial areas, and many travel outlets (major airports, train stations, etc), but also set in a traditional "boarding school setting."
2.) Describe the social life at your school - what did you like most about it?
I most loved living and interacting with kids from all over the world. I loved living with students who came from such different backgrounds than I did. While there are many local boarders (45 min range), the weekend life at St. Mark's is quite vibrant, and there were usually only a few girls from my dorm signed out on the weekends. The Dean's Office provides many weekend activities both on and off-campus for students, with a wide variety of offerings each weekend. There were also buses that went to and from major malls and restaurants in the area. We were also able to utilize our close proximity to Boston. Every Friday night, the school would host a "Crepes and Classics" trip into Boston, provide tickets for major sporting events, or take us to other seasonal-trips, like Six Flags, apple-picking, etc.
Daily Schedule:
Weekday
Weekend
The school's layout makes for quite a unique and homey atmosphere. All classes are located in the main building, and the building itself is centered around Forbes, the student center. The main building also houses. . .
Several things set St. Mark's apart from other schools, the main factor being the close proximity of students and faculty members. Nicknamed "the school under one roof," St. Mark's houses the entire academic day. . .
St. Mark's is extremely community based, and I believe it has made both students and faculty proud to be a member of this school. Because a majority of the school functions within one or two. . .
Show more reviews (

4 reviews

)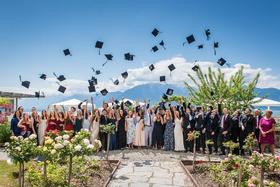 Nurturing Futures: A Journey through Boarding at Haut-Lac School in Switzerland
Nestled in the hills overlooking Lake Geneva in the French-speaking part of Switzerland lies an educational gem that embodies a unique blend of academic excellence, cultural richness and a profound sense of community. Founded over 30 years ago, Haut-Lac International Bilingual Day and Boarding School is now home to both 600 day students and a maximum of 30 boarders from around the world.
What To Wear at Your Job Interview
Navigating job interviews can be stressful, but knowing what to wear shouldn't be. Our comprehensive guide covers the essential dress code tips for men and women interviewing at boarding schools. Make your first impression count with style and professionalism.
Navigating the Modern Maze: Emerging Challenges for Boarding Schools
Explore the pressing challenges facing boarding schools, from marketing difficulties and rising insurance costs to facility maintenance and recruitment of competent trustees and teachers. This article delves into these complex issues and proposes innovative strategies to overcome them.