Reflections and Advice:
1.) What do you think makes your school unique relative to other boarding schools?
Someone once said, " From the outside looking in, you can never understand it. From the inside looking out, you can never explain it." This holds true for Westminster's sense of Community. We are one big family that supports and guides one another in our everyday decisions.
2.) What was the best thing that happened to you in boarding school?
After all of my hard work as a student, my senior year I was honored to have received the Headmasters Award. This showed me that my professors and peers supported me and recognized the hard work I was putting into my classes, both on and off the field, as well as during my free time.
3.) What might you have done differently during your boarding school experience?
Nothing.
4.) What did you like most about your school?
I liked what Westminster stood for. Students understood and incorporated Westminster's 4 core values into their daily lives on the hill-- Community, Character, Balance and Involvement.
5.) Do you have any final words of wisdom for visiting or incoming students to your school?
After your visit, feel free to walk around and see places you didn't have a chance to visit on the tour. Feel free to ask students walking around questions. They will be more than happy to direct, answer or help you.
Academics:
1.) Describe the academics at your school - what did you like most about it?
Academics were an important factor in the search for my "perfect" school. What makes Westminster stand out is the passion the teachers have for what they teach. This makes a big difference in the classroom. The energy and excitement in some classes has given me a positive learning experience inside the classroom. The teachers willingness to help and see you succeed is important. Physics was a subject that I struggled with. An example of my teachers dedication was shown numerous times when they assisted me late, the night before a quiz or test. This is something not every teacher is willing to do and I thrived in challenging classes due to the constant support and push I got from my Westminster teachers.I graduated from Westminster in 2007. My little brother attends the school now and raves on about the new academic building. As nice as it would be to have had class in there, especially with the new outstanding resources, I believe that Westminster gave me something more than a high school education. It has shaped me into the person that I am today, and prepared me for the college by offering one of a kind professors, a variety of courses and a challenging workload.
Athletics:
1.) Describe the athletics at your school - what did you like most about it?
What I like most about the Athletics program at Westminster is the encouragement it gave students to try new sports. Having grown up on an island, ice hockey was not available to me. I was encouraged to try something new. This was one of the most memorable experiences for me as I challenged myself in an area I never had before. The team spirit and support was something that I still cherish today. I understood the pride most teams have to put on that Westminster jersey and compete against other schools.
Art, Music, and Theatre:
1.) Describe the arts program at your school - what did you like most about it?
Having never been apart of the Visual Arts, Music and Theater program, I do not have much to say regarding the diversity and depth of classes available or the range of musical opportunities. However, I have attended many shows such as the musical Footloose, the Jazz ensembles and the Dance shows. Supporting the different programs was heavily encouraged at Westminster and I even returned to watch shows several times!
Extracurricular Opportunities:
1.) Describe the extracurriculars offered at your school - what did you like most about it?
The extra-curricular activities at Westminster provide students with leadership opportunities. From planning weekend activities for students to being a part of the Math Club, Westminster encourages students to get involved and start clubs of interest if there weren't any at the time. Student organizations and volunteer opportunities give Westy kids a sense of responsibility and joy. I was a member and head tour guide of Black and Gold. I was also Editor-in-chief of the yearbook and was a member of SAC (Student Activities Club) which planned the numerous dances held on campus. These activities are a great way to meet students outside of classes and dormitories.
Dorm Life:
1.) Describe the dorm life in your school - what did you like most about it?
Dorm life is something that is very important when living far away from home. I have had an unforgettable experience at Westminster and living in dorms really prepared me for college. The main dorms for girls are Milliken (Freshman), Edge (Sophomore, Junior, Senior) and Cushing (Junior). Times have changed and this may not be the case for girls but throughout my four years, I was extremely pleased with the facilities the dorms had to offer. Some years I lived in older buildings and the rooms were larger than the newer dorms. There will always be pros and cons. There are vending machines in every dorm and they are all a short walk to the student center where food and drinks are available. What I like the most about the dorms is that they all surround the main campus quad. In between classes and afternoon activities, or on weekends, everyone is outside hanging out with one another whether they are doing homework, playing stick ball (a Westy tradition) or playing the guitar. When accepted into Westminster, they will give you a questionnaire to fill out. They will match students based upon their answers. I had a great experience with my freshman roommate. After freshman year, you have the option to continue to room together, choose a new roommate or live alone.
Dining:
1.) Describe the dining arrangements at your school.
Looking back on it, Grilled Cheese and Tomato Soup Wednesdays was everybody's favorite. From hot meals to a salad bar and desserts, Westminster's cozy dining hall gave students a variety of food. The dining staff at Westminster was extremely nice and there is a famous lady named Pat. Pat puts everyone in a good mood just by smiling and to my knowledge she is still there today. I wish I could've taken Pat with me to college.
Social and Town Life:
1.) Describe the school's town and surrounding area.
Boutiques and restaurants can be found in Simsbury, a quaint New England town. As my senior year approached, a Starbucks was built walking distance from campus, which became very popular amongst the students. Nail salons, CVS Pharmacy, Little City Pizza, Andy's Supermarket and more are all a short walk away. On the weekends, the student activities committee organized vans to take students to the West Farms Mall (approx 20 minutes away) or the Commons (approx 10 minutes away) where they can shop till they drop or go watch a movie at the movie theater.
2.) Describe the social life at your school - what did you like most about it?
The social life at Westminster was great. I felt accepted from the entire student body and made many friends. The upperclassmen really guide and support the younger students. Everyone is in it together and Westminster has the true feeling of a great "Community"- one of our core values.
Daily Schedule:
Weekday
3:45 PM
Practice/ Afternoon Activity
10:00 PM
Check-in at Dormitory
Weekend
2:30 AM
Practice/ Afternoon Activity
11:00 PM
Check-in Dormitory
While Westminster is in the Founder's League, its overall size hovers closely to 400, making it a tightly-knit community where a student at the very least knows everyone's face on campus. The newly built. . .
You mostly have all of your classes besides arts and theatres in one building. The Armour Academic Center is a four-floor building that will host most if not all of your classes. It's home to. . .
Family-style dinners bring the community together and are unique to Westminster - twice a week when I was a student - now they do it during lunch.The senior lawn ceremony was special - at. . .
Show more reviews (

7 reviews

)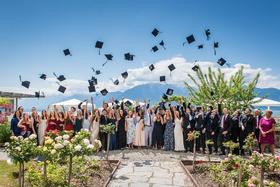 Nurturing Futures: A Journey through Boarding at Haut-Lac School in Switzerland
Nestled in the hills overlooking Lake Geneva in the French-speaking part of Switzerland lies an educational gem that embodies a unique blend of academic excellence, cultural richness and a profound sense of community. Founded over 30 years ago, Haut-Lac International Bilingual Day and Boarding School is now home to both 600 day students and a maximum of 30 boarders from around the world.
What To Wear at Your Job Interview
Navigating job interviews can be stressful, but knowing what to wear shouldn't be. Our comprehensive guide covers the essential dress code tips for men and women interviewing at boarding schools. Make your first impression count with style and professionalism.
Navigating the Modern Maze: Emerging Challenges for Boarding Schools
Explore the pressing challenges facing boarding schools, from marketing difficulties and rising insurance costs to facility maintenance and recruitment of competent trustees and teachers. This article delves into these complex issues and proposes innovative strategies to overcome them.