Reflections and Advice:
1.) What do you think makes your school unique relative to other boarding schools?
Westminster is uniquely a close knit community, which produces well rounded kids. Everyone must participate in an after school activity (usually sports, community service, theater) every day- 6 days a week. Family style dinners are mandatory two days a week. These small things make you realize that academics are not the soul reason for school- sports, friends, relationships- are all essential to your learning and knowledge as well.
2.) What was the best thing that happened to you in boarding school?
The best thing was all the friends I made. I also personally benefited from the independence- I think I matured ten-fold in one year. My brother also came my senior year and it made us very close. Westminster gave me a sense of responsibility as well. I am still very involved and will be as long as I can foresee.
3.) What might you have done differently during your boarding school experience?
Studied harder- still spend time with friends- but if you have to be in your room during study hall anyways, you might as well get your work done then.I also wish I had been a tour guide (and not only because it would have gotten me out of dish duty-"pit"). I loved that Westminster was different in that it offered a separate tour for parent and child.Advice: If you are itching to get off campus- go home- don't risk getting in trouble.
4.) What did you like most about your school?
The sense of community and camaraderie. I felt it the second I stepped on campus for my interview and still feel it when I go back. I not only learned academics, but how to speak to adults and function in the real world. The friendships I made there, with peers and adults both, are priceless. I also loved the traditions (from barn yards and bonfire to the senior lawn to candlelight service at Christmas time- they are endless). I think part of the community sense also came from the fact that most teachers live on campus, and 70% of students are boarders, so people are always around. Even most day students stay on campus for dinner/nights and on weekends.
5.) Do you have any final words of wisdom for visiting or incoming students to your school?
Don't step on the senior lawn. Be open to trying new things (sports, classes, activities, clubs) and meeting new people. Take advantage of extra help. Heat your cookies in the toaster, and try cookie pie heated up. Soak up every minute... you'll miss it a lot after you are gone.
Academics:
1.) Describe the academics at your school - what did you like most about it?
Academics were challenging, but professors were always standing by to give individual attention and offer extra help. All teachers had unique styles, but all were very passionate about what they were teaching, which came across in class. The workload was more than I was used to, having gone to public schools my whole life, but we had designated study times and free blocks to make sure you could always seek extra help or just get assignments done.
Athletics:
1.) Describe the athletics at your school - what did you like most about it?
Athletics were a big part of Westminster and contributing to the community feeling. You are required to participate in an after school activity and sports are the popular choice. There are 1st, 2nd, 3rd, and sometimes 4th teams so you will always be able to play the sport you want- and at a level that is comfortable for you. Games are every Wednesday and Saturday (1/2 day of classes those days) and half the time you travel to schools that your friends might go to- which is fun.Coaches are also your teachers, dorm parents, advisers, etc. so you always feel comfortable and you know them very well.
Art, Music, and Theatre:
1.) Describe the arts program at your school - what did you like most about it?
Unfortunately, I did not participate in any visual arts, music, or theater programs during my time at Westminster. I am not very musically talented, but that wouldn't have mattered- it just wasn't my thing. There are many opportunities to be involved, as little or much as you would like. I do regret not auditioning for a "One Act" play. They were put on every spring semester and anyone was welcome to audition- regardless of experience. It was a great way to try out acting, without committing to an entire production.
Extracurricular Opportunities:
1.) Describe the extracurriculars offered at your school - what did you like most about it?
You could really be involved in anything you wanted. There is a whole fair organized with tables about each club and you can sign up to get e-mails and its as easy as that.
Dorm Life:
1.) Describe the dorm life in your school - what did you like most about it?
They try to make it as homey as possible for you. My door parents often held "feeds" (which reminded me of a barn when I first arrived, but my word association quickly changed to seven layer dip). They would prepare snacks after check in for everyone and it was a time to just sit around as a group and relax in a home. I had some of my fondest memories just running around the door, entertaining ourselves however we could. Barn yards (you will learn) were a common one. Occasionally teachers would also do late night food runs for you which was a treat. The actual dorm is really not important, you won't spend much time in it, and you just want to be with friends. I just loved being with my friends all the time.
Dining:
1.) Describe the dining arrangements at your school.
There was always a variety of meals to choose from (hot meal, salad bar, pasta bar, deli bar, etc). Most days it was buffet style, and you could go at any time meals were served. Two nights a week were family style, which was a fun opportunity to speak with people you don't get to see very often. On those nights, students would serve and clean up, as well.
Social and Town Life:
1.) Describe the school's town and surrounding area.
Simsbury is a safe, small town, with just the right amount of restaurants and shops. They even got a Starbucks (walking distance from campus) my junior year. A lot of restaurants in town will deliver (you have to walk down the delivery path, as cars can't be roaming campus). Brookside Bagels is the best bagel place I've ever been to- every time I'm in town I stock up (the cream cheese has a secret ingredient). Little City Pizza is also one of the best pizza places I have ever been to- try the bruschetta. There are also countless other good places to eat with friends. If you get permission your day student friends can drive you off campus, too! But I loved that Westminster was up on the hill, semi- secluded from actual town.
2.) Describe the social life at your school - what did you like most about it?
I felt so lucky to be able to be with my friends all the time. I loved Saturday nights on campus, as well as taking weekends home and to friends campus. If you feel like you need to get off campus- do it. Sometime you will but don't risk getting in trouble on campus. You also get to know the older students (and younger) well because you live with them. Students would also often take weekends to a friends house all together.
Daily Schedule:
Weekday
8:00 AM
Classes start (they are about 45 minutes long)
10:30 AM
Assembly or Chapel
11:00 AM
Classes/ Free periods (I had about 3 frees and 5 classes a day)
7:00 AM
Hang out in Student center or with friends or in the dorm during parietals
Weekend
1:00 PM
Leave for sports game
6:00 PM
Dinner- go out with friends or eat in Dhall
7:00 PM
Free time- hang out at the Stud (student center)
10:00 PM
Check into the dorm for the night and continue hanging out with friends
While Westminster is in the Founder's League, its overall size hovers closely to 400, making it a tightly-knit community where a student at the very least knows everyone's face on campus. The newly built. . .
You mostly have all of your classes besides arts and theatres in one building. The Armour Academic Center is a four-floor building that will host most if not all of your classes. It's home to. . .
Family-style dinners bring the community together and are unique to Westminster - twice a week when I was a student - now they do it during lunch.The senior lawn ceremony was special - at. . .
Show more reviews (

7 reviews

)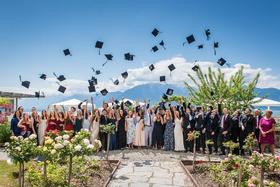 Nurturing Futures: A Journey through Boarding at Haut-Lac School in Switzerland
Nestled in the hills overlooking Lake Geneva in the French-speaking part of Switzerland lies an educational gem that embodies a unique blend of academic excellence, cultural richness and a profound sense of community. Founded over 30 years ago, Haut-Lac International Bilingual Day and Boarding School is now home to both 600 day students and a maximum of 30 boarders from around the world.
What To Wear at Your Job Interview
Navigating job interviews can be stressful, but knowing what to wear shouldn't be. Our comprehensive guide covers the essential dress code tips for men and women interviewing at boarding schools. Make your first impression count with style and professionalism.
Navigating the Modern Maze: Emerging Challenges for Boarding Schools
Explore the pressing challenges facing boarding schools, from marketing difficulties and rising insurance costs to facility maintenance and recruitment of competent trustees and teachers. This article delves into these complex issues and proposes innovative strategies to overcome them.