Reflections and Advice:
1.) What do you think makes your school unique relative to other boarding schools?
I think most graduates would agree that the community aspect of Mercersburg is definitely its most incomparable asset. There is never a time that you lack support or feel like you're just a number. You have a community of plus 400 that you can confidently say cares for you and wishes the best for you. Another thing that sets Mercersburg apart is its internationality. Because there are students not only from all over the country but all over the world, everyone is opened up to new perspectives as well as new and different cultures.
2.) What was the best thing that happened to you in boarding school?
The best thing that happened to me at Mercersburg is very general - meeting friends. The friends that you make at Mercersburg are lifelong. No matter how much time passes between seeing each other, they still remain the best.
3.) What might you have done differently during your boarding school experience?
I don't think I would have done anything differently at Mercersburg. Immerse yourself in the experience and everything will fall into place. Talk to new people, listen to them, try everything, find what you love, and do what you love.
4.) What did you like most about your school?
The community is Mercersburg's best characteristic. It sets Mercersburg apart. You know everyone and everyone knows you. It's a very comforting feeling as well as boosting as it enables you to feel comfortable to try new things.
5.) Do you have any final words of wisdom for visiting or incoming students to your school?
The only advice I'd give is to completely immerse yourself in everything. Go to games, see a theatre production, join a club, take a challenging class, talk to someone new. Mercersburg is such a wonderful place and offers so much it's not hard to get involved.
Academics:
1.) Describe the academics at your school - what did you like most about it?
Coming from my public middle school, I found the academics challenging but very manageable and healthy. Mercersburg offers many classes that most high schools don't, and are taught by very qualified teachers. The most valuable characteristic of the academics is that they prepare you so well for college. I found the transition to college academics much smoother than most of my college's freshman class. Mercersburg embeds time management into each student which I found was extremely crucial in college.
Athletics:
1.) Describe the athletics at your school - what did you like most about it?
Athletics at Mercersburg are a great mix of competition and fun. You are required to be involved in a sport at least two seasons, which I think is a very good for students. The relationships you develop on the court or field - with teammates as well as coaches - are comparable to none. Some of my best memories are with the tennis team or squash team. The athletics program also naturally develops a very healthy lifestyle. They become a norm, and so even in college you are more likely to stay active and be involved in activities there.
Art, Music, and Theatre:
1.) Describe the arts program at your school - what did you like most about it?
Mercersburg has a great arts/music/theatre program. There are a lot of very very talented teachers and instructors on campus that most high schools wouldn't have. The best thing about it is that students are required to take several classes in the arts (ranging from ceramics to theatre to guitar) which opens up completely new worlds for some. It gives students the ability to uncover different passions that may not have been accessible before. The arts are not overpowered by sports like at some schools, which is a very differentiating factor.
Extracurricular Opportunities:
1.) Describe the extracurriculars offered at your school - what did you like most about it?
There are tons of extra-curricular activities at Mercersburg. You can find a club for just about anything. From The Grilling Club, to The Tea Club, to community service, everyone can find something they feel passionate about or are interested in. The other great part about it is that Mercersburg is open to the invention of new clubs.
Dorm Life:
1.) Describe the dorm life in your school - what did you like most about it?
Dorm life was probably my favorite part of school. I was a day student for three years before living in South Cottage my senior year. Living with students and faculty is so fun as well as preparatory. The rooms are relatively big for a small high school (bigger than most college dorm rooms), and all dorms are clean, up to date, and very very livable. Your dorm becomes your home away from home.
Dining:
1.) Describe the dining arrangements at your school.
During the week lunch and dinner usually have required attendance, which I really liked. They were assigned seating, but instead of being annoying it was actually fun to switch tables every 2 weeks. You sit next to people you may not normally sit next to and is a fun break from your normal friend table. The food selection is pretty good, once you figure out what you like. The dining hall is not open in between meals, but it's really not a problem since meals are mandatory and there is a cafe where students can grab snacks.
Social and Town Life:
1.) Describe the school's town and surrounding area.
I grew up in Mercersburg so I knew what it was like before going to the Academy. It's a very small town with not much to do except go out to eat at a few places. Everything is in walking distance from campus which is very nice. It's a very historic town with a lot of interesting and little known facts, which a lot of people don't know.
2.) Describe the social life at your school - what did you like most about it?
The best thing about Mercersburg's social life is that you know everything that's going on and you basically know what everyone is doing. This is cool because for the most part everyone is together and not split up. The student center is a good place to check out all throughout the day and on weekend nights to meet up with friends and make plans.
Daily Schedule:
Weekday
Weekend
11:00 AM
Brunch in dining hall
2:00 PM
Work on some homework
6:00 PM
Go to Flannery's for dinner
8:00 PM
Check in to dorm and to go student center
11:00 PM
Check in for the night
Mercersburg has an incredibly beautiful campus. It is a place for reflection as much as anything else. The gothic chapel is designed by the architect who built Princeton University's chapel, and it carries a rich. . .
Mercersburg has a unique community in that everyone is so connected and there really is a sense of family among the students and teachers. Everyone is incredibly kind, welcoming, ambitious, and curious. the relationships I. . .
Mercersburg had a rotating class schedule, and kept all classes under an hour. This way, students were able to learn for concentrated amounts of time, four hours a week, while not experiencing their least favorite. . .
Show more reviews (

17 reviews

)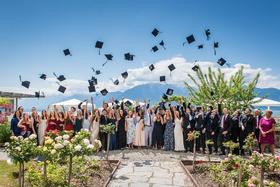 Nurturing Futures: A Journey through Boarding at Haut-Lac School in Switzerland
Nestled in the hills overlooking Lake Geneva in the French-speaking part of Switzerland lies an educational gem that embodies a unique blend of academic excellence, cultural richness and a profound sense of community. Founded over 30 years ago, Haut-Lac International Bilingual Day and Boarding School is now home to both 600 day students and a maximum of 30 boarders from around the world.
What To Wear at Your Job Interview
Navigating job interviews can be stressful, but knowing what to wear shouldn't be. Our comprehensive guide covers the essential dress code tips for men and women interviewing at boarding schools. Make your first impression count with style and professionalism.
Navigating the Modern Maze: Emerging Challenges for Boarding Schools
Explore the pressing challenges facing boarding schools, from marketing difficulties and rising insurance costs to facility maintenance and recruitment of competent trustees and teachers. This article delves into these complex issues and proposes innovative strategies to overcome them.