Reflections and Advice:
1.) What do you think makes your school unique relative to other boarding schools?
To me, Mercersburg was home. An aspect of the school that set it apart from other schools that I looked into during the application process was the family atmosphere. During my four years there, I was able to create some very deep and personal connections to faculty, faculty families, and other students. Whether it was being invited to lunch with my advisor and his wife, or babysitting my English teacher's children, I felt like part of many families, as well as the overall large Mercersburg family. This family extends past my time at the school; just the other day I met a Mercersburg alum who had graduated 10 years before me and we were able to talk for hours about our love for the place and mutual connections we made during our times there.
2.) What was the best thing that happened to you in boarding school?
Boarding school gave me the opportunity to challenge myself to be not only a better student, but a better person. Living with your best friends can be challenging, sometimes roommate issues carry over to friendship issues and vice versa, but in the four years I had the privilege to spend at Mercersburg, I grew up and learned much about myself and how to communicate with my peers. I also learned about the world and was given so many opportunities to expand my knowledge of other people and cultures. Mercersburg allowed me to travel outside of the country for the first time, provided me with the awesome opportunity to meet students from allover the world, and to be enlightened during many guest lectures and speaker series. All of this growing up and learning comes with challenges, but I really feel that I wouldn't be as independent, responsible, or able to communicate as well with my peers without the skills and strength that I learned during my 4 short years at Mercersburg.
3.) What might you have done differently during your boarding school experience?
Boarding school can be terrifying. I spent my first night crying and calling my mom every half hour. But it turned out to be the best thing I could've ever done to challenge myself as a person and a student. I would recommend just giving it a chance and getting involved in every opportunity that may present itself. I can tell you that on that first terrifying night, I didn't realize how much Mercersburg would influence my future. But looking back, without it I would have never been able to get into my dream college, connect with so many interesting and amazing friends and faculty, or truly realize my passion for dance and push myself to pursue it in my future career.
4.) What did you like most about your school?
This is the hardest question of this whole questionnaire in my opinion. Mercersburg quickly became my home at age 14 and will always hold a most special place in my heart. I guess the thing I liked most about Mercersburg was the large amount of opportunity it provided me. It gave me a beautiful environment to spend my high school years, friends who I could neither live without or forget, and countless opportunities to travel and make me a global citizen by providing me with an education not only strong in academia but in common sense and global perspective. I wear my Mercersburg class ring with pride everyday and am delighted whenever I meet someone who is also part of the Mercersburg community because it's amazing to hear how Mercersburg influenced his/her life as well.
5.) Do you have any final words of wisdom for visiting or incoming students to your school?
Definitely check out the newly renovated Lower Ford student lounge area. I just visited this past May and although construction was not complete, it looks beautiful and I can only imagine how amazing the inside must be. I spent many evenings there and I'm so jealous of the students and future students that get to hang out in the beautiful new Lower Ford. Also, please check out the chapel. It's by far my favorite building on campus. With its stained glass windows and classic organ, there's not better place to find quiet time whenever you're feeling stressed from finals or just need to have alone time. My faculty adviser during my time at Mercersburg always held his advising meetings there and I really cherish many of the memories I have in there.
Academics:
1.) Describe the academics at your school - what did you like most about it?
Even though the workload was heavy for some of my classes (as expected for upper-level or AP courses), I found that I was being challenged in a healthy way. All of my teachers offered availability for extra help, and the school provided many alternative options for assistance, such as the Writing and Math Centers. Every single teacher that I had during my four years made an effort to get to know me as a student; some even knew me well enough to offer help before I asked for it. All of the teachers brought a unique teaching style and made even (what seemed to me) the most boring things come to life. When I was in 10th grade, my English teacher made us read Shakespeare. I have always had a hard time understanding it, so this seemed like torture to me. Fortunately, he quickly noticed that I, along with other members of my class, understood it more if we read aloud, like we were in a play. So, he changed all of his teaching plans so that we could not only act out the scenes but also have discussions and character interviews after each Act. I am confident in saying that any teacher at Mercersburg is creative and insightful enough to create the most powerful and interesting learning environments for their students.
Athletics:
1.) Describe the athletics at your school - what did you like most about it?
Although I was never part of an athletic program at Mercersburg, I had many friends who were. My best friend during my time at Mercersburg spent all of his afternoons and Saturdays either on the soccer field, baseball diamond, or in the fitness center. I attended many of his games and have witnessed the passion of the coaches on the field and the outstanding facilities that Mercersburg has to offer, such as Nolde gymnasium.
Art, Music, and Theatre:
1.) Describe the arts program at your school - what did you like most about it?
The Arts were a huge part of my time at Mercersburg. I spent almost every afternoon of my four years there in the magnificent Burgin Center for the Arts. I know that "magnificent" may seem a little exaggerated, but it really isn't in the case of Burgin. The dance studios alone were an incredible place to train and rehearse, it was a hard transition to college because many of the college dance facilities that I visited were subpar to the dance studios in Burgin. I also loved the fact that students had to take an arts credit as a graduation requirement. One of my friends had never taken a dance class in her life before Senior year, but after one term of Beginning Modern and Ballet, she decided to spend the whole year dancing and performed in both Fall and Spring Dance Concerts. The Arts faculty at Mercersburg were my favorite faculty in the whole school. Their patience and guidance, which applied to all students whether they planned to further their art interests in college or not, is present in every single class that they teach. I am so grateful for the chance to learn and grow and further my passion for dance and the arts at Mercersburg, for it has lead to me continuing dance at the University of Richmond and possibly after college graduation.
Extracurricular Opportunities:
1.) Describe the extracurriculars offered at your school - what did you like most about it?
There are so many options for extracurriculars at Mercersburg, I had a hard time deciding which ones to dedicate my time to. Some were more demanding than others; such as the Newspaper or Karux (yearbook). Others were more based on fun activities such as the Grilling Society. My favorite part about extracurriculars was how involvement in them lead me to meet and get close to many other students whom I might not have had the opportunity had we not joined the same club. I quickly became very good friends with the editors of the Newspaper my sophomore year; had I not decided to sign up as a journalist I may not have gotten close to those two seniors.
Dorm Life:
1.) Describe the dorm life in your school - what did you like most about it?
For me, dorm life was the most challenging yet the most rewarding and memorable part of my Mercersburg experience. I lived with the same roommate for four years, I consider her not only to be my best friend but she is more like a sister to me now. Even though she lives thousands of miles from me in Missouri and we haven't been able to visit each other since Graduation two years ago, she remains one of my closest friends. My roommate and I lived in an array of rooms during our four years and we never had too much trouble fitting in the mountain of items that we brought with us to school. My favorite part about dorm life was the community aspect of floors in the dorm and the dorm itself. With faculty members on duties every night, I bonded with many of my teachers in ways that are unique to boarding school life. For instance, as a prefect senior year, I would go with the faculty on duty to the local McDonald's to order a bunch of McFlurries for the girls on my floor. Other times, we would have small birthday parties or celebrations to commemorate seniors getting into colleges or plan movie nights with popcorn and nail polish. Most of my most precious memories of Mercersburg were within the walls of Tippetts Hall and South Cottage.
Dining:
1.) Describe the dining arrangements at your school.
The two best parts about the dining services at Mercersburg are the seating arrangements and options for different food at every meal. I loved meeting new people and getting to know them with the assigned family-style seating at tables. I also loved that if I didn't want the main entree being served, I had many other options that allowed me to never feel hungry or dissatisfied with any meal. An added bonus: the dining hall staff were so friendly and helpful, and they make a delicious dessert called Pretzel Pie (its the best!).
Social and Town Life:
1.) Describe the school's town and surrounding area.
Mercersburg is definitely a small town, but it has really decent restaurants and is very safe. I most loved the historical legacy that is present in many of the old buildings and customs. Mercersburg's presence in the Civil War can still be felt in the town and the school; my favorite dorm, South Cottage, was even used to treat wounded soldiers during the Civil War. Also, Mercersburg is located near many other larger towns and faculty and shuttles are always available for trips.
2.) Describe the social life at your school - what did you like most about it?
My favorite part about the social life at Mercersburg was always being surprised at how my free time was spent. There were many times when impromptu events just kind of happened. Before I went to Mercersburg, my family and I always watched Jeopardy! together after dinner and I started to miss that part of my day when I was at school. However, one night after dinner I was able to convince some other students (many of whom I did not know well) to watch it with me in the student lounge (AKA Lower Ford). After that one night, it became a trend to watch Jeopardy! and I was able to become good friends with some of the other Jeopardy! fans. Now, I realize that Jeopardy! may not seem too exciting, but it was a fun way to spend evenings when the winter cold prevented us students from spending lots of time outside. During Fall and Spring however, my favorite parts of the social life was playing large games of sardines allover campus, stargazing out on the football field, and challenging new friends to games of ping pong and air hockey in Lower Ford.
Daily Schedule:
Weekday
7:30 AM
Head to Breakfast in Ford Dining Hall
12:00 AM
Afternoon classes begin
1:00 PM
Either dance rehearsal or technique class; or go to the gym to work out
6:30 PM
Hang out with friends or start homework early
8:00 PM
Head to the library or do homework in the dorm
11:00 PM
Finish homework; get ready for bed
Weekend
10:15 AM
Head to dining hall for brunch (make your own omelettes and waffles were my favorites!)
12:00 AM
finally leave dining hall brunch (weekend brunch always lasted longer because it was fun to just hang out with friends there
1:00 PM
Start getting ready for the day
1:30 PM
Head to some activity or game or match (Saturday game days were the best! I would go to and from so many different sport games and matches, supporting friends and enjoying the beautiful campus)
6:30 PM
Go to dinner off campus (I still miss Romeo's pizza and Flannery's
8:00 PM
Sign in at dorm; let teachers know where you'll be at on campus until 11
8:15 PM
Do something fun on campus; sign into another friends dorm room or go to Lower Ford or participate in whatever the Student Activities Committee planned for the evening
11:00 PM
Sign into dorm for the night
11:15 PM
Hang out with fellow dorm residents and eventually go to bed
Mercersburg has an incredibly beautiful campus. It is a place for reflection as much as anything else. The gothic chapel is designed by the architect who built Princeton University's chapel, and it carries a rich. . .
Mercersburg has a unique community in that everyone is so connected and there really is a sense of family among the students and teachers. Everyone is incredibly kind, welcoming, ambitious, and curious. the relationships I. . .
Opportunity and Community were the two buzzwords that largely encompass my Mercersburg experience. What lies between these two speaks just as loudly. There is a certain "presence of the present" that exists at Mercersburg that. . .
Show more reviews (

17 reviews

)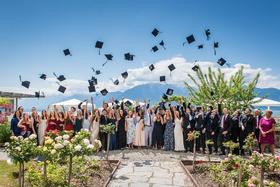 Nurturing Futures: A Journey through Boarding at Haut-Lac School in Switzerland
Nestled in the hills overlooking Lake Geneva in the French-speaking part of Switzerland lies an educational gem that embodies a unique blend of academic excellence, cultural richness and a profound sense of community. Founded over 30 years ago, Haut-Lac International Bilingual Day and Boarding School is now home to both 600 day students and a maximum of 30 boarders from around the world.
What To Wear at Your Job Interview
Navigating job interviews can be stressful, but knowing what to wear shouldn't be. Our comprehensive guide covers the essential dress code tips for men and women interviewing at boarding schools. Make your first impression count with style and professionalism.
Navigating the Modern Maze: Emerging Challenges for Boarding Schools
Explore the pressing challenges facing boarding schools, from marketing difficulties and rising insurance costs to facility maintenance and recruitment of competent trustees and teachers. This article delves into these complex issues and proposes innovative strategies to overcome them.