Reflections and Advice:
1.) What do you think makes your school unique relative to other boarding schools?
AFA was unique in that it's military background and focus, coupled with the Naval Science curriculum, helped establish in our minds that we were getting a first class education.Friends of mine that attended other boarding schools (Catholic or purely academic foundations) did not communicate that their schools had such a wide variety of academic activity that could be pursued. At AFA I truly felt like I was receiving college-level preparation.
2.) What was the best thing that happened to you in boarding school?
Although I was not able to attend college immediately after graduating from AFA, the education and skills I learned at AFA stood me in great stead, from the military aspects after I joined the US Air Force to the incredible English teachers whose lessons allowed me to grow into a professional writer.
3.) What might you have done differently during your boarding school experience?
Honestly, I think I would have just buckled down and not been quite as rebellious. Although I was not a 'bad' kid, I did a lot of crazy and irresponsible things and had I eschewed them, I would have had better grades, advanced higher in rank and had more opportunities for college scholarships.My advice is simple: work as hard as you can and make the most of your opportunity. No matter why you are at boarding school, the decisions and choices you make will affect the rest of your life. The world today is not getting any easier and is more competitive than ever. To really make your mark in the world today, you need the most solid foundation you can have.
4.) What did you like most about your school?
Overall it was the people. From my favorite teachers and coaches to lifelong friendships that were forged. Our graduating class had 48 students - and I still stay in touch with several of them today.
5.) Do you have any final words of wisdom for visiting or incoming students to your school?
It's tough because it's been ages since I've been at AFA. The canteen was always a great place and had a little bit of everything - a great place to relax or study, and get a tasty snack in your free time. Overall I was a gym rat. Any chance I had, I was there - AFA had a great weight room and the athletic facilities were awesome. Plus there was always someone around willing to play a set of tennis, kick a soccer ball, play some flag football or just shoot some hoops.
Academics:
1.) Describe the academics at your school - what did you like most about it?
I believe one of the areas that set AFA academics apart was the experience and knowledge of the instructional staff. The majority of the faculty had served in the military at officer grade and were able to bring a huge breadth of experience to bear in curriculum development and illustrative teaching. In addition, AFA went out of its way to bring in faculty with strong resumes. Our Chemistry teacher had Master's degrees from Yale and worked on Yale science projects over the summer. Having access to that level of knowledge was astounding and incredibly beneficial n a high school.
Athletics:
1.) Describe the athletics at your school - what did you like most about it?
AFA had a tremendous athletics program. Coming from attending junior high school in the UK, I was thrilled to find a soccer team filled with an eclectic and talented mix of American, European and Latin American players. Our team was in the district playoffs every year and was a perennial contender for honors.Another great aspect of the athletics program was the ability to play two sports simultaneously. Most schools will restrict athletes from participating in more than one sport during a season but the respective coaches worked together and i was allowed to serve on both the varsity tennis and track teams, at the same time, without any conflict of interest.
Art, Music, and Theatre:
1.) Describe the arts program at your school - what did you like most about it?
I did not participate in many of the arts programs that were available at AFA. However, I was fond of the ballroom dancing classes and took every opportunity to improve my coordination and dance skills.
Extracurricular Opportunities:
1.) Describe the extracurriculars offered at your school - what did you like most about it?
Many of the extra-curricular activities were actually associated with the Naval Science department. Learning to sail, navigate, tie knots and improve other nautical skills was awesome. We also learned about water-borne diseases and helped clean up Boca Ciega Bay during Red Tide outbreaks, heavy storms and other occurrences.
Dorm Life:
1.) Describe the dorm life in your school - what did you like most about it?
The best thing about dorm life at AFA was rooming with international students. Having lived overseas previously, it was great to connect with students from all over the world and discuss our shared experiences. En-suite bathrooms were unusual at the time and made things much easier as far as getting ready in the morning or cleaning up after sports practice.
Dining:
1.) Describe the dining arrangements at your school.
The dining hall seemed huge - almost as large as the one described in the Harry Potter novels. The food selection was great and very tasty. Lots of meat, vegetables, salads and drink varieties to choose from.
Social and Town Life:
1.) Describe the school's town and surrounding area.
Being located in St. Petersburg, FL AFA is ideally situation for an amazing array of outdoor activities from beach to boating, tennis to golf, professional sports teams to watch, concert venues and galleries to visit...it really has it all.
2.) Describe the social life at your school - what did you like most about it?
One of the great things about the social life at AFA was our relationship with private girl's schools in town. Even though we may not have known each other, the schools had open invitations to each other's social functions so we were allowed to mingle and put those hard-won dance lessons into practice!
Daily Schedule:
Weekday
4:00 PM
Classes end for the day
7:00 PM
Study hall/in-room study
Weekend
8:30 AM
Dorm cleaning/free time
Boarding at Admiral Farragut Academy was one of the best experience of my life, even though I was a foreign student, I never felt home sick.Staff at Farragut where always supportive and well experience. They. . .
A naval preparatory school on Bocas Ciega Bay in St. Petersburg, Fl. making it ideal for naval sciences. It has increased it's curriculum of sailing and navigation to include snorkeling, scuba diving and marine. . .
Great education, although i didn't appreciate at the time. i also learned how to be a gentleman and Naval Science. . .
Show more reviews (

6 reviews

)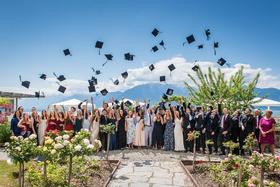 Nurturing Futures: A Journey through Boarding at Haut-Lac School in Switzerland
Nestled in the hills overlooking Lake Geneva in the French-speaking part of Switzerland lies an educational gem that embodies a unique blend of academic excellence, cultural richness and a profound sense of community. Founded over 30 years ago, Haut-Lac International Bilingual Day and Boarding School is now home to both 600 day students and a maximum of 30 boarders from around the world.
What To Wear at Your Job Interview
Navigating job interviews can be stressful, but knowing what to wear shouldn't be. Our comprehensive guide covers the essential dress code tips for men and women interviewing at boarding schools. Make your first impression count with style and professionalism.
Navigating the Modern Maze: Emerging Challenges for Boarding Schools
Explore the pressing challenges facing boarding schools, from marketing difficulties and rising insurance costs to facility maintenance and recruitment of competent trustees and teachers. This article delves into these complex issues and proposes innovative strategies to overcome them.