Reflections and Advice:
1.) What do you think makes your school unique relative to other boarding schools?
The first unique aspect of the school is the combined military approach and the factor that not many students are allowed to attend. The way that there is a limited focus of students from the instructors there makes the school have a lot more one on one help for individual students that you really appreciate and miss once you get into a University. The next aspect is really just the people that work there, they are all long time workers of the Academy and have really grown into a family that know how to deal with any situation, and due to this the atmosphere they have created translates to the rest of the school.
2.) What was the best thing that happened to you in boarding school?
The best thing that happened to me was being promoted to Cadet Captain of Band and Staff Company my senior year, which was the best worst thing I have done in my life. Worst meaning the stress that it put on me having 50 kids under my watch every day that I had to be accountable for and having to deal with cleaning the barack's and making sure they arrived to class on time. Best meaning that it taught me real responsibility, how to give and gain respect, and ultimately confidence that I had never had before then, which is truly something you cant put a price on and has helped me greatly at USC.
3.) What might you have done differently during your boarding school experience?
I wish I would have accepted it more, I was honestly one of those kids who had no intention of ever going to a boarding military school, and at first I opposed it greatly and was very hard to my mother which is something I regret. Looking back if I would have just accepted where I was and made the best of it right from the go my time would have been much more fun. Advice to kids that may be starting there soon is to just enjoy the experience, I had a much better time once I realized that the Academy was great for me and that it was truly going to benefit my life, and really it was one of the most fun times of my life and I miss it every single day.
4.) What did you like most about your school?
The brotherhood that I gained while there, basically the whole school is a fraternity, while you don't like every single student you attend school with you're going to meet people that you get along with, and you will grow with these people because they are your brothers, and you're going to go through good times and bad times with them and that is what I believe builds real friendship that is rare.
5.) Do you have any final words of wisdom for visiting or incoming students to your school?
My biggest words of advice for any new students is to enjoy it while you can and make sure you leave no regrets, I was so happy and proud of myself to finally graduate the Academy but now I sometimes wish I was back in my dorm room with one of my roommates having a good time, which is something I doubt I will ever be able to duplicate. It truly is a once in a life time experience that will stay with you for the rest of your life.
Academics:
1.) Describe the academics at your school - what did you like most about it?
The academics at Camden Military Academy are very close to the teachers, the small number of students allows for great one on one interaction between the teachers and students which in turn helps to understand material greater. One of the most beneficial things to my studies there was the opportunity to complete my freshman year in college, credit wise, while in high school. This helped me greatly in terms of prepping me for college studies and in the long run saved money by allowing me to graduate early.
Athletics:
1.) Describe the athletics at your school - what did you like most about it?
My favorite parts of the athletics was honestly that we had a championship every year. Even though I was not personally apart of it, it was neat to see both a Football championship my junior year, and then a lacrosse championship my senior year. But, playing baseball I was worked into the best condition of my life, I learned many baseball fundamentals that I had never picked up even though I had been playing the sport my whole life, and the increase in my ability was another thing to be proud of.
Art, Music, and Theatre:
1.) Describe the arts program at your school - what did you like most about it?
I was not apart of any of these programs, but I was Captain of Band and Staff company, in which I did pick up a little bit of how to play drums. I also recall many students having the opportunity to get involved with any Camden theatre events in which they please in which the Academy would orchestrate a way for these students to reach the places necessary for the students to partake in these events.
Extracurricular Opportunities:
1.) Describe the extracurriculars offered at your school - what did you like most about it?
Extracurricular activities were something you were required to do at Camden Military Academy. While my extracurricular activities were Junior Leadership and sports, there were many things I was aware that I did not participate in. Some of them included students being able to learn how to fly a plane, weekend trips planned by the Academy once a month that went to places all over the East Coast.
Dorm Life:
1.) Describe the dorm life in your school - what did you like most about it?
The best thing about Dorm life was the brother ship that was created while living in it. You have a roommate and some close friends in which you do everything together, from drill, to PT, to class, and even cleaning and that stuff really builds a bond. Some of the guys that I went to school with there will always be some of my closest friends even if I don't see them much anymore and that is truly something that I have found to be rare, even going through college.
Dining:
1.) Describe the dining arrangements at your school.
Everyday the whole school would meet in the Dining Hall at the same time to eat. This would happen three times a day and would be started by the saying of the cadet's prayer in which all students are required to learn. Some of the meals were not my favorite, but I'm also a picky eater; by far the best meals were breakfast which I'm pretty sure everyone in the school looked forward to. There was assigned seating put forth by your cadet officers so you would have to sit by the same people everyday that were also the people you lived with so it was a very homey feel once you find some friends.
Social and Town Life:
1.) Describe the school's town and surrounding area.
I actually grew up in Camden so the surrounding town was nothing new to me. Overall Camden is a very small, quiet, southern town with literally no problems besides be small. It was conveniently located 20 minutes from the capital of South Carolina, which is a pretty nice city with many activities for students to do which was nice due to the fact that it was very close and easy to get to.
2.) Describe the social life at your school - what did you like most about it?
I loved having all of my closest buddies with me at all times, since the school was so small you saw everyone just about everyday. I also enjoyed the bond that the teachers worked to gain with the students, they are always very helpful and open to talk, not just about academia, but also any other problems that may be bothering the male teenager, and I honestly consider them some of my friends, and I still keep in touch with them.
Daily Schedule:
Weekday
6:00 AM
Wake up and Clean Room and yourself up for the day
7:00 AM
Breakfast formation and meal
8:00 AM
PT, Drill, Study Hall before class (one of these)
12:00 PM
Break from class, lunch formation and meal
6:00 PM
Dinner Formation and Meal
Weekend
8:00 AM
Optional Breakfast
12:00 PM
Lunch formation and meal
6:00 PM
Dinner Formation and Meal
9:00 PM
Free Time in barack's
One thing that separated Camden from any other school I've looked at or attended was the small and personal classes. My biggest class went from being 34 at a public school to 12 at Camden. . .
This school creates extreme bonds with brothers you will forever remember. Me and my brothers worked hard together, learned together, and learned the values of truth and discipline. Camden Military Academy is a life changer. . .
There is a brotherhood that can be found nowhere else. I would not trade in my experience here for anything. This has been a one in a lifetime experience. The teachers here can help the. . .
Show more reviews (

15 reviews

)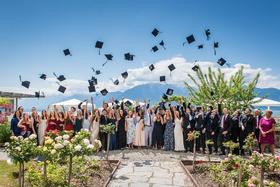 Nurturing Futures: A Journey through Boarding at Haut-Lac School in Switzerland
Nestled in the hills overlooking Lake Geneva in the French-speaking part of Switzerland lies an educational gem that embodies a unique blend of academic excellence, cultural richness and a profound sense of community. Founded over 30 years ago, Haut-Lac International Bilingual Day and Boarding School is now home to both 600 day students and a maximum of 30 boarders from around the world.
Navigating the Modern Maze: Emerging Challenges for Boarding Schools
Explore the pressing challenges facing boarding schools, from marketing difficulties and rising insurance costs to facility maintenance and recruitment of competent trustees and teachers. This article delves into these complex issues and proposes innovative strategies to overcome them.
What To Wear at Your Job Interview
Navigating job interviews can be stressful, but knowing what to wear shouldn't be. Our comprehensive guide covers the essential dress code tips for men and women interviewing at boarding schools. Make your first impression count with style and professionalism.