The Webb Schools - Review #3
About the Author:

College Enrolled
Georgetown University
Home Town, State (Country)
Walnut, CA
Years Attended Boarding School
4
Activities During Boarding School
International Liaison, Orchestra, Service Council GCC Co-Chair, TEDx, Tennis,
Review

Description

University of Rochester

The Webb Schools has two schools in one, and for the first two years, it is not co-ed. This is mainly because of the fact that boys and girls study differently, and I have had no. . .

Williams College

Webb differs from other boarding schools of the same size and caliber in numerous ways, but the differences are not always felt by the student body in proportion to their rarity. The paleontological resources, for. . .

Georgetown University

Webb's unique integration of unisex and coed classes within a students schedule is a quality that really differentiates itself from other private schools. Males and females do not have coed classes until their 3rd year. . .

Harvard College

Two aspects unique to Webb would definitely be the Alf Museum and the Honor Code, which definitely made my Webb experience unlike anything I would ever have at a normal high school. Through the Alf. . .

University of Notre Dame

I believe what makes Webb a very special and distinguishable place to other schools is the Honor Code in action and the relationships one can make with the faculty and service staff. The Honor Code. . .

Show more reviews

(18

reviews)
April 20, 2018
Actually, there is no secret to getting your child into boarding school. Just a lot of hard work and a heavy commitment of time.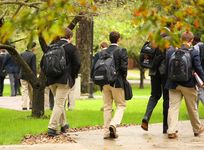 March 22, 2018
Some cynics think single-sex education is old-fashioned. The Kiski School shows how educating boys in a single-sex school is successful.
March 08, 2018
The wide range of fine academic, athletic, and other facilities found in boarding schools underscores the determination of schools to provide the very best for their students.