Reflections and Advice:
1.) What do you think makes your school unique relative to other boarding schools?
Webb's unique integration of unisex and coed classes within a students schedule is a quality that really differentiates itself from other private schools. Males and females do not have coed classes until their 3rd year of high school (excluding language and higher level math classes). It encompasses the best of both worlds by allowing students to flourish socially amongst their peers while still being able to reap the benefits of a single sex education.Along with its distinctive approach to offering the best education that it can offer to students, Webb also is known for its Paleontology program. It is currently the only school in the US with its own Paleontology museum. All freshmen, while taking physics their freshmen year of high school, are given the opportunity to learn Paleontology. This program includes allowing students to explore the museum that is literally only a couple feet away from the classroom as well as expose themselves to critical thinking and analytical techniques while studying this interdisciplinary subject. The unit ultimately ends with the Freshmen Paleontology Trip where freshmen are able to look for fossils on their own and bond with their class.
2.) What was the best thing that happened to you in boarding school?
The best thing that happened to me at Webb was being able to meet the people that I met there. I've made friends that I can truly call my family and the relationships that I created with the faculty are unforgettable. Even now, I am still in touch with faculty members and my case is not unusual either. There are always alumni visiting faculty members that they have stayed friends with after graduation.Entering Webb made me grow into a more mature, independent, and stronger person than when I first entered. The obstacles that I had overcome with the support of the Webb community is something that I truly believe is unmatched. It gave me skills for life, not just for college.
3.) What might you have done differently during your boarding school experience?
If you're reading this, as a parent or student, you're probably in a state of mind like what I was in five years ago: curious, excited, scared. And that's perfectly normal and okay. Going to Webb, or any other boarding school, can be one of the biggest and most intimidating decisions of someone's life, but people need to know that everything will turn out to be okay. I seriously considered my decision of attending Webb during my freshmen year. My parents gave me the option of transferring but I eventually chose to stay. It was the best decision that I ever made. If I could have done anything differently bad then, I would have chosen not to doubt myself so much and ask so many "what ifs." Rather than wonder about what could be, just do. Embrace the school and all of its support and resources that it offers even if it may be intimidating at first. As soon as I changed my mindset to what can I offer to the school rather than what can it offer me I immediately began to appreciate everything that Webb had to offer me.
4.) What did you like most about your school?
If I haven't said it enough, faculty. I literally consider some of the Webb faculty members extensions of my family and I truly can't imagine how I would have survived all the stress of college, teenage drama, SATs, etc without them.
5.) Do you have any final words of wisdom for visiting or incoming students to your school?
Don't expect Webb to be a utopia. It's definitely not, but that is also the same for any other private and public school. However, like family, despite its flaws, you'll still love it and call it your home.Also, definitely try Full of Life for amazing sandwiches in The Village and make sure to utilize Claremont's $1 cab service if you need to go out on the weekends. Additionally, try Claremont's 21 Choices if you are craving something sweet.
Academics:
1.) Describe the academics at your school - what did you like most about it?
Webb really cares about its students. The faculty sincerely wants their students to do well and they listen whenever issues come up. There is usually pretty good coordination amongst faculty to make sure student course loads don't become too heavy and the student class schedule is always being tweaked for greater ease and efficiency. The faculty offer office hours as well if a student needs help or simply wants to talk about a class. When students are unable to make office hours, faculty are also extremely willing to meet with their students outside of the normal school day since most faculty members live on campus.This willingness to help does not just extend to faculty, but students as well. Webb students are always willing to help one another and study groups are always being formed all around campus spaces. Competition does not seem to be with each other, but rather with Webb students individually. They all strive to do their best academically and the faculty are always there to be supportive.The international population on campus is very present at Webb. As a result, there are many different viewpoints that are offered during class discussions (which humanity classes are usually based upon). The workload at Webb can be overwhelming at times, especially during Junior year, but freshmen are usually given a lighter workload to adjust to the boarding school life.
Athletics:
1.) Describe the athletics at your school - what did you like most about it?
The athletics program at Webb can be a mixed bag. Some seasons like in soccer, basketball, or cross country can do very well while others can fall short. However, the facilities are always maintained very well (although there are sometimes complaints about how funds are allocated) and there is an endless variety of sports to choose from. Webb students are required to choose one sport to participate in each year which leads to a lot of experimenting and discovery amongst the students.
Art, Music, and Theatre:
1.) Describe the arts program at your school - what did you like most about it?
I was part of the orchestra for four years at Webb and I never had any regrets joining. The faculty is truly amazing and while the facilities can be a little complicated to use at times, the new Susan A. Nelson Auditorium should improve things significant. I do wish that the orchestra had a greater diversity of instruments but given the small population of the school, it is hard to create a full orchestra. The campus is very open to the arts and it's not rare to see a student playing an instrument outside during nice weather.
Extracurricular Opportunities:
1.) Describe the extracurriculars offered at your school - what did you like most about it?
There are plenty of extracurriculars to choose from on campus as well as volunteer opportunities. Webb's (Community) Service Council is a very popular organization on campus and offers annual spring break and even summer overseas volunteer opportunities. For example, I was able to go to Romania on a Habitat for Humanity trip Junior year and to Fiji my sophomore year. If you realize that Webb lacks something that you are interested in, with a little bit of time, commitment, and passion, you can create your own organization. Faculty are very supportive of students joining a variety of extracurriculars and there's always a constant stream of club activity in the Quad.
Dorm Life:
1.) Describe the dorm life in your school - what did you like most about it?
Dorm life, like any other place, has its ups and downs. The rules for check in and lights out can be a pain for underclassmen to adjust to but after a while it becomes almost natural. There are always faculty checking in on the dorms every night as well as a specific faculty member in charge of each dorm. Sometimes, they even bring food. There are weekly meetings where the whole dorm assembles together to stay up to date on campus events and something called Dorm Olympics for friendly competition amongst the dorms. With dorm life, your friends are always by your side and although there can be a lot of drama and complaints at times, people are always appreciative to have their friends around.
Dining:
1.) Describe the dining arrangements at your school.
The Webb dining hall staff are always friendly and it is not uncommon for students to develop close relationships with the dining hall staff members.The staff obviously tries very hard to provide good food for students and sometimes it does come through, but there are not so great food days as well. The dining hall service is always open to suggestions though and is very willing to accommodate dining preferences to the best of their abilities.
Social and Town Life:
1.) Describe the school's town and surrounding area.
Given Webb's proximity to the Claremont Colleges, it is very common for students to go out to "The Village" on the weekends for some food, shopping, or froyo. Unfortunately, many of the shops tend to be on the pricier side and it is very hard to reach anywhere by foot. Luckily, Webb provides weekly van runs that are able to take students to set locations (movies, malls, Target, etc), as well as the occasional "Ask Jeeves" van where students can pick anywhere they want to go.
2.) Describe the social life at your school - what did you like most about it?
Because of Webb's size, almost everyone knew each other on campus...if not by name, then by face. This can be both a good and bad thing. Bad, because gossip can spread very easily, and good, because by the end of four years at Webb, you really know your classmates very well.
Daily Schedule:
Weekday
3:15 PM
Sports/ Activities
Weekend
1:00 PM
Shopping, hanging out, homework
The classroom setting of a round table discussion instead of lecture based teaching. I believe it really puts the pressure on the student to understand what is going on in the class and bring an. . .
Webb has a clear focus on community and it really shows. When you are a student you become best friends with the faculty and your fellow students, traversing the boundaries of what most schools can. . .
The Webb Schools is unique in many ways different than other boarding schools. One being that it is a boy's school and a girl's school on one shared campus. This allows the freshman and sophomore. . .
Show more reviews (

26 reviews

)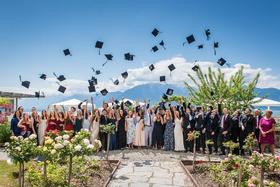 Nurturing Futures: A Journey through Boarding at Haut-Lac School in Switzerland
Nestled in the hills overlooking Lake Geneva in the French-speaking part of Switzerland lies an educational gem that embodies a unique blend of academic excellence, cultural richness and a profound sense of community. Founded over 30 years ago, Haut-Lac International Bilingual Day and Boarding School is now home to both 600 day students and a maximum of 30 boarders from around the world.
What To Wear at Your Job Interview
Navigating job interviews can be stressful, but knowing what to wear shouldn't be. Our comprehensive guide covers the essential dress code tips for men and women interviewing at boarding schools. Make your first impression count with style and professionalism.
Navigating the Modern Maze: Emerging Challenges for Boarding Schools
Explore the pressing challenges facing boarding schools, from marketing difficulties and rising insurance costs to facility maintenance and recruitment of competent trustees and teachers. This article delves into these complex issues and proposes innovative strategies to overcome them.