Reflections and Advice:
1.) What do you think makes your school unique relative to other boarding schools?
The classroom setting of a round table discussion instead of lecture based teaching. I believe it really puts the pressure on the student to understand what is going on in the class and bring an even ground between the teacher and the student. Also, having the teachers participate in coaching sports and afternoon activities helps build a sense of spirit in the teachers supporting the students.
2.) What was the best thing that happened to you in boarding school?
Finding a tight group of friends that could hang out on weekends and lunches. Learning about your own independence and how to take care of your daily tasks on your own is important for college life and beyond.
3.) What might you have done differently during your boarding school experience?
The boarding school experience sucks you in to just staying in your dorm area and making small cliques with people. My freshman year I did not put out the effort to meet my classmates, especially my day student peers. If I had to go back, I would try to meet as many of my fellow classmates as early as possible. Boarding school itself is a challenge if you have not stayed away from home for long. Try to build your independence from your parents but also lean on them and ask for advice. Communicate either with your prefect or any teachers if you ever need anything, they are always willing to help!
4.) What did you like most about your school?
Webb offers a very diverse student body that comes from a multitude of backgrounds. These students excel in many parts of their school, athletics, and extracurricular life. Being surrounded with such a motivated group of people pushes you to try your hardest and do your best. The people you meet here will be your lifelong friends.
5.) Do you have any final words of wisdom for visiting or incoming students to your school?
Jameson is the best dorm because it is right next to the pool and not all the way up near Upper Dorms. The paleontology museum is a very cool place to visit with a group of friends. Open pool is a great time to have fun with friends any time it's open. The cookies the dining hall gives are amazingly good.
Academics:
1.) Describe the academics at your school - what did you like most about it?
The academics have recently opened up to more specific type courses in the humanities and sciences in topics such as: Advanced Studies in the Cold War Era, Bio-Physics, and Birth of the Modern City. Many of the courses have rigorous course-loads but the free time that Webb gives to its students allows them to work together well. The library is one of the best places in the school to study and many students utilize it to work together.
Athletics:
1.) Describe the athletics at your school - what did you like most about it?
The athletics program is very inviting to people either trying a sport for the first time or are already veterans to the sport. The home games at Webb are not packed but offer a very strong audience in the students, parents, faculty, and friends that do attend. The coaches are always very energized and put all their effort into the sport.
Art, Music, and Theatre:
1.) Describe the arts program at your school - what did you like most about it?
The theater program puts on two shows every year and they are amazingly run; from the actors and actresses on stage, to the technical people in the booth, every single show is a treat to see. The orchestra also puts on many shows every year and it ranges from strings only to brass only to a full orchestra and always pulls in a full audience!
Extracurricular Opportunities:
1.) Describe the extracurriculars offered at your school - what did you like most about it?
The volunteer trips to countries such as Costa Rica, China, Macedonia, etc. offered a complete cultural immersion in those countries and experiences that most schools can't offer. Certain clubs get to leave on their competitions while others get occasional trips to the beach and ski slopes (weather permitting). There are so many afternoon activities ranging from weightlifting, community service, and different sports that you can try a new activity every season all for all four years and you would still have more activities to do.
Dorm Life:
1.) Describe the dorm life in your school - what did you like most about it?
Dorm life is amazing at Webb. Hanging out in other people's rooms gave me a chance to know them better. The camaraderie that the boarding students build around their dorms is great and very conducive to making lifelong friends. All rooms are singles and privacy is maintained if you need it. There is a strong faculty and student relationship overall throughout dorm.
Dining:
1.) Describe the dining arrangements at your school.
The dining hall is open for mostly all of the day and lets students walk in, grab food, and bring it to their dorm room. No assigned seating. You can choose either to sit inside or outside with an umbrella as shade and shelter. Saturdays are burgers and hot dogs, Sundays are brunch, and Fridays are sushi days.
Social and Town Life:
1.) Describe the school's town and surrounding area.
The Claremont Village is a great place to go for food and movies with friends on weekends. The diverse types of food, ranging from Thai to Mexican to American, can cater to anyone and the small shops they have are fantastic to check out.
2.) Describe the social life at your school - what did you like most about it?
Since Webb's class sizes are so small, you can get to know your classmates around you very quickly. Students are encouraged to make new friends and meet new people. Tolerance of other people's cultures and backgrounds was a big theme in all four years of when I attended Webb.
The classroom setting of a round table discussion instead of lecture based teaching. I believe it really puts the pressure on the student to understand what is going on in the class and bring an. . .
Webb has a clear focus on community and it really shows. When you are a student you become best friends with the faculty and your fellow students, traversing the boundaries of what most schools can. . .
The Webb Schools is unique in many ways different than other boarding schools. One being that it is a boy's school and a girl's school on one shared campus. This allows the freshman and sophomore. . .
Show more reviews (

26 reviews

)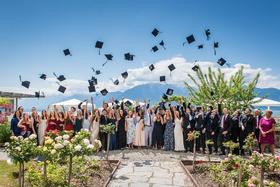 Nurturing Futures: A Journey through Boarding at Haut-Lac School in Switzerland
Nestled in the hills overlooking Lake Geneva in the French-speaking part of Switzerland lies an educational gem that embodies a unique blend of academic excellence, cultural richness and a profound sense of community. Founded over 30 years ago, Haut-Lac International Bilingual Day and Boarding School is now home to both 600 day students and a maximum of 30 boarders from around the world.
What To Wear at Your Job Interview
Navigating job interviews can be stressful, but knowing what to wear shouldn't be. Our comprehensive guide covers the essential dress code tips for men and women interviewing at boarding schools. Make your first impression count with style and professionalism.
Navigating the Modern Maze: Emerging Challenges for Boarding Schools
Explore the pressing challenges facing boarding schools, from marketing difficulties and rising insurance costs to facility maintenance and recruitment of competent trustees and teachers. This article delves into these complex issues and proposes innovative strategies to overcome them.