Reflections and Advice:
1.) What do you think makes your school unique relative to other boarding schools?
The Webb Schools is unique in many ways different than other boarding schools. One being that it is a boy's school and a girl's school on one shared campus. This allows the freshman and sophomore years of the students to have separate classes, allowing them to focus on studies, but still share one campus and interact with one another. Another special opportunity Webb offers is the wide range of spring and summer break trips. Over spring break, a variety of trips are offered to students every year. This ranges from destinations in Asia, Europe, Central America, and many other places. I was lucky enough to go on two trips during my time at Webb, which were Costa Rica and Belize. For me, these were once in a lifetime opportunities and I was able to go on them with friends and experience these places for one to two weeks. I also signed up for one of the Summer Peccary Trips that Webb offers. This is a two week paleontology trip where teachers drive a group of about 15-20 students through Utah, Idaho, and Montana. While the trip is focused around excavating fossils, we were also able to visit and hike through national parks, inner tube in rivers, find lakes to swim in, and have bonfires every night. During this trip I met people that I am sure I would have never met at school, and made unforgettable memories with them. I was very resistant in going on this trip initially when my mom signed me up, but it ended up being one of my favorite experiences at Webb and I would do it over again if I could. I highly recommend this trip and it is something I can guarantee you will not find at any other high school. Another thing is the teachers are at Webb are extremely loyal and are typically still teaching at the school for many years. This is really cool when students come back to visit their Alma Mater and can still see their old teacher from years ago.
2.) What was the best thing that happened to you in boarding school?
I am very grateful for my time and experience at Webb. I've made lifelong relationships and been to places I would have never thought I'd been before. I am glad I went to so many events the schools and students put on and was so involved on campus because it really makes your experience so much better and is a nice break from studies.
3.) What might you have done differently during your boarding school experience?
I would say definitely try to get know people as best you can. While academics are extremely important, it is also very important to have connections and know people from different backgrounds than yourself or your typical circle of people.
4.) What did you like most about your school?
I honestly loved the everyday routine. Going to classes and seeing all my friends everyday. Webb is a very packed and full schedule if you make it that way for yourself, but it prepares you best for college in that way. It forced you to prioritize your time and that has been one of the most useful things for me in college and in life. The rigorous academics also more than prepared me for college and I often felt like I was a step ahead of my peers or just less stressed because of how Webb prepared me. I would say overall, I love all of the opportunities that Webb gives its students. I myself was a student of financial aid and was still able to partake in all of the opportunities offered because Webb made it possible for me. I also loved all the things that made Webb unique to other schools such Theme Week, Unbounded Days, Peccary trips, and Spring Break trips.
5.) Do you have any final words of wisdom for visiting or incoming students to your school?
I would say just try to see as much of the campus as you can! It's a beautiful place and has so much to offer so make sure to ask your tour guide any questions you have. They are happy to answer anything!
Academics:
1.) Describe the academics at your school - what did you like most about it?
Academics at Webb are intense and can be as hard as you want to make them since the school has a huge range of AP classes available. While they were at times difficult and challenging, it is still very manageable even if you are a member of one or more sports teams or other extracurricular/ leadership groups. Every teacher offers office hours several times a week where students can meet with them to talk about any questions they have. The teachers are all very intellectual and are very accessible outside of the classroom and outside of office hours. Recently Webb has slightly changed the curriculum by incorporating an even more diverse selection of classes that students can take. This is an innovative curriculum that offers semester long electives to upperclassmen. This includes honors and AP/ Advanced Studies level classes. This was offered to me by my senior year and I chose to take a class in ethics and modern global affairs and a class in Chinese modern history, however, the curriculum offers even more options in humanitarian, mathematical, and scientific studies.
Athletics:
1.) Describe the athletics at your school - what did you like most about it?
Students are required to participate in one sport a year. Even if you do not consider yourself an athletic person or are dreading the thought of joining a sports team for a season, the athletic program at Webb is one that is open to any student no matter the level of achievement they have in the sport. It is also a really great way to make friends and meet people you wouldn't otherwise. The league that most all of the sports teams Webb is in is very competitive with one another. The facilities are mostly all above average. Recently the pool was renovated and is very nice now. The coaching is interesting because sometimes you can have a very experienced coach come from outside of the school and help develop the program, and sometimes your math teacher is your coach. Either way, I enjoyed the coaching. Sometimes it's cool to have a teacher as a coach so they can see what you're like outside of the classroom, as you can also see them.
Art, Music, and Theatre:
1.) Describe the arts program at your school - what did you like most about it?
I took art classes at Webb for three years and enjoyed it immensely. My first two years of taking it I had a teacher who had been teaching at Webb for about 30 years. I can a really nice relationship with this teacher and he was kind to all of his students, while still being critical of their work in a constructive way. He often took my class out for lunch and offered camping trips at Joshua Tree several times a year. Even after he retired, he still came to Art Cafe and I am still in contact with him to this day. Some of his traditions such as the Joshua Tree camping trip were still in tact even after he left. I joined theater tech my senior year. My role was the scenic charge artist, which was basically painting and constructing the backdrop. In addition to this I also helped with all the props, makeup, and more. Theater tech also has a group of talented students who are in charge of the lightning, sound, and more. By the end of the season, the cast and crew put on a huge show for three consecutive days, filling up the entire theater. Webb have this theater where most performances, dance shows, fall/spring plays, musicals, orchestras, assemblies, and more take place and the black box theater where there are classes, class meetings, and other taking place. This was something pretty different compared to other activities I had participated in at Webb, but by the end of the season I had hoped I would have started it earlier.
Extracurricular Opportunities:
1.) Describe the extracurriculars offered at your school - what did you like most about it?
I liked how many options there were for extracurricular activities, but it was also sometimes stressful because I wanted to participate in so many!
Dorm Life:
1.) Describe the dorm life in your school - what did you like most about it?
While I was not a boarding student at Webb, many of my friends were. We often hung out in their rooms before, after, and between classes. Many of the girls dorms are doubles, although sometimes there are singles available. the boys dorms are all singles.
Dining:
1.) Describe the dining arrangements at your school.
There were so many great things that came from Webb's dining hall while I was there. The dining staff always greeted you, even if they didn't know who you were but most knew you by name and always ask about your day. The food selection is so good! Every day there is fruit, bagel bar, salad bar, sandwich bar, soups, noodle bar, the soft serve machine, desert, and whatever the dining staff is making for that day. The dining hall staff makes especially good taco Tuesday meals, cookies (every Wednesday), omelettes, and more. A few times a year we also get sushi. Most of the seating is indoors in the main dining hall, but there is also seating outside in the front and the back.
Social and Town Life:
1.) Describe the school's town and surrounding area.
The Webb Schools is in Claremont, California, a somewhat residential area. Nearby is the Claremont Colleges with the town village adjacent. The Village is a small shopping area with shops, restaurants, and a movie theater. This is a really great place to come to to get away from campus for a little while. There is also another area in La Verne with more places to eat like McDonalds, Chipotle, InNOut, and more. If you want to make a day out of it and get out of town, the metro station is a quick ten minute drive away from campus, which takes you all the way to Union Station in Los Angeles. Since Webb is so close to the mountains that is also about an hour drive away. The beach is also an easy hour drive away and there are many other places to go in LA and the surrounding areas. There are also many scenic routes through the mountain super close to campus.
2.) Describe the social life at your school - what did you like most about it?
I really enjoyed Webb as a boarding school. Even though I was not a boarder, I met people from all over the world and this sparked many interesting conversations throughout my experience here. Being a smaller institution, I found that the bonds I made were much closer. I made close friends with people from Hong Kong, Beijing, San Francisco, Russia, and more. I've been able to visit friends in these places and have the opportunity to visit them in other places.
Daily Schedule:
Weekday
9:45 AM
Class ends, office hours begins
11:45 AM
Class ends, lunch
4:00 PM
Afternoon Activities
The Webb Schools is unique in many ways different than other boarding schools. One being that it is a boy's school and a girl's school on one shared campus. This allows the freshman and sophomore. . .
I think there was generally a good work-life balance, or more like study-life balance at Webb. The community was small enough that we would know most everybody, teachers cared tremendously for the students, sports were. . .
The classroom setting of a round table discussion instead of lecture based teaching. I believe it really puts the pressure on the student to understand what is going on in the class and bring an. . .
Show more reviews (

26 reviews

)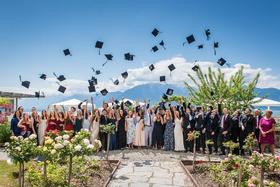 Nurturing Futures: A Journey through Boarding at Haut-Lac School in Switzerland
Nestled in the hills overlooking Lake Geneva in the French-speaking part of Switzerland lies an educational gem that embodies a unique blend of academic excellence, cultural richness and a profound sense of community. Founded over 30 years ago, Haut-Lac International Bilingual Day and Boarding School is now home to both 600 day students and a maximum of 30 boarders from around the world.
Navigating the Modern Maze: Emerging Challenges for Boarding Schools
Explore the pressing challenges facing boarding schools, from marketing difficulties and rising insurance costs to facility maintenance and recruitment of competent trustees and teachers. This article delves into these complex issues and proposes innovative strategies to overcome them.
What To Wear at Your Job Interview
Navigating job interviews can be stressful, but knowing what to wear shouldn't be. Our comprehensive guide covers the essential dress code tips for men and women interviewing at boarding schools. Make your first impression count with style and professionalism.