Cheshire Academy - Review #3
About the Author:

College Enrolled
Guilford College
Home Town, State (Country)
Cheshire, CT
Years Attended Boarding School
5
Activities During Boarding School
I participated in soccer, volleyball, softball, theater/drama, yearbook, the National Honor Society, and probably many more that I cannot recall.
Review

Description

Syracuse University

My family's relationship with Cheshire predates my brother's and my attendance there; our grandfather was a student at the Academy in the 1940s. The family came back to the school because of the summer program. . .

Johnson & Wales University

I lived in a house that was converted into a dorm, with the dorm parent living on the 1st floor, and five students living on the 2nd floor. Because the dorm had so few. . .

Guilford College

One aspect of Cheshire Academy that I liked in particular was the diverse and inclusive feeling of the school. When I attended, CA had a large proportion of students from overseas, which made for interesting. . .

Fordham University

Was the perfect place for me at the time. Small classroom size suited my needs and forced me to get involved in the curriculum. Required study time at night helped me to develop good study. . .

Show more reviews

(-1

reviews)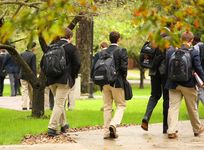 March 22, 2018
Some cynics think single-sex education is old-fashioned. The Kiski School shows how educating boys in a single-sex school is successful.
March 14, 2018
Determining which programs are 'must haves' is an important part of choosing the right boarding school for your child.
March 08, 2018
The wide range of fine academic, athletic, and other facilities found in boarding schools underscores the determination of schools to provide the very best for their students.