Reflections and Advice:
1.) What do you think makes your school unique relative to other boarding schools?
Was the perfect place for me at the time. Small classroom size suited my needs and forced me to get involved in the curriculum. Required study time at night helped me to develop good study habits and overall I became a good student and was able to get accepted into the college of my choice. While at Cheshire I had an English teacher that instilled in me the desire to read books, something that I am very thankful for as it continues today I also participated in sports which I rarely did in public school . All in all I look back at my 2 years at Cheshire Academy as a very positive experience that came about at the right time of my life.
2.) What was the best thing that happened to you in boarding school?
In looking back I realize that boarding school was the right place for me to be for 2 years. I improved as a student which was the reason I was there and I got involved in sports which I always liked which was a big plus for me.
3.) What might you have done differently during your boarding school experience?
Wouldn't do anything different. My parents sent me to boarding school because I was a horrible student in public high school and looking back I made the best of a situation I initially didn't really want to be in. It helped me mature as a person.
4.) What did you like most about your school?
Small classroom size, individual attention and participation in Sports.
5.) Do you have any final words of wisdom for visiting or incoming students to your school?
I can't be of much help here. Back in 1969/70 boarding school was designed to educate you and keep you busy. For me my days were filled with classes, meals, after school sports and studying at night. I do remember there was a pizza shop that made an excellent meatball grinder ( grinder is a New England term, other places would call it a sub and it was cooked in the pizza oven. I doubt the pizza shop is still there after 47 years but who knows?
Academics:
1.) Describe the academics at your school - what did you like most about it?
Small classroom size and individual attention. Required study time was a plus for me as I was always the type to put things off.
Athletics:
1.) Describe the athletics at your school - what did you like most about it?
Full athletic program offering all sports. Good Facilities and fairly competitive. Participation was not mandatory.
Art, Music, and Theatre:
1.) Describe the arts program at your school - what did you like most about it?
I leaned towards athletics and did not participate in any of these programs.
Extracurricular Opportunities:
1.) Describe the extracurriculars offered at your school - what did you like most about it?
Extra curricular activities were minimal at the time I went to Cheshire.
Dorm Life:
1.) Describe the dorm life in your school - what did you like most about it?
Looking back, I realize that require study time at night in the dorm helped me to develop good study habits which helped me in College.
Dining:
1.) Describe the dining arrangements at your school.
We ate in a large dining room. 3 scheduled meals a day with assigned seating and overall the food quality and diversity was very good.
Social and Town Life:
1.) Describe the school's town and surrounding area.
Town life was minimal. We were allowed to go into down during the day with no restrictions but it was a small town and most visits were to go to the coffee shop, pizza parlor or the movies.
2.) Describe the social life at your school - what did you like most about it?
Cheshire was an all boys boarding school so there was very little social life except for the occasional dance. We were allowed to go to the movies on the weekends.
The Academy stands out in many ways such as how their is always active efforts to bring their immensely diverse community together and from person experience they have found great success. The school stresses the. . .
My family's relationship with Cheshire predates my brother's and my attendance there; our grandfather was a student at the Academy in the 1940s. The family came back to the school because of the summer program. . .
I lived in a house that was converted into a dorm, with the dorm parent living on the 1st floor, and five students living on the 2nd floor. Because the dorm had so few. . .
Show more reviews (

2 reviews

)
Mastering the Boarding School Selection Process: A 5-Step Guide
Discover the ultimate 5-step guide to choosing the perfect boarding school for your child. Explore essential factors, such as academics, campus facilities, extracurricular activities, and more. Make an informed decision to provide your child with an enriching and transformative educational experience. Read now!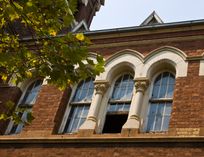 5 Founders and Their Boarding Schools
What prompts somebody to start a boarding school? The motives range from idealism to munificence right on through to capitalism. The common thread seems to be ample capital and a vision of what education can do.