Oldfields School - Review #4
About the Author:

College Enrolled
Dickinson College
Home Town, State (Country)
Charlottesville, VA
Years Attended Boarding School
3
Activities During Boarding School
Equestrian Team Captain (2 Years) and a travelling rider of "A" rated shows on the East Coast, Field Hockey, Lacrosse, A Capella singing, Model UN, Environmental Club and Yearbook.
Review

Description

connecticut college

Oldfields is incredibly diverse as well as very supportive while still allowing girls to branch out and be who they want to be they are still supportive. . .

Spelman College

Oldfields School was super unique because of many reasons, but I'll choose 2. The class sizes were extremely small, giving students a large amount of one on one time with the teachers. I think at. . .

Salisbury University

Many of the staff members would go out of their way to help you out if you were struggling. You make unique friendships with both the staff and the students when you live on campus. . .

Dickinson College

We had many opportunities to get out into our external community, including ones through our curriculum called "May Program". May Program is a two week program that sets out to bring our girls outside of. . .

Lake Forest College

The Family-like community, the availability of faculty, the support all the girls get from school...there are so many unique things that make Oldfields stand out. I checked this website (Boarding School Review) years ago when. . .

Show more reviews

(3

reviews)
April 20, 2018
Actually, there is no secret to getting your child into boarding school. Just a lot of hard work and a heavy commitment of time.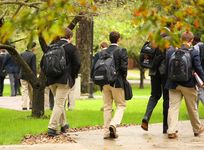 March 22, 2018
Some cynics think single-sex education is old-fashioned. The Kiski School shows how educating boys in a single-sex school is successful.
March 08, 2018
The wide range of fine academic, athletic, and other facilities found in boarding schools underscores the determination of schools to provide the very best for their students.