Reflections and Advice:
1.) What do you think makes your school unique relative to other boarding schools?
The relationships that are built between the faculty and the students is phenomenal. The teachers are willing to work with the students until they have a firm grasp on the material. The faculty not only plays an authoritative role, but they also play the role of a friend. The students can come to anyone of their teachers just to talk about anything. I come back to campus just to visit all of the faculty that have helped shape me into the person I am today.The Webb School also requires every student to do a sort of presentation in front of the school each year. This prepares the students for public speaking. By senior year, even if you had a fear a public speaking in the past years, the presentation is a breeze.
2.) What was the best thing that happened to you in boarding school?
Coming into this school, I was extremely immature and didn't have a lot of focus. By senior year, I knew exactly where I was going in life and knew exactly how to get there. Without this school, I would not be the person that I am today. I went to college and saw people that were my age that were so unfocused and not driven, and I was in awe. Without Webb, I would not be the president of 3 organizations and be able to mentor young girls about what to do in high school.
3.) What might you have done differently during your boarding school experience?
I would have tried harder in my academics and taken advantage of all of the opportunities that are offered at the school.
4.) What did you like most about your school?
The relationships built with the faculty. Without these teachers, I would not have been so prepared for college. Even now, I can email them or text them to talk about what is going on in my life.
5.) Do you have any final words of wisdom for visiting or incoming students to your school?
If you are struggling in a subject, go to your teachers and do not leave until you know exactly what is going on. Also, high school is not the end of the world. It is a prerequisite to a long journey. Focus on the things that matter and, later on, everything else will fall into place. Do not leave Bell Buckle without attending the craft fair at least once. It's crazy, but it's worth it. That is the most people that will be in Bell Buckle during the year.
Academics:
1.) Describe the academics at your school - what did you like most about it?
What I liked most about the academics was the individual personalities of the teachers that contributed to the subjects that they taught. In every class, it was easy to pay attention because the teachers allowed the students to engage in their own way. Also, the teachers did everything possible, if the student seemed serious, to help the student, if they were even slightly struggling. This taught me to reach out to the teachers when I went to college, which helped set me apart from other students.
Athletics:
1.) Describe the athletics at your school - what did you like most about it?
At Webb, they make sure to coordinate academics and the athletics program. When I was there,extra help officially ended at 3:30 and sports practice started 3:45. Coaches understood when you came to practice late because you were in a teacher's office, and teachers understood when you had a big game the night before and weren't able to review for the test as thoroughly as you wanted. There is also a mandatory study hall for student athletes. Also, when I was at Webb, I was able to witness the growth of certain sports teams. Over the years, Web has become more competitive in sports, and they are doing an exceptional job at balancing academics and athletics.
Art, Music, and Theatre:
1.) Describe the arts program at your school - what did you like most about it?
I learned more in choir and speech about music and theatre than I had in all of the acting classes and music classes that I had been in outside of Webb. The teachers were phenomenal and were thoroughly educated about the arts. Even if you weren't in the theatre program, you were still given an opportunity to be in plays.
Extracurricular Opportunities:
1.) Describe the extracurriculars offered at your school - what did you like most about it?
The extracurricular activities at my school were very diverse. The ones that I was involved in were soccer and mock trial. The activities were competitive but still fun. Each year, the was a day set aside for us to volunteer around the community.
Dorm Life:
1.) Describe the dorm life in your school - what did you like most about it?
The dorm life was pretty strict, but you were able to get close to your dorm advisors There were dorm Olympics which were pretty fun. Also, the day students and the boarding students were really close.
Dining:
1.) Describe the dining arrangements at your school.
The food was pretty good. There was a variety in the food. There was no assigned seating and you could move chair around which made if a very relaxed dining environment.
Social and Town Life:
1.) Describe the school's town and surrounding area.
The Webb School is located in the smallest town (by square mileage) in the United States. I loved it because you could walk everywhere and everything is owned by local families, meaning the food was fresh and everyone knew everyone in town. Webb students were treated so well by all of the businesses.
2.) Describe the social life at your school - what did you like most about it?
There were not too many cliques. The athletes hung out with the thespians, etc. Also, since it was a middle school and a high school, there was interaction between the older and younger students, which helped to guide and mentor the middle schoolers.
Daily Schedule:
Weekday
Weekend
The Webb School's steadfast commitment to the moral code that it has established is truly inspirational. Webb promotes free inquiry, critical analysis, mutual respect and tolerance and fairness and honestly. There is something unique about. . .
The relationships that are built between the faculty and the students is phenomenal. The teachers are willing to work with the students until they have a firm grasp on the material. The faculty not only. . .
Small classes and a teaching community dedicated to its students make Webb feel like a home. Teachers are always available to help, support, and listen to their students. The honor code instills a sense of. . .
Show more reviews (

7 reviews

)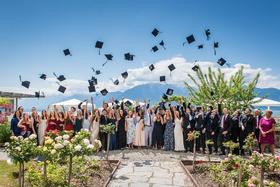 Nurturing Futures: A Journey through Boarding at Haut-Lac School in Switzerland
Nestled in the hills overlooking Lake Geneva in the French-speaking part of Switzerland lies an educational gem that embodies a unique blend of academic excellence, cultural richness and a profound sense of community. Founded over 30 years ago, Haut-Lac International Bilingual Day and Boarding School is now home to both 600 day students and a maximum of 30 boarders from around the world.
What To Wear at Your Job Interview
Navigating job interviews can be stressful, but knowing what to wear shouldn't be. Our comprehensive guide covers the essential dress code tips for men and women interviewing at boarding schools. Make your first impression count with style and professionalism.
Navigating the Modern Maze: Emerging Challenges for Boarding Schools
Explore the pressing challenges facing boarding schools, from marketing difficulties and rising insurance costs to facility maintenance and recruitment of competent trustees and teachers. This article delves into these complex issues and proposes innovative strategies to overcome them.