Reflections and Advice:
1.) What do you think makes your school unique relative to other boarding schools?
Small classes and a teaching community dedicated to its students make Webb feel like a home. Teachers are always available to help, support, and listen to their students. The honor code instills a sense of trust in the whole community and creates a safe and loving environment.
2.) What was the best thing that happened to you in boarding school?
Boarding school was something that really prepared me in many ways for the rest of my life. Firstly I went into college much more prepared than my peers who hadn't gone to boarding school simply by having experienced going to school away from home. Second, I was more willing to jump into campus life because it was something I'd done before -- I had already experienced roommate conflicts, dorm life, and depending on a cafeteria for meals in an environment that was much more supportive of my failures than colleges are able to be.
3.) What might you have done differently during your boarding school experience?
I would encourage anyone going to boarding school to go into it fearlessly -- it can be intimidating at first, but no matter where you are there are always individuals feeling just as lost as you and individuals waiting to welcome you. Jump in and don't be afraid to try new things and be independent -- the good thing is that there are people there to help you and guide you, who aren't expecting you to be perfect at everything.
4.) What did you like most about your school?
I loved Webb's atmosphere and sense of community. It felt like everyone belonged, no matter who they were or where they came from. And I loved my teachers to death. There was honestly not one whom I did not value.
5.) Do you have any final words of wisdom for visiting or incoming students to your school?
The coffee shop downtown has these delicious chocolate-peanut-butter-covered-Ritz-crackers that are beyond amazing. Buy three, eat all of them, and don't feel guilty afterwards.
Academics:
1.) Describe the academics at your school - what did you like most about it?
Academics at Webb were rigorous, but faculty were more than willing and available to assist every step of the way. They are engaging and genuinely care about their students. I also loved the variety of classes available -- my History of Russian Revolutions course is still one of the best I've taken.
Athletics:
1.) Describe the athletics at your school - what did you like most about it?
One of my personal favorite athletic memories at Webb was being a member of the first Girls' Lacrosse team in 8th grade and watching it grow slowly and organically into an incredible program by my senior year. Teachers are required to be involved in some way with either a club or sports team, and so get to know their students on different levels. Something else I loved was the ability to be fully involved in two varsity sports (and captain of one) while still being equally as involved in the school's Quizbowl team -- athletics and academics are not by any means mutually exclusive at Webb.
Art, Music, and Theatre:
1.) Describe the arts program at your school - what did you like most about it?
Every student engages in fine arts at some point in his or her Webb career, so the fine arts department is joined beautifully to the rest of the community. The theatre department puts on two or more performances per year, and they range from classics to modern plays, from dramas to musicals, and everything in between. Even with such a small student body the productions are often enormous, and the quality is always high. The fine arts faculty are some of the most dedicated on campus.
Extracurricular Opportunities:
1.) Describe the extracurriculars offered at your school - what did you like most about it?
A huge amount of extracurricular activities are offered at Webb, and my favorite was being able to tutor after school at the local elementary school. The school offers a wide variety of community service opportunities and in fact community service is required for all students.
Dorm Life:
1.) Describe the dorm life in your school - what did you like most about it?
I loved the community feel of dorm life. In my dorm senior year I lived in a suite with three of my close friends, and we were able to turn it into something that felt like home. The teachers who lived in the dorm with us were there for us in a way that all high school girls need. There are also plenty of opportunities to get off campus and escape for a little while when it starts to feel too much like a bubble.
Dining:
1.) Describe the dining arrangements at your school.
With free seating and outdoor tables for sunny days, the dining set up at Webb is wonderful. You have to go to dinner, so it's a time of day when the whole boarding community is together. There are small kitchens in each dorm if you want to cook your own food. When I was at Webb we also had fourth meal at night -- extra late-night food for when you desperately needed a pick me up.
Social and Town Life:
1.) Describe the school's town and surrounding area.
The school is in a small town, and the school and the town flow together pretty seamlessly. The people in and surrounding the town are so genuinely nice and incredibly welcoming. Also, this part of Tennessee is simply beautiful -- the school is surrounded by open air. The town is small and cute, with an old fashioned ice cream shop and a coffee shop that's amazing. Then there are larger towns and cities at not too great a distance, so you get the best of both worlds.
2.) Describe the social life at your school - what did you like most about it?
Something I loved about Webb was that there were very few groups or divisions between students -- the students who were athletes were often the same ones who gave incredible orations or who sang in the choir. There was something for everyone. Everyone knew everyone else in a way that was welcoming and made us all feel closer to each other.
The Webb School's steadfast commitment to the moral code that it has established is truly inspirational. Webb promotes free inquiry, critical analysis, mutual respect and tolerance and fairness and honestly. There is something unique about. . .
The relationships that are built between the faculty and the students is phenomenal. The teachers are willing to work with the students until they have a firm grasp on the material. The faculty not only. . .
Small classes and a teaching community dedicated to its students make Webb feel like a home. Teachers are always available to help, support, and listen to their students. The honor code instills a sense of. . .
Show more reviews (

7 reviews

)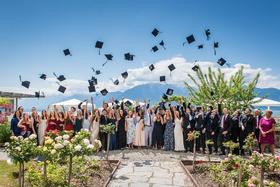 Nurturing Futures: A Journey through Boarding at Haut-Lac School in Switzerland
Nestled in the hills overlooking Lake Geneva in the French-speaking part of Switzerland lies an educational gem that embodies a unique blend of academic excellence, cultural richness and a profound sense of community. Founded over 30 years ago, Haut-Lac International Bilingual Day and Boarding School is now home to both 600 day students and a maximum of 30 boarders from around the world.
What To Wear at Your Job Interview
Navigating job interviews can be stressful, but knowing what to wear shouldn't be. Our comprehensive guide covers the essential dress code tips for men and women interviewing at boarding schools. Make your first impression count with style and professionalism.
Navigating the Modern Maze: Emerging Challenges for Boarding Schools
Explore the pressing challenges facing boarding schools, from marketing difficulties and rising insurance costs to facility maintenance and recruitment of competent trustees and teachers. This article delves into these complex issues and proposes innovative strategies to overcome them.