Reflections and Advice:
1.) What do you think makes your school unique relative to other boarding schools?
Miss Porters is a school at which young girls learn academics through rigorous classes and homework. Girls are taught to be leaders and team players. Also MPS students are expected to live up to all of Miss Porters widely known standards. Though the school is in somewhat of a bubble that shelters the students from much that goes on "outside the Farmington bubble," the girls have many opportunities to travel off campus on field trips, volunteer work, or weekwnd activities. There is a strong sense of being part of a large (though mostly female) family which gives students many opportunities to shine and meet new people. Though Miss Porters is sometimes thought of as an upper class school in which girls learn manners and such, Miss Porters is very diverse and the school does not focus on making young women be "perfect." Instead, it teaches the importance of being a part of a working community. Overall, Miss Porters is a good place to go to for a great learning experience, to reach out and learn about many different cultures, and to make life-long friendships.
2.) What was the best thing that happened to you in boarding school?
Miss Porters has taught me many valuable lessons which I will use throughout the rest of my life. I think that any student will learn from Miss Porters how to be a leader and "shape a changing world."
3.) What might you have done differently during your boarding school experience?
I think there are too many things I would have done differently but not too many drastic things. I think that if you want my advice just be yourself and either it works or it doesn't. Be outgoing, creative, and do what you think is right.
4.) What would you never want to change about your school?
I would never want to change any of the traditions which I believe make the Miss Porters experience all come together.
6.) Do you have any final words of wisdom for visiting or incoming students to your school?
I lived in Ward, Brick, and New Place which I had a blast in. I think New Place has the best dorm parents but there are no bad ones or bad dorms at all. I think that you will find yourself and use all that Miss Porters has to offer.
Academics:
1.) What did you like best about your school's academics?
Academically I must say I struggled a bit. It is hard to balance all your classes, a sport, and extracurricculars all at once. That's where the wonderful teachers come in. I had the privilege of working with some wonderful teachers who taught me how to balance my workload and excel. I think that Miss Porters is known to be a challenging school and you certainly have to work hard and have good organizational skills. My teachers are what made it all work and that is what I liked best about the academics. Also, I liked having the opportunities to take some extra classes.
2.) What did you like least about the academics in your school?
Students get pushed too hard sometimes in that they are expected to have all their work done in such a tight period of time. It becomes very stressful.
Athletics:
1.) What did you like best about your school's athletics?
While I was at Miss Porters I participated in Cross-Country, Indoor Tennis Class, and Crew. What I enjoyed most about Cross-country was the great coaching that I had as a Freshman and a Sophomore. I learned how to be part of a team and I exceled and was awarded most improved player my Freshman year. My coach taught me many valuable lessons which I used on and off the course. I think that Crew was the best experience I had at Miss Porters, the team was so strong and we frequently came out in first place at races. I was a Coxin and enjoyed every bit of it. I learned more valuable lessons and have matured and grown from them. I recommend Miss Porters Crew to anyone who wants to have an amazing high school experience!
2.) What did you like least about the athletics in your school?
Junior year I had a difficult time getting along with my new cross-country coach. However, I got stronger from it and learned one of the most valuable lessons I believe I will ever learn.
Art, Music, and Theatre:
1.) What did you like best about your school's art program?
Miss Porter's school has outstanding art teachers who push you to be creative and take advantage of the beautiful campus and see everything through an artist's eye. Though I did not participate in the theatrical part of MPS I always enjoyed the seasonal productions. Musically, I think MPS could add. However the instructors are great and I enjoyed all performances greatly.
2.) What did you like least about your school's art program?
I think that MPS could focus a bit more on musical and visual arts than it does because it has the potential to be outstanding.
Extracurricular Opportunities:
1.) What did you like most about the extracurricular activities offered at your school?
Miss Porters students create clubs that are mostly all approved and set to work as soon as possible. Clubs are very big at MPS and the school does focus on diversity which leads to much learning and a broad reach of opportunities.
2.) What did you like least about the extracurricular activities offered at your school?
I must say that the only thing I can come up with is that there wasn't enough time to spend doing extracurriculars.
Dorm Life:
1.) What was the best thing about dorm life in your school?
As a boarding student I feel that I gained a lot from living with such a diverse group of people and I was able to grow and make many unforgettable friends. Miss Porters has very nice dorms with internet and phone connections in the rooms which were very beneficial.I think that usualy Miss Porters does a great job setting up roommates. Also, the dorm parents that I had were all so great to be with -- school was my home away from home.
2.) What did you like least about dorm life?
I think that the only problem I had regarding dorm life was after lights out when some girls cotinued to be up and around. On occasion I had trouble getting to sleep.
Dining:
1.) What was the best thing about your dining arrangements?
I like being able to have a variety of choices for meals and the friendly kitchen staff. I think that in many ways no matter where you go there will be something you don't particularly like about the food but at MPS the kitchen staff appreciates any comments you have and will take them into consideration.
2.) What did you like least about your dining arrangements?
There are some occasions when you don't find food that you really enjoy but there is always a variety to choose from and you can always make suggestions.
Social and Town Life:
1.) How welcome did you feel by the other students when you first arrived at the school
Socially, I think it was hard to start off without a clue who anyone is, but in such a close community it's hard not to make friends very quickly. There is an Old Girl-New Girl program so that every new student has contact with a senior and this helped me branch out my first year.
2.) Describe the level of diversity and integration of students in your school:
The diversity at Miss Porters is very evident through the students and the many diversity workshops and special occasions that are held.
3.) Describe typical fun activities you did on a weekend:
Because Miss Poters is so close to Hartford and the towns of Farmington and Avon there was always something to do. What with dances, traditions, athletic games, and trips to nearby areas to shop or eat there was always something to do.
4.) What was the town like?
The town of Farmington is close and easy to get to which was great as a way to get out and off campus on the weekends. With Naples pizza and Starbucks only a ten minute walk away students have the ability to leave campus for a few hours when they don't have any other commitments.
Daily Schedule:
Weekday
7:45 AM
First period begins
8:45 AM
Second period begins
9:30 AM
Morning meeting and milk lunch(snack)
11:45 AM
5a begins (lunch)
12:30 AM
5b begins (lunch)
3:45 PM
Sports/play rehersal begins
Weekend
7:30 AM
Early riser breakfast
2:00 PM
Sports (usually a game)
7:00 PM
Free time usually watch a movie or hang out with friends
1:00 AM
TV must be off and everyone should go to bed
Two defining factors about Miss Porter's is the sense of community and the ability for students to create lasting connections with teachers. The community fostered by the students and faculty at Porter's is unlike any. . .
Miss Porter's has unique traditions unlike any other school aimed at including students and making them feel like part of a campus community, such as the school ring tradition. Part of the fun is learning. . .
I would definitely have to say that something unique about Porter's is the connection between Alumnae (called "Ancients") and students. The ability to talk about shared experiences and traditions across generations is something I rarely. . .
Show more reviews (

2 reviews

)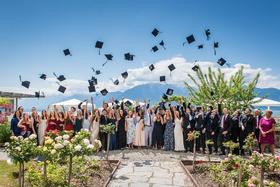 Nurturing Futures: A Journey through Boarding at Haut-Lac School in Switzerland
Nestled in the hills overlooking Lake Geneva in the French-speaking part of Switzerland lies an educational gem that embodies a unique blend of academic excellence, cultural richness and a profound sense of community. Founded over 30 years ago, Haut-Lac International Bilingual Day and Boarding School is now home to both 600 day students and a maximum of 30 boarders from around the world.
What To Wear at Your Job Interview
Navigating job interviews can be stressful, but knowing what to wear shouldn't be. Our comprehensive guide covers the essential dress code tips for men and women interviewing at boarding schools. Make your first impression count with style and professionalism.
Navigating the Modern Maze: Emerging Challenges for Boarding Schools
Explore the pressing challenges facing boarding schools, from marketing difficulties and rising insurance costs to facility maintenance and recruitment of competent trustees and teachers. This article delves into these complex issues and proposes innovative strategies to overcome them.