Reflections and Advice:
1.) What do you think makes your school unique relative to other boarding schools?
New Hampton offered me so many opportunities that I'm grateful for, that I don't know where to start. Something that was different about New Hampton than other schools I had attended was the IB program and the iPad program. It was very practical and now that I've started college early (summer semester) it helps me a lot as a learning tool to study and take notes. Another thing I liked about New Hampton was the size because you get to know everyone's names and that's something I thought was unique because it made the community closer. Most of the buildings are new and hence students have a nice environment to work in. At times being in the "middle of nowhere" can get boring. However, now that I'm in college, I've realized how lucky I was to have such a peaceful environment to learn in.Being an international student at New Hampton is really nice because we received a lot of support and the school also offered trips during long weekends where we went to places like Steele Hill, Boston, New York and a Ski Resort. Something else the school offered that I have never heard another school has is project week where you choose a subject you want to study in depth and do it for a week. Subjects can range from life-guarding to Making it in Boston (which I did senior year and I learned a lot of how to be a professional and how different sector such as sports industries or living industries worked and actually got to meet professionals in that field who were New Hampton alumnus).Another thing was volunteer work. During my junior year we had a mandatory volunteer work every Saturday and I really liked those because I'm into community service. However, this could get old sometimes because you were always doing the same thing. In senior year, this changed and we started having all school mandatory volunteer work where we would do the work not every week but every once in a while and we would do it as a whole school activity, so that was pretty nice because you could be put in a group with students from different grades, that you wouldn't do an activity with otherwise.The thing that made New Hampton different was that. The close relationships forged. Probably every single person in my floor knows the names of my best friends because after having lived with them, and gone through the same experiences, they're more like siblings to me and we try talking every day. A couple of other students are going to attend my same University and whenever I see them around I get so happy because we've been through the same experiences so in a way, even if we didn't hang out 24/7, I feel like they're family.
2.) What was the best thing that happened to you in boarding school?
When I first went to boarding school, I didn't even know how to use the washing machine or work a vacuum. I had never been on a plane by myself and now, in college, I'm the one teaching people how to do all of that and I travel with such ease that even my parents are surprised of how organised I am with my schedule. Boarding school really helps you learn how to manage your time and that's really one of the most important things that it teaches you for college and life.
3.) What might you have done differently during your boarding school experience?
I would've tried to spend more time outside the dorm and if there is something I do regret is that I never went in the pond. I think that what I regret the most is not going to boarding school before because there is just so much that you learn when you're away from home.
4.) What did you like most about your school?
Like I said before, I really liked the relationships I forged. I probably talk to my friends from high school every single day and I am up to date on what is going with them even if they all live in places like Panama, Japan, Canada, Atlanta, Sweden etc. I even keep in touch with my dorm parent from junior year because we are that close. The thing is what makes us close is not only the fact that we went through the same experiences through the school year, but that the community is very supporting and people care about each other.
5.) Do you have any final words of wisdom for visiting or incoming students to your school?
The Oatmeal Raisin cookies they have at lunch are the BEST, so if you're there and it's lunch please take one... or two (you won't regret it). People are VERY friendly so don't be shy (like I was when I visited) talk to the faculty and ask a lot of questions to your tour guide. I was one and believe me, we love to help. After all, we were once in your position too and we know how exciting the whole process is.
Academics:
1.) Describe the academics at your school - what did you like most about it?
New Hampton also offers the IB which is a very rigorous program that not many schools offer, so that gave me a chance to take classes that were going to challenge me more and prepare me for college. I liked the opportunities it gave me to fulfill my classes. For instance for art, we had a gallery we could use to hang our artwork and we had guest artists come talk to us about art.That is something unique the school offered. I remember meeting a New York Times photographer who had very interesting pictures that played with light. The workload for IB was a lot, but it was manageable specially because teachers are always there for you. I remember when I did my TOK essay, I went to my teacher's house and I would email her a lot and although it was a lot of work, because I had someone supporting me, it didn't really feel like that much. Something I really liked were round table discussions. After reading a chapter or article or just when we had to discuss a topic in English we would do this and we would all talk and give our points of view and I always thought this was very helpful as it gave students a voice in the classroom. Teachers were very knowledgeable and they would always try to help us with everything.
Athletics:
1.) Describe the athletics at your school - what did you like most about it?
Athletics are big on campus, especially basketball. They are a nice way to socialize with other people. I would go to games sometimes with my friends and we would cheer on the team. The athletic facilities are really nice and all sports have knit - tight communities. All of the teams I was part of were super close. Students are really supportive of each other and coaches are too. For instance I could barely skate when I first started playing hockey and my coaches were so supportive and the girls were too. They tried to help me and tell me when I was going the wrong way (which happened a lot in the beginning). Students receive a lot of support. There are a lot of sports to choose from so no matter what you will most likely find a sport that you like. I mean, I'm from Peru, we don't even have Ice Rinks, I never imagined playing ice hockey and now I'm going to play club in college.
Art, Music, and Theatre:
1.) Describe the arts program at your school - what did you like most about it?
The theater program, visual arts and music was pretty neat. I didn't take part in it, but I had friends who did and the productions they put up were amazing. What I liked about it was that they offered multiple opportunities. I had friends who did lighting, others did stage management, others were actors and others did set production so there was definitely something for everyone, There were plays and also musicals so it was very diverse. The music productions were great and no one ever missed them because they were very high quality. The theater is pretty nice and there are classes that you can take such as Singing, Piano, Public Speaking, Improve etc. So even if you're not doing this as an afternoon activity, you can take it as part of your course load.
Extracurricular Opportunities:
1.) Describe the extracurriculars offered at your school - what did you like most about it?
There is definitely something for everyone, whether it is sports, art or fitness. Something that my school offered that I don't really know if other schools offer is that kids could work in the trainers helping athletes so if people are interested in health or sports medicine or something like that, that was a great opportunity for them. Another great opportunity was being a manager, you could be a manager for a sport team if you were interested and you learned how to keep the book and see how a team works.
Dorm Life:
1.) Describe the dorm life in your school - what did you like most about it?
Dorm life was great. I really liked it. Especially because I experienced both sides. The first year I was in a really small dorm and then my second year I was place in the biggest girls dorm. Each dorm had dorm parents and proctors and they would help us a lot. Whether we needed someone to talk to or organize dorm activities we could go to them. The school organized dorm activities such as dorm clean and our dorm parents at the end of the year usually did something for us. For instance, senior year, we had a barbeque outside and that was pretty nice because it was sunny and we were all outside just eating and playing cards. Most rooms are open doubles (there are singles, but very few) if you're a first year student you will get assigned a random roommate unless you request someone. After your first year, you get a paper where you select your roommate if you know who you want and you've talked to them and agreed and you fill in a paper and choose your top three dorm choices. If you want to switch dorms you have to go through another process because by the time the school year starts you have to check availability.
Dining:
1.) Describe the dining arrangements at your school.
The food was ok, the salads that the dinning hall made were amazing. I really liked the strawberry one with pecans and spinach. There is some variety and you can always make your own sandwich, salad, or bagel. What I liked the most were dress dinners because we had to sit in a specific table with a specific group of people so it gave students a chance to meet each other. During dress dinners they usually had squash which was amazing and my other favorite thing about the dinning hall were the oatmeal cookies.
Social and Town Life:
1.) Describe the school's town and surrounding area.
The closest town is Tilton and they have an outlet which I used whenever I needed something for a dress dinner or just needed clothes. There's the dinner which has amazing milkshakes. There are a couple of hair salons and in general just the basics like Walmart and Target. There are some pretty good restaurants around like the Common man and the Bridgewater Inn. Plymouth is close too so there is Plymouth state and they have a little town from were students usually order Chinese or pizza. However, personally, I never felt like I had to go out of school, so I just went when my parents came to visit. Anyways, the school offers weekly trips to these places so if students really want to go they can sign up and a school bus will take them.
2.) Describe the social life at your school - what did you like most about it?
Social life is good at New Hampton. There are a couple of dances a year and there are some interscholastic dances too. There are also many sporting events. The basketball team draws big crowds and kids sometimes dress up for them. We also have movies outside where you can take a blanket and just lay down outside and there are different carnivals throughout the year where there are games and there is a lot of food. I really enjoyed the carnivals because I could just go and hang out with my friends and it was a nice break from the cold in winter.
Daily Schedule:
Weekday
Weekend
7:00 AM
Wake Up (It's most likely game day)
12:45 AM
Lunch or Pack a lunch for the ride (if you have an away game)
I'll say two, first the absolutely perfect layout of campus. You have majority of your classes right on academic row which makes the trip to classes easy especially in the winter when you're trying to. . .
One important aspect of the school is the technology. Due to the school's sponsorship each students get their own iPad which is set up to have grades, assignments, ways to take notes, textbook, and more. . .
I believe the overall feel of my school was the most unique part of it. Campus always felt like a big family. My teachers and dorm parents had no problem letting me do homework in. . .
Show more reviews (

5 reviews

)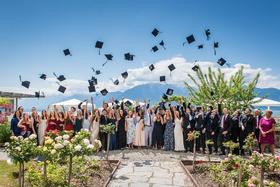 Nurturing Futures: A Journey through Boarding at Haut-Lac School in Switzerland
Nestled in the hills overlooking Lake Geneva in the French-speaking part of Switzerland lies an educational gem that embodies a unique blend of academic excellence, cultural richness and a profound sense of community. Founded over 30 years ago, Haut-Lac International Bilingual Day and Boarding School is now home to both 600 day students and a maximum of 30 boarders from around the world.
What To Wear at Your Job Interview
Navigating job interviews can be stressful, but knowing what to wear shouldn't be. Our comprehensive guide covers the essential dress code tips for men and women interviewing at boarding schools. Make your first impression count with style and professionalism.
Navigating the Modern Maze: Emerging Challenges for Boarding Schools
Explore the pressing challenges facing boarding schools, from marketing difficulties and rising insurance costs to facility maintenance and recruitment of competent trustees and teachers. This article delves into these complex issues and proposes innovative strategies to overcome them.