Reflections and Advice:
1.) What do you think makes your school unique relative to other boarding schools?
The Harkness table was one of the best things that ever happened to me. As a low income student coming from a very reserved community, and a school where talking was discouraged, Exeter quickly became my comfort zone. I learned to say what I thought, how to elaborate on my ideas, and how to use other people's perspectives to build onto my thoughts. The dorm life was also a very important part of my life at Exeter. The dorm combined all years into one building, so having the upperclassmen to look up to for help and to have as a source of inspiration was something I will never be thankful enough for.
2.) What was the best thing that happened to you in boarding school?
At Exeter, I grew in more ways than one. I grew intellectually, with Harkness paving the way for new ideas and thoughts. I grew emotionally, by forming connections with incredible people I would have never met had I been anywhere else. I also grew socially, as Exeter taught me to be more aware of my surroundings and to take in new experiences. Exeter provided me with opportunities that I will be grateful for the rest of my life,
3.) What might you have done differently during your boarding school experience?
I would probably have met more people outside of my dorm by joining more clubs. Although I absolutely loved my time with my dorm, I think reaching out to different people is always nice. Make sure you don't let that take away from your studies, and always focus on being the best you can in the classroom before focusing on your social life.
4.) What did you like most about your school?
I loved the opportunities that it provided me, as a low income family, first generation student. I joined clubs, made international friends, ate new food, tried new sports, studied abroad to the other side of the world, and most importantly, I felt like part of a family. Exeter will always be my home.
5.) Do you have any final words of wisdom for visiting or incoming students to your school?
Ewald is the best dorm on campus, the boys are so welcoming so make sure you check it out. The science spcenter is one of our newest academic buildings, and seeing the whale for the first time is always breathtaking. The entire campus is beautiful, so make sure you make the most of your visit and take in the beauty.
Academics:
1.) Describe the academics at your school - what did you like most about it?
The academics at Exeter were rigorous but rewarding. I could walk out of any class and feel accomplished. The professors were always willing to help, they made themselves available as much as possible and always reached out to make sure no one was falling behind. The immense amount of classes offered made it difficult to make a decision whenever course selection season came around. Everything about Exeter's education converged around Harkness, which was such a central part to my learning. No where else would I have been exposed to such a rigorous and well rounded education.
Athletics:
1.) Describe the athletics at your school - what did you like most about it?
E/a season was everyone's favorite time of the year. Alums came to visit, competition was in the air, and everyone couldn't wait to go storm the field after we were done defeating Andover. The rivalry went deep down into everyone's veins. If the word Andover was mentioned, you could hear hisses coming from nearby students. It really made me feel like a part of a family, a part of something bigger.
Art, Music, and Theatre:
1.) Describe the arts program at your school - what did you like most about it?
Exeter had an amazing visual arts program. With so many options to choose from , beginners could take anything from sketching to printmaking, ceramics, photography, and even 3D architecture. There was a huge variety for anyone with any skill level to jump right in and discover their potential. In addition, the music program was really great as well. Having only taken private lessons, I found the teachers very engaging and dedicated to their students, always ready to help.
Extracurricular Opportunities:
1.) Describe the extracurriculars offered at your school - what did you like most about it?
In one of the first few weeks of the year, Club Fest takes place, when everyone walks around the academic quad and clubs bombard you with free candy and signup sheets. With more than 450 clubs to choose from, you were bound to find something to fall in love with. As part of La Alianza Latina, J found my home with the other members of the club and looked forward to every Monday night with them.
Dorm Life:
1.) Describe the dorm life in your school - what did you like most about it?
Although very unusual, my freshmen year I was assigned to a triple, where I'd be rooming with two other students. At first glance, it was going to be terrible, but things couldn't have turned out any better. The two gentlemen I shared a room with that year continued to be my best friends for the next four years. The entire dorm was a family. We had out own table in the dining hall and we never went to anything alone. I couldn't have been happier with my placement at Exeter within my dorm.
Dining:
1.) Describe the dining arrangements at your school.
There are two dining halls on campus, which makes it very easy to get food wherever you may be. My favorite part about the dining program was that every so often, they would have themed dinners, such as breakfast for dinner, or Halloween themed dishes. The dining halls did a really good job of trying to provide us with healthy alternatives and accommodate for people with dietary restrictions as well.
Social and Town Life:
1.) Describe the school's town and surrounding area.
The town of Exeter was very enjoyable. It was safe, friendly, and had many shops and restaurants to get to know. There was a lot within walking distance, which made it possible for weekend excursions through the town, or making the trek for some McDonalds. There was a,ways something new to try, and somewhere new to explore.
2.) Describe the social life at your school - what did you like most about it?
My social life revolved around my dorm. My dormmates were my first friends, and they continued to be beside me for most of my Exeter career. We would occasionally hop on the bus to the mall and movies, sit in the Grill and just relax, or possibly go to the dances hosted by various clubs on campus.
Phillips Exeter is distinct for its use of the Harkness Method and its unique athletic opportunities afforded by a robust alumni network and excellent teachers from various high-level academic positions within their fields. Harkness, a. . .
The use of the Harkness table. The discussion based, or flipped, classroom is what truly separates Exeter from all other private schools. . .
The Harkness table is used in all classrooms, facilitating discussion and exploration of subjects that allow students to take the reins on their own education. With classes averaging 12 students or fewer, every student is. . .
Show more reviews (

27 reviews

)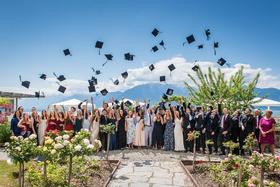 Nurturing Futures: A Journey through Boarding at Haut-Lac School in Switzerland
Nestled in the hills overlooking Lake Geneva in the French-speaking part of Switzerland lies an educational gem that embodies a unique blend of academic excellence, cultural richness and a profound sense of community. Founded over 30 years ago, Haut-Lac International Bilingual Day and Boarding School is now home to both 600 day students and a maximum of 30 boarders from around the world.
What To Wear at Your Job Interview
Navigating job interviews can be stressful, but knowing what to wear shouldn't be. Our comprehensive guide covers the essential dress code tips for men and women interviewing at boarding schools. Make your first impression count with style and professionalism.
Navigating the Modern Maze: Emerging Challenges for Boarding Schools
Explore the pressing challenges facing boarding schools, from marketing difficulties and rising insurance costs to facility maintenance and recruitment of competent trustees and teachers. This article delves into these complex issues and proposes innovative strategies to overcome them.