Reflections and Advice:
1.) What do you think makes your school unique relative to other boarding schools?
The living environment at TKA was phenomenal. It was a very family-like environment where everyone cared and looked out for each other. You get to know all of students and faculty members at the academy and treat you like their own brother, sister, son, or daughter. Also, it was very safe environment for living in the dorm. We used to have monthly fire drills and dorm meetings to establish safe and fun environments for dorm residents.
2.) What was the best thing that happened to you in boarding school?
I would not have become who I am today if I did not go to TKA. Therefore I highly recommend you to visit the academy before you decide to go and live there. The boarding school in general is not for everyone. You may feel like you are trapped or bored at the academy because you are stuck at the dorm. But it is really UP to you how you are going to manage your lifestyle at the Academy.
3.) What might you have done differently during your boarding school experience?
Try everything if you can. Be a social fly. Learn how to live or deal with different people with different personalities. I mean don't you have to that when you go to college or get a first big boy/girl job anyway?
4.) What did you like most about your school?
I was really glad I could worship God and study in a safe environment because everything looks difficult, skeptical, and fearful when you are away from your home. The family environment and God's love will take care of your children at the academy without any questions.We can't even say Christmas anymore in the US because saying Christmas can offend someone. The world we are living in right now is such a horrible place. BUT TKA has something that other schools do not have. TKA teaches you how to love, care, and give when other schools may put in a place to hate, ignore, or selfish.
5.) Do you have any final words of wisdom for visiting or incoming students to your school?
I used to hang out at break room in the dorm to play games and mingle with other students. That would be a good starting point for new incoming students.
Academics:
1.) Describe the academics at your school - what did you like most about it?
If you are a Christian and want to know what God can do for your life, it is the perfect place to be. Also, you get great education from the academy. I have seen so many students go to prestigious colleges like Ivy League, Johns Hopkins, University of Washington, SCAD, and more. The academy is a perfect place for your children to grow spiritually, physically, mentally, and scholarly like the emphasis of the academy's mission/vision statement.
Athletics:
1.) Describe the athletics at your school - what did you like most about it?
The academy is located in the heart of sports entertainment. The greater Knoxville area is well known for sports community like UT football, basketball, softball, and more. No wonder even high school students follow so much of sports events. Hence, the academy supports their athletics. The parents are great supporters as well. Back when I was attending, I did not have a licensed athletic trainer on the sideline or during practices but I heard the academy has a strong sports medicine for student athletes. You will enjoy their physical education by participating athletics and activities at the academy. It is the best and quickest ways to make friends and learn English, too.
Art, Music, and Theatre:
1.) Describe the arts program at your school - what did you like most about it?
I am not a music person so I cannot put much feedback for this one but I was in choir throughout my high school career. I absolutely enjoyed and loved it. We used to do volunteer choral singing or make trips to local churches to sing. It was best way to show and give my love for God.
Extracurricular Opportunities:
1.) Describe the extracurriculars offered at your school - what did you like most about it?
I just played sports in high school. Didn't do much of any other clubs or extra curricular stuff.
Dorm Life:
1.) Describe the dorm life in your school - what did you like most about it?
Dorm life was mediocre back then because we did not have Internet access and had only two payphones for 25-35 dorm residents. I am an old schooler that used to use dial-up internet. However, the dorm life has gotten better since I left there. Heard they got wifi around the campus and the food's amazing.However there is one thing that has not changed. You get to share your culture and learn different cultures around the world because the dorm life includes different people from numerous background. You will acquire how to be open-minded and out-going personality if you successfully engage your social life in the dorm.
Dining:
1.) Describe the dining arrangements at your school.
It's southern food and who does not like sweet tea and fried food? However, the portion of food is just about right and very nutritious. I enjoyed their dining but if I get tired of eating cafeteria, I ordered pizza or Chinese food. The life at TKA is almost like college life.
Social and Town Life:
1.) Describe the school's town and surrounding area.
Not much to do around the campus but Knoxville and Gatlinburg are great places to go. The view around the campus is scenic.
2.) Describe the social life at your school - what did you like most about it?
People at TKA want to know about you so when time comes speak up!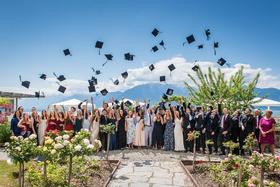 Nurturing Futures: A Journey through Boarding at Haut-Lac School in Switzerland
Nestled in the hills overlooking Lake Geneva in the French-speaking part of Switzerland lies an educational gem that embodies a unique blend of academic excellence, cultural richness and a profound sense of community. Founded over 30 years ago, Haut-Lac International Bilingual Day and Boarding School is now home to both 600 day students and a maximum of 30 boarders from around the world.
What To Wear at Your Job Interview
Navigating job interviews can be stressful, but knowing what to wear shouldn't be. Our comprehensive guide covers the essential dress code tips for men and women interviewing at boarding schools. Make your first impression count with style and professionalism.
Navigating the Modern Maze: Emerging Challenges for Boarding Schools
Explore the pressing challenges facing boarding schools, from marketing difficulties and rising insurance costs to facility maintenance and recruitment of competent trustees and teachers. This article delves into these complex issues and proposes innovative strategies to overcome them.