The King's Academy - Review #1
About the Author:

College Enrolled
Concordia University
Home Town, State (Country)
Teaneck, NJ
Years Attended Boarding School
5
Activities During Boarding School
Golf, Soccer, Basketball, Football, Cross Country, Track, and Spikeball. I was captain.
Review

Description

Concordia University

My 7 years as a dorm student could not have been any better. Being surrounded by people from all over the world, people with different perspectives, life stories, and goals, and being able to live. . .

Carson-Newman University

The King's Academy is a day and boarding school founded in 1884 with an enrollment of 484 students. The school is located on a beautiful campus located in the foothills of the Great Smoky. . .

Boise State University

The living environment at TKA was phenomenal. It was a very family-like environment where everyone cared and looked out for each other. You get to know all of students and faculty members at the academy. . .
April 20, 2018
Actually, there is no secret to getting your child into boarding school. Just a lot of hard work and a heavy commitment of time.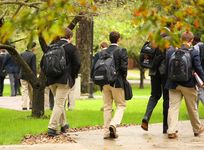 March 22, 2018
Some cynics think single-sex education is old-fashioned. The Kiski School shows how educating boys in a single-sex school is successful.
March 08, 2018
The wide range of fine academic, athletic, and other facilities found in boarding schools underscores the determination of schools to provide the very best for their students.