Reflections and Advice:
1.) What do you think makes your school unique relative to other boarding schools?
Northfield Mount Hermon is a unique school. My personal journey at Northfield Mount Hermon was a time of self-discovery. NMH guided me to ask the right questions I needed to be asking to find out who I truly am and what I truly believe in. The great thing is that the school is ready to support its students.I would use an analogy of a plant. Let's say the student is the seed. Acceptance at NMH is like being planted. Now, the role of NMH is to water the seed. If the seed turns out to be a tomato plant, great! If the seed turns out to be a potato plant, wonderful! The school tries to cherish the outcomes of its students and continue watering the plant, regardless of what it turns out to be. In short, NMH does not produce one kind of plant. However, what unifies the ultimate outcome of NMH production is confidence, working with others, respect, and public-speaking, which are all essential tools for success. If one desires to be molded into one form, as in a cookie-cutter, NMH surely would not be a rewarding experience. I feel that the most successful students who come out of NMH are those who are willing to take risks, those who do not fear asking for help, and those who really go beyond one's own comfort zone for new challenges. However, it would be important to note that NMH has high expectations from its students and is strict about keeping school standards.
2.) What was the best thing that happened to you in boarding school?
The best thing that happened was that I had so many different opportunities, academically and socially, that all still has not sunk in. At such a young age, I separated from my parents to seek out opportunities. That is exactly what NMH offered. I personally have grown so much during the four years of boarding school. I cannot say that they were the easiest moments of my life, in fact far from it, but NMH has prepared me to face the challenges that everyone in the world is challenged with. Traditions are important and NMH has a plethora of them. However, NMH is innovative in that it prepares students for today and not 100 years ago. I believe NMH did a great job of balancing traditions and at the same time kept up with the progress changes in the world.
3.) What might you have done differently during your boarding school experience?
I definitely would not have been too concerned about taking challenging courses. Often, I felt that I put myself into situations where the courseload was too high. If I could go back, I think I would try to enjoy my classes even more.
4.) What would you never want to change about your school?
I would never change that NMH does not fear being different from other traditional boarding schools. In this sense, NMH is a rather progressive school that does not forgo the principle mission of the school: providing an educational opportunity for all. I think NMH works because though it is willing to be progressive, it does not mess around with core values such as academic excellence, hiring excellent faculty, and accepting the right students.
5.) What things could be improved about your school?
Despite the strong sense of mission, it is true that NMH is cost-inefficient primarily due to its 3,400 acres. What kind of a college-prep has the size of NMH? Even most colleges are smaller than NMH! Though I think that having the traditional beautiful campuses is important, realistically, NMH needs to strategize better in terms of making the school more cost efficient. I think that would make the school stronger.
6.) Do you have any final words of wisdom for visiting or incoming students to your school?
NMH is individualistic and teaches independence. Seeing kids from other boarding schools here at Bowdoin, I am determined that NMH creates true leaders. The leader does not necessarily mean CEO, or a lawyer, but a leader who is honest to him/herself about desires and hopes. Lastly, go meet the director of outreach and college counseling. They have as mentors guided me in such an honest, strong manner that they will always have a place when I become successful in my field of interest. This is one thing NMH is about, inspiration. Now, go look for them yourself! I can promise you that you will find your mentor, whether it be a coach, house director, or a Dean.
7.) How was your experience as an international student?
NMH is truly reflective of the broader US society and the world. Often boarding schools are criticized as being only for the elite. It is both at NMH. NMH is a prestigious school but one that truly reflects the world.
Academics:
1.) What did you like best about your school's academics?
The academics are personalized. The teachers are willing to work with students. I like the fact that NMH offers many choices for classes while making sure the students are exposed to all the academic disciplines. I feel this lacks in college as specialization in an area becomes a focus in college.
2.) What did you like least about the academics in your school?
The block schedule allows focus in two subjects. However, the whole material of a class is taught over 10 weeks of time. If especially one is in a class in which he or she is struggling or unhappy, academic life can be extremely stressful.
Athletics:
1.) What did you like best about your school's athletics?
NMH offers so many sports in so many levels, ranging from PE and intramural to Varisty compeitive sports. The good thing about NMH sports is that the options really allow its students to do something they truly are interested in.
2.) What did you like least about the athletics in your school?
In terms of varsity teams, the school has so many different sports levels and options that the competitve teams are often spread thin. A lot of the competitive sports take place on Mount Hermon which segregates the athletes from the artists in Northfield. This separation occurs primarily out of convenience.
Art, Music, and Theatre:
1.) What did you like best about your school's art program?
I really like that students who love arts can find a niche on campus. I think this happens because of the vast opportunities the school offers in terms of participation in various levels.
2.) What did you like least about your school's art program?
The dance studio is at Northfield. The black box theatre is at Northfield. The main music building is at Northfield. The primary arts building, Bolger, is at Northfield. It ultimately segregates the artists due to convenience.
Extracurricular Opportunities:
1.) What did you like most about the extracurricular activities offered at your school?
The extracurricular activities are for the most part non-selective at all. Therefore, I believe the students have a general belief that they are able to join virtually any group on-campus, except for a few opportunities like student leadership and varsity athletics. In addition, the level of faculty support for the student groups is great.
2.) What did you like least about the extracurricular activities offered at your school?
Having the separation of campuses often is ineffective. When NMH keeps its students moving all the time, time becomes very valuable, and the limited time forces students to budget time appropriately.
Dorm Life:
1.) What was the best thing about dorm life in your school?
Having the diverse student body it has, the dorms become a natural place for collaboration among students. I think this is great, because when you have a roommate from Mozambique, you naturally have to work towards creating agreement and respect between the two. On a bigger scale, the interactions that happen through house-organized activities is invaluable.
2.) What did you like least about dorm life?
I wish there would be more student initiation in dorm activities as opposed to the house director and student leaders trying to coordinate it.
Dining:
1.) What was the best thing about your dining arrangements?
NMH has a wide diversity of dining halls that allows students to move around.
2.) What did you like least about your dining arrangements?
Sometimes I feel that if the many dining halls combined into one or two, the quality of food would go up immensely.
Social and Town Life:
1.) How welcome did you feel by the other students when you first arrived at the school
I felt very welcomed, yet I was too shy to go meet people. Coming from South Korea via Turkey and going to school in the states for the first time, I was extremely intimidated. However, throughout the four years, all changed, and I felt I had a place of my own in the community. That was great. NMH is big. You just have to give it time to settle and sink in.
2.) Describe the level of diversity and integration of students in your school:
Diversity is phenomenal, except for diversity in political thought. I have not seen any other school that places such importance on diversity and respect. The school works very hard on the integration of its students. It is a challenge and there is no easy solution, but it is important to recognize that NMH is among the forefront of many institutions trying to create a pluralistic community where all students feel safe and respected. I would say all students coming out of NMH are more respectful, conscious of differences, and interested in other cultures.
3.) Describe typical fun activities you did on a weekend:
There was a dance party that faced the mountains at sunset and was just beautiful. Students came to dance, relax, and have fun in a healthy and fun way. The natural landscape was so breathtaking that I really just felt I could be myself. I am not the most nature-oriented person, but it did lift my spirits. Any activity at NMH that takes place outside at the right temperature cannot go wrong.
4.) What was the town like?
Northfield and Mount Hermon's natural landscape is breathtaking, surrounded by mountains, the Connecticut river, and forests. I would say the natural beauty presides over entertainment that takes place in-doors: movies, restaurants.
Daily Schedule:
Weekday
Weekend
1:00 PM
Run around the campus
4:00 PM
Go out with friends
NMH allows students to dive into the community and passions. The college like scheduled of four classes allowed me to seamlessly transition into college academics. Also NMH has a four hour per week work program. . .
Northfield Mount Hermon School helped me become the man I am today.The best thing about NMH was its sense of community. I like to think that I knew almost everyone there, while everyone knew me. . .
This school was different from a lot of other boarding schools in the area because it fostered an environment where everyone wanted everyone else to achieve. Unlike other schools where every student made sure that. . .
Show more reviews (

12 reviews

)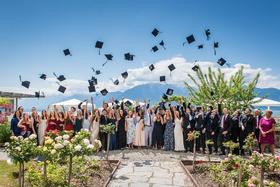 Nurturing Futures: A Journey through Boarding at Haut-Lac School in Switzerland
Nestled in the hills overlooking Lake Geneva in the French-speaking part of Switzerland lies an educational gem that embodies a unique blend of academic excellence, cultural richness and a profound sense of community. Founded over 30 years ago, Haut-Lac International Bilingual Day and Boarding School is now home to both 600 day students and a maximum of 30 boarders from around the world.
What To Wear at Your Job Interview
Navigating job interviews can be stressful, but knowing what to wear shouldn't be. Our comprehensive guide covers the essential dress code tips for men and women interviewing at boarding schools. Make your first impression count with style and professionalism.
Navigating the Modern Maze: Emerging Challenges for Boarding Schools
Explore the pressing challenges facing boarding schools, from marketing difficulties and rising insurance costs to facility maintenance and recruitment of competent trustees and teachers. This article delves into these complex issues and proposes innovative strategies to overcome them.