Reflections and Advice:
1.) What do you think makes your school unique relative to other boarding schools?
Hands on discussion based learning as well as a focus on the individual. Relationships between students and teachers were much my friendly. Also real working experience (cooking food, working in the barn)
2.) What was the best thing that happened to you in boarding school?
Putney helped me become the man I am today. They put you in situations that make you grow and become a leader. I was fortunate enough to sit on many high positions including head of the barn (oversaw a crew of 12 student) Head Tour Guide, and captain of several sports teams.
3.) What might you have done differently during your boarding school experience?
I tried to party too much and ended up getting in trouble, which was one of the best things that ever happened to me.
4.) What did you like most about your school?
How alternative it was. And how it allowed you to be yourself. You also got to pick very funky activities and classes.
5.) Do you have any final words of wisdom for visiting or incoming students to your school?
Take a walk in some of the 500 acres. Its so beautiful and I miss it
Academics:
1.) Describe the academics at your school - what did you like most about it?
The academics are much more like classes at a liberal arts college. You foster excellent relationships with the teachers and are on first name bases with them all. Also its very hands on and discussion based.
Athletics:
1.) Describe the athletics at your school - what did you like most about it?
It was competitive but also the most important thing was fun. I was captain my senior year of both the soccer team and the lacrosse team. Much less competitive then other boarding schools.
Art, Music, and Theatre:
1.) Describe the arts program at your school - what did you like most about it?
It was well funded and students participated in all levels of it. Putney is know for its student driven arts program that teaches everything from stained glass, to blacksmithing.
Extracurricular Opportunities:
1.) Describe the extracurriculars offered at your school - what did you like most about it?
Snowboarding, woods crew, hiking, biking. SO many to chose from!
Dorm Life:
1.) Describe the dorm life in your school - what did you like most about it?
Very relaxed compared to other schools. You really become family with the students you live with.
Dining:
1.) Describe the dining arrangements at your school.
Very healthy food. 20% of the food comes straight from the farm and garden.
Social and Town Life:
1.) Describe the school's town and surrounding area.
The town of Putney is quant but lots of fun. And the bigger town near by Brattleboro is very hip with lots of cool shops.
2.) Describe the social life at your school - what did you like most about it?
Students are very alternative. I spent most of my time exploring the woods.
My school had a phenomenal work program, where students were expected to complete jobs around the school 6 days a week. These jobs included working on the farm, preparing meals, cleaning up after meals, cleaning. . .
Putney is a vibrant community where teachers and students are actual friends. It's conducive to personal growth and a place where I and other students found our passions. Everyone is excited and working on something. . .
Putney is a coeducational boarding and day school in Vermont. It values and practices progressive education, and has a diverse and rigorous curriculum. It boasts a strong academic program, along with a work job program. . .
Show more reviews (

11 reviews

)
Mastering the Boarding School Selection Process: A 5-Step Guide
Discover the ultimate 5-step guide to choosing the perfect boarding school for your child. Explore essential factors, such as academics, campus facilities, extracurricular activities, and more. Make an informed decision to provide your child with an enriching and transformative educational experience. Read now!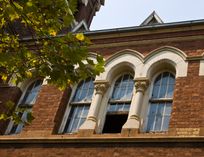 5 Founders and Their Boarding Schools
What prompts somebody to start a boarding school? The motives range from idealism to munificence right on through to capitalism. The common thread seems to be ample capital and a vision of what education can do.