Reflections and Advice:
1.) What do you think makes your school unique relative to other boarding schools?
Putney is a vibrant community where teachers and students are actual friends. It's conducive to personal growth and a place where I and other students found our passions. Everyone is excited and working on something, it's an inspirational and comfortable place to be. The class structure is also very conducive to learning. The focus is never on grades but on long term understanding. Teachers work with and adapt to individual student needs. I miss learning in such a great environment
2.) What was the best thing that happened to you in boarding school?
It's hard to pick one best thing or explain how much I've grown. Putney made me into who I am today. It inspired me, helped me grow, and allowed me to build lifelong friendships. I have grown more independent, confident, and able to articulate and stand behind my beliefs. I am self motivated and thoughtful because of my experiences there. I think the most valuable thing I gained from Putney is a desire to continue to grow as a person and a strong sense of self. I don't know what the best thing that happened to me at Putney, because it often felt like every day was the best day of my life.
3.) What might you have done differently during your boarding school experience?
I would advise students to stay engaged and go to professors or dorm heads when they are overwhelmed. Everyone there wants to see you succeed and be the best you can be so they are happy to help. So much is happening in the community it can be overwhelming and easy to get lost in the chaos and energy, but there's always people around to help you center and find what you want to focus on, and set you on a path you are excited about.
4.) What did you like most about your school?
The community culture. It's close knit and people care about each other. We helped each other grow and built off each other's successes and hoisted each other's run when we struggled. The work program makes us all aware of our effect on others and we learn to always do our part. Each week we got together to sing as a school and it was joyful and fun.
5.) Do you have any final words of wisdom for visiting or incoming students to your school?
Milk lunch is amazing, don't ever skip it. Participate in whatever interests you and take the opportunity to try new things and find what you love. Remember that Putney is full of amazing people and support if you need it, so go for what you want and don't worry about the possibility of failure.
Academics:
1.) Describe the academics at your school - what did you like most about it?
We did not see our grades until junior year so our focus was never on our grades but how we were doing and what we were learning. Many classes are based on hands on learning, or are self paced with teachers to help you through difficult concepts. For example, I will always remember my chemistry classes, where we learned to calculate the speed of light with a microwave, learned about proteins by making chopsticks out of milk, and learned about polarity of molecules and dna by designing our own labs and testing our theories with the scientific method. Many classes are student motivated and led, with active discussion and student questions leading learning. It was very collaborative and professors are very good at building their classes around the students needs
Athletics:
1.) Describe the athletics at your school - what did you like most about it?
I myself did not participate in athletics aside from badminton club. The athletic culture is not a critical part of Putney culture, but there is a high engagement. The expectation is that students are motivated by enjoying playing rather than competitiveness, and I think that holds true to the reality of how students view sports.
Art, Music, and Theatre:
1.) Describe the arts program at your school - what did you like most about it?
The program had high engagement, putting on a 1-2 plays a year and a musical. The plays carried every year and anyone who wanted to was encouraged to participate. Music programs are active, with multiple student led bands, an orchestra, and the entire campus meeting each week to sing. Sing was truly a fun experience that brought us together as a community, and most students struggle to pick their favorite song because there are so many enjoyable ones in the book. The visual arts program is why I chose Putney, it's vibrant and full of options, from being arts classes to studio space open for students to work in on their own. I personally took classes in painting, drawing, printmaking, digital film-making, photography, weaving, sculpture, ceramics jewelry making, illustration, and stained glass. Each trimester, students display their art and it fills an entire gallery space, taking 15-20 minutes to see it all. All teachers in arts are also required to be active artists themselves, so they have real world experience in the field. If you love the visual or performing arts, this is a good community for you.
Extracurricular Opportunities:
1.) Describe the extracurriculars offered at your school - what did you like most about it?
There are so many. And if you want a new one, it's not hard to make one. When I was there, Putney had game clubs, sports clubs, LGBT+, social justice, International, and sustainability clubs. Putney also has unique opportunities in student government, as we are so involved in the running of the school. Two members of the student body join the board of trustees each year, and they have power. They convinced the board to divest, and it was done two years later. Students also can manage each other with work jobs, be a part of the disciplinary process, as well as more standard student government. Unlike many schools student government has a huge impact, and students are able to lead and make actual improvements if they see. Students are held accountable by themselves and their peers, and it shows in their actions and choices.
Dorm Life:
1.) Describe the dorm life in your school - what did you like most about it?
I met my lifetime best friend as a roommate. I also was friends with many of my dorm heads, even though they were adults. Dorm heads really look out for students and show a legitimate interest in their lives. They are fun to be around and helpful if you have a problem. Students work to clean their own dorms and doing our dorm jobs helped us keep our space clean and be considerate of others in shared spaces. We had to be in our dorms by 10, 11 on Saturdays and check in 7:30. This ensured our safety, as there are many woods trails and getting lost is a possibility.
Dining:
1.) Describe the dining arrangements at your school.
The chefs were fun and kind people, and students worked with them every meal. Depending on your job that trimester, you might be helping them cook or wash dishes, or something not in the kitchens. It was fun working with them, and they were legitimately I treated in our lives. There were gluten-free options, and always plenty of vegetarian and vegan options, as there are many people who don't eat meat on campus. People are free to sit where they want, except for twice a week at a dinner where there is a limit of 8 people per table. Those day's dinner is a sit down event and a student whose job it is will serve food.
Social and Town Life:
1.) Describe the school's town and surrounding area.
Putney is a very small town, but there are a few shops we could go to with a free shuttle on weekends. There were also frequently trips to nearby Brattleboro, where we could shop or buy food.
2.) Describe the social life at your school - what did you like most about it?
I would describe the community as vibrant and close knit. The friends I made at Putney will be my friends for the rest of my life, and I still keep in touch and regularly call my friends, even 4 years after my graduation. The community is small so everyone knows everyone. There will always be high school drama, but petty cliques or "the popular crowd" aren't part of the social sphere. Overall, the culture is friendly and kind.
Daily Schedule:
Weekday
Weekend
My school had a phenomenal work program, where students were expected to complete jobs around the school 6 days a week. These jobs included working on the farm, preparing meals, cleaning up after meals, cleaning. . .
Putney is a vibrant community where teachers and students are actual friends. It's conducive to personal growth and a place where I and other students found our passions. Everyone is excited and working on something. . .
Putney is a coeducational boarding and day school in Vermont. It values and practices progressive education, and has a diverse and rigorous curriculum. It boasts a strong academic program, along with a work job program. . .
Show more reviews (

11 reviews

)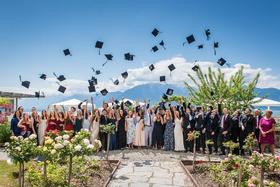 Nurturing Futures: A Journey through Boarding at Haut-Lac School in Switzerland
Nestled in the hills overlooking Lake Geneva in the French-speaking part of Switzerland lies an educational gem that embodies a unique blend of academic excellence, cultural richness and a profound sense of community. Founded over 30 years ago, Haut-Lac International Bilingual Day and Boarding School is now home to both 600 day students and a maximum of 30 boarders from around the world.
What To Wear at Your Job Interview
Navigating job interviews can be stressful, but knowing what to wear shouldn't be. Our comprehensive guide covers the essential dress code tips for men and women interviewing at boarding schools. Make your first impression count with style and professionalism.
Navigating the Modern Maze: Emerging Challenges for Boarding Schools
Explore the pressing challenges facing boarding schools, from marketing difficulties and rising insurance costs to facility maintenance and recruitment of competent trustees and teachers. This article delves into these complex issues and proposes innovative strategies to overcome them.