Reflections and Advice:
1.) What do you think makes your school unique relative to other boarding schools?
The unique thing about Putney is that there is a fully working dairy farm on campus. There is a big work program than instills work ethic and responsibility in the students and this includes working on the farm, working in the kitchen, cleaning classrooms, recycling, etc. Putney is also unique because the students help run the school. Yes, many schools have student government, but because of Putney's small size students can actually make a difference.
2.) What was the best thing that happened to you in boarding school?
Going to Putney opened my eyes to a new world. I came from a mostly Hispanic/African-American neighborhood in Chicago and going to Vermont was a culture shock. I saw stars for the first time, I learned how to milk cows, and I learned how to interact with people who had never heard Spanish before. A lot of people say that going to a small boarding school in the middle of nowhere feels like living in a bubble, but I honestly think that going to Putney burst my inner-city bubble. That was all I knew and I see the world through a whole new lens that a lot of people in Chicago will never understand unless they experience it themselves. I've grown more conscience of recycling and being environmentally friendly. I've learned so much about the dairy farming industry and where our food comes from. And like any boarding school, you'll meet some of your best friends there. It's such a unique experience to leave your home at a young age and be surrounded by opportunity.
3.) What might you have done differently during your boarding school experience?
I would've liked to be more involved in student government. Like I said before, Putney is run by students. All school assembly is run by students, the work program is run by students, there is even a student trustee that meets with Putney's board members. I ran the barn for a semester, but I never got too involved with changing the school. I would encourage kids to try everything. I took lots of different classes and activities in subjects I wasn't sure I was going to like. I fell in love with acting after my first theatre class but I still continued to take other arts as well. I've never regretted that and it's fun (as an adult) to be able to say that I learned how to ride a horse and milk a cow. Those 4 years go by faster than you can imagine so take advantage of those opportunities.
4.) What did you like most about your school?
I loved the sense of community that I got from Putney. You become very close to your peers and your teachers. Every student is assigned an advisor for 4 years to help you choose classes or talk about problems with friends or significant others. My advisor was the farm manager and he is like my second father (to this day!). I celebrated my birthdays in his home with his wife and children and he drove me to visit colleges when it came time to choose schools. I've gone back and worked on the farm with him during my summers and he's visited me in Chicago as well. Putney is truly a beautiful, unique community.
5.) Do you have any final words of wisdom for visiting or incoming students to your school?
My words of wisdom is just to try new things, get out of your comfort zone. Participate and learn as much as you can. A lot of students who go to Putney are a little scared of the barn and getting dirty, but just do it. It's so much more fun when you're not worried about getting cow poop all over you (honestly, clothes can be washed). There's also a lot of people who work at Putney and you might not get to know them all, but try. The librarians are awesome, ask the baker to teach you how to bake bread, hang out with the IT guys, and definitely try to live in one of the cabins your senior year. It's a challenge, but an experience that you'll remember forever.
Academics:
1.) Describe the academics at your school - what did you like most about it?
One of Putney's unique features is the progressive education that is taught. They don't give grades (A,B,C, etc) but instead, teachers give detailed reports of each students progress in the class. You receive your actual letter grades your 3rd year when you are beginning to think about applying to college. In terms of classes available, there are a lot. There is certain classes that everyone has to take (English 101, US History, Biology), but you're able to choose from a list of electives your junior and senior years. I was interested in the sciences and was able to take courses in Human Anatomy and Forensics which were great. There is a big emphasis on the arts at Putney and everyone chooses at least one art class (whether it's music, sculpting, painting, weaving, dance). I did theater classes every year. There was only 2 languages to choose from for foreign language (Spanish and French), but the teachers in both of those departments are amazing and really teach you the language well. Because the school is small, classroom sizes are very small. My largest classes had no more than 15 students and in my senior electives I had classes that had 4 students or less. Because of this, you get to know the teachers really well. It's also nice that they are your dorm heads, afternoon/evening activity leaders, and you get to eat meals with them. All of the teachers I encountered at Putney were excellent and knowledgeable in their fields and always willing to help when you needed it. Putney is not the most competitive boarding school out there. The students are very smart and eager to learn, but there is very little competition between students. It's a very relaxed experience. The workload is very manageable if you know how to prioritize your time wisely.
Athletics:
1.) Describe the athletics at your school - what did you like most about it?
Putney is more of an arts school than an athletic school. I don't think I would go there if I knew I wanted to participate in highly competitive sports. There is a wide variety of sports to choose from. Every student must take a certain number of "afternoon activities" and this is usually a physical activity (farm work, dance, sports like soccer, basketball, skiing, cross country, or lacrosse). Even if you don't play a sport there is many other activities that you can do like be on the recycling team or volunteer in the town. I started the girls basketball team when I was on campus (there was only boys basketball when I started) so it's not too difficult to start a new activity if your interests aren't already offered. Putney's Field House is amazing. It's an all green building (energy-wise) so it's completely run by solar panels, the bathrooms are compostable, and it has a basketball court and a work out gym. There is not pool on campus, but students swim in the pond (a small little lake near the barn).
Art, Music, and Theatre:
1.) Describe the arts program at your school - what did you like most about it?
Putney is an arts school. Everyone that goes there is talented at something. They offer classes or activities in every possible visual and performing arts you can think of. The great thing about this school is that it lets you explore so many different options. While I was there, I learned to knit and weave, I did jewelery making, I even took a class on origami. I helped teach Latin American dance to other students, too. There is a visual arts building that is a very cute, cozy cabin-like building completely surrounded by student sculptures. Inside there are work stations for students who want to draw, paint, sculpt, etc. There is a large building that has dance studios, individual music rooms, and a big theater where productions, dance/music recitals, and all-school assembly take place. A little off campus is the main theater. It's a little older and not the most impressive theater, but it's got a lot of memories from past productions and the students really love working there. All of the teachers who teach these classes are very talented and know what they're teaching well. Many are people who live in the town and have been painting, making jewelry, or weaving their whole lives. It's really impossible to go to Putney and not take at least one new activity, because everyone does it and it's highly encouraged by the school and the older students.
Extracurricular Opportunities:
1.) Describe the extracurriculars offered at your school - what did you like most about it?
There's not a lot of student organizations/clubs. Mostly because there's usually a class or afternoon/evening activity for any type of volunteer work or activity that you want to do. I was involved in the club for students of color. This met once every 1-2 weeks and it was more of a support group when we were feeling homesick than an actual organization. Putney is big on volunteer work. We celebrate "work day" where everyone on campus is assigned jobs to do throughout the town. Whether it's racking leaves from the fields of our neighbors or helping paint or build a shed for someone, they encourage us to get involved with the members of the town. Like I've said before, it's not very hard to make new clubs or organizations, though. The teachers and students are very supportive and always want to help make your time at Putney unique and valuable.
Dorm Life:
1.) Describe the dorm life in your school - what did you like most about it?
There's about 5 all-girl dorms and 5 all-boy dorms on campus. Your freshman year you are assigned a roommate based on a survey you take. All of the freshman live in the same dorm so you get to know each other very well. There's an upperclassman assigned as student dorm head to each dorm and 2 adult dorm heads who have apartments in the dorm. You get to know their kids/pets/family very well and do lots of activities with them. After your first year you are able to choose your own roommate and get to choose which dorm you want to live in (I think it's lottery based). There's a variety of room types (single, double, triple) but most students end up living on double rooms. Sizes of the rooms depend on the dorm, but they're your typical small room with a bed, a desk, and a closet. Most students only transferred rooms their first year if they didn't get along with their roommates, but I never had that problem. Another unique Putney feature is that they have a few cabins surrounding campus (in the woods) that seniors can apply to live in. My roommate and I lived in one our senior year (Its an extensive application + interview process depending on your behavior and grades from past years). The cabins have no running water (no bathroom), only have energy through solar panels, no WiFi, and have a wood stove. They teach you how to chop wood and make fires. It's an amazing and challenging experience that really teaches you to live off the land and gives the students a lot of independence and responsibility.
Dining:
1.) Describe the dining arrangements at your school.
The dining hall isn't anything spectacular. It's small, but it fits everyone in the school. There are 3 chefs and a baker and you get to know them all very well because each student is required to work in the kitchen at least once during their time at Putney (washing dishes, serving food, chopping vegetables). The food is good because it's fresh. We eat all of the vegetables we grow during activities and the eggs and milk come from our own barn. There is no assigned seating, but a few nights a week there is family-style dinner. It's a sit down dinner where student waiters bring the food out to you (instead of a buffet where everyone grabs what they want). There is breakfast typically from 7-9, Milk Lunch (snack) before assembly around 10am, Lunch from 12-2, and Dinner from 5-7. The cafeteria is usually always open and if you're hungry outside of the those hours there is always juice, bread or snacks, or the chefs would give me a bowl of cereal if I asked.
Social and Town Life:
1.) Describe the school's town and surrounding area.
The town is very small (it's just one long block). There is a general store and coop where people can buy snacks and food. Other than that there's a lot of tiny shops like a bookstore, a second hand store, a jewelry store. There's not much to do in town. A little closer to the campus is an apple orchird and they sell the best cider donuts I've ever had. It's a fun place to go apple picking with friends, too. There are busses on weekends that take students to Brattleboro and Keene, NH. There's things like movie theaters, target, Walmart, and McDonald's in these towns so you can always get supplies and snacks.
2.) Describe the social life at your school - what did you like most about it?
Because there are so few students, everyone knows everyone. It's impossible to walk through campus without running into someone you know. For the most part people are friendly, but like any high school it has its cliques. It's very easy to make friends through classes, activities, your work job, and through dorm life. There's not a lot of "free" time. If you're not in classes, you're usually in an extracurricular activity or helping on the farm/your job. All of the first years have orientation before school starts where they climb a mountain together. There's also school-wide camping trips with the upperclassmen so it's hard not to make friends.
Daily Schedule:
Weekday
1:00 PM
Basketball practice
10:00 PM
Dorm check-in/curfew
Weekend
11:00 AM
Classes (Half-day on Wed/Sat)
1:30 PM
Basketball game against nearby school
7:30 PM
Bonfire with s'mores outside of dining hall
9:00 PM
Watch movie with friends
My school had a phenomenal work program, where students were expected to complete jobs around the school 6 days a week. These jobs included working on the farm, preparing meals, cleaning up after meals, cleaning. . .
Putney is a vibrant community where teachers and students are actual friends. It's conducive to personal growth and a place where I and other students found our passions. Everyone is excited and working on something. . .
Putney is a coeducational boarding and day school in Vermont. It values and practices progressive education, and has a diverse and rigorous curriculum. It boasts a strong academic program, along with a work job program. . .
Show more reviews (

11 reviews

)
Mastering the Boarding School Selection Process: A 5-Step Guide
Discover the ultimate 5-step guide to choosing the perfect boarding school for your child. Explore essential factors, such as academics, campus facilities, extracurricular activities, and more. Make an informed decision to provide your child with an enriching and transformative educational experience. Read now!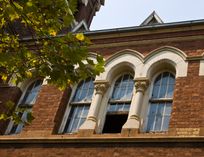 5 Founders and Their Boarding Schools
What prompts somebody to start a boarding school? The motives range from idealism to munificence right on through to capitalism. The common thread seems to be ample capital and a vision of what education can do.