Reflections and Advice:
1.) What do you think makes your school unique relative to other boarding schools?
One of the great aspects of Culver is its focus on leadership. Junior and senior years you get to put your skills to the test and take on roles within dorms, student government, or in outside interests. All seniors are required to do a community project - and they are super flexible and helpful in finding something fulfilling and cultivated to your personal interests. Culver is two schools in one. The boys are military and the girls are on a prefectorial leadership system. Classes are mixed with both schools. Strong emphasis on extracurriculars such as sports (team or intramural), dance, theatre, music, drill team, equestrians...Beautiful campus in a cute, friendly little town in Northern Indiana. Chapel, horse barn, small landing strip, and a gigantic fitness center/gym with tracks, courts (basketball, volleyball, racquetball, tennis)... are just some of the amazing features of this campus. Student center is always packed, dorm activities, a fantastic vedette... and best of all you leave with amazing connections and life-long friends from all over the world
2.) What was the best thing that happened to you in boarding school?
I was incredibly shy as a kid. Culver opened me up to so much growth within my own social anxieties. It taught me to believe in myself and push myself to do the best I could. Meeting people from all over the world (and sometimes sharing a room) meant that you could learn so much beyond your own borders. Graduating from Culver Girls Academy was the greatest honor I could ever have and it definitely also prepares you for college.
3.) What might you have done differently during your boarding school experience?
My advice would be to think about the school as a journey to something you never thought possible. You learn so much by opening yourself up and figuring out how to make your experience special (or rather more so since boarding school is already something very special). Dare to learn!!
4.) What did you like most about your school?
The chance to interact with people from all over the world and to work with instructors who care so much about their subjects and students. I also love all the opportunities not found many other places.
5.) Do you have any final words of wisdom for visiting or incoming students to your school?
Take it all in - on-campus and off. Boarding school doesn't have to be scary - the right place could be life-changing!
Academics:
1.) Describe the academics at your school - what did you like most about it?
Humanities freshman year is taught by two professors (one english, one history), languages from spanish, french, german and others.... math, science, physical education and health classes like nowhere else. Formal CQ which is a two hour, required study hour either in the dorms, at the library, or wherever is needed.The professors are tough, but supportive. They want you to succeed and do so with passion. All the teachers are super helpful and sweet. Many of them double as mentors (both casually and formally in designated groups within the students to further engage and support students. And the classes definitely prepare you for college
Athletics:
1.) Describe the athletics at your school - what did you like most about it?
never took part, but there is such an amazing group of coaches that bring together teams that are incredibly skilled. Lots of diversity of offerings - football, baseball, softball, lacrosse, fencing, cheer-leading, soccer, basketball, tennis, track (which has a incredibly high reputation). Amazing facilities and fields.
Art, Music, and Theatre:
1.) Describe the arts program at your school - what did you like most about it?
The departments work incredibly well together. Run by former and current professionals who have an incredible passion for what they do. All departments offer honors programs for graduating seniorsTheatre - 3 plays a year, fall straight play, small experimental pieces, and a spring musical; have participated in the Edinburgh Festival Fringe (through the American HS Theatre Festival)Music - orchestra, band, voice, private lessons, choirsVisual Arts - classes, portfolios, displaysDance - two productions a year. One full-length ballet for fall and a combination of instructor-choreographed and student-choreographed pieces.
Extracurricular Opportunities:
1.) Describe the extracurriculars offered at your school - what did you like most about it?
So many opportunities, from clubs to volunteer work. There's a drill team, a speech team, and the dorms are really good about creating fun activities and interaction. They do require you to attend some sort of religious gathering... and these have expanded so much while I was there and even after I left. But there are also things like meditation to fill in for those who do not feel comfortable in a religious setting.
Dorm Life:
1.) Describe the dorm life in your school - what did you like most about it?
Doubles, Singles, and Quads available. Kitchen on each floor with community bathrooms/showers. Since Culver started as strictly a military school (before the girls), there are inspections 6 days a week. Weekdays are pretty casual, but Sundays are formal. Dorm mothers (amazing ladies who will become 3rd grandmothers to you) make sure you are awake, and you sign in for breakfast at the dining hall.
Dining:
1.) Describe the dining arrangements at your school.
Dining Hall serves 3 meals a day, but stays open all the time with cereal bar, etc. Serve up a wide variety of options to cater to people from all over the world and to expose students to different cuisines. There is also a cafe in the basement that serves american food like hamburgers, fries, etc. The cafe has some game tables set up too. It's the perfect spot to socialize. There is a snack break after first period during which there are juices or milk and some sort of nutrition bar or the like available if wanted.You are required to work the dining hall line a few times as a student.
Social and Town Life:
1.) Describe the school's town and surrounding area.
amazing little town. tiny little gem surrounded by cornfields (which you forget about when you are in Culver - the town, not the school). There's a lake, walking trails, tons of restaurants, and a small movie house.
2.) Describe the social life at your school - what did you like most about it?
What could be better than meeting people from all over the world and developing friendships that last forever. Once a year the dorms and barracks compete in Spirit Games along with faculty. Everyone has a theme and the events are the silly ones like water balloon tosses and three-legged races. A great day of fun and social interaction.Seniors have special building set up with a full kitchen, pool tables, TVs,, etc.
Daily Schedule:
Weekday
3:45 PM
extracurricular activities (sports, theatre rehearsal, etc)
7:00 PM
2 hour CQ (quiet study hours)
Weekend
9:00 AM
weekends were completely open
Culver's leadership development programs make it unique among boarding schools. Students are required to enroll in leadership development classes and participate in the leadership system. For boys this takes the form of the military system. . .
There is a vast international student acceptance which allows you to learn other cultures. Is also a very good school because it teaches you the importance of manners and routines (this is because is a. . .
One unique aspect of Culver is the requirement of a senior service project for graduation. Personally, I made the most out of this opportunity and took a trip to Morocco to give aid to the. . .
Show more reviews (

18 reviews

)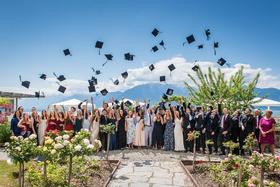 Nurturing Futures: A Journey through Boarding at Haut-Lac School in Switzerland
Nestled in the hills overlooking Lake Geneva in the French-speaking part of Switzerland lies an educational gem that embodies a unique blend of academic excellence, cultural richness and a profound sense of community. Founded over 30 years ago, Haut-Lac International Bilingual Day and Boarding School is now home to both 600 day students and a maximum of 30 boarders from around the world.
Navigating the Modern Maze: Emerging Challenges for Boarding Schools
Explore the pressing challenges facing boarding schools, from marketing difficulties and rising insurance costs to facility maintenance and recruitment of competent trustees and teachers. This article delves into these complex issues and proposes innovative strategies to overcome them.
What To Wear at Your Job Interview
Navigating job interviews can be stressful, but knowing what to wear shouldn't be. Our comprehensive guide covers the essential dress code tips for men and women interviewing at boarding schools. Make your first impression count with style and professionalism.