Reflections and Advice:
1.) What do you think makes your school unique relative to other boarding schools?
Walnut Hill is - as the name suggests - a school for the arts. This not only means that each student is immersed in both academic classes typical of any high school and also rigorous arts education comparable to that of a college conservatory, but also that they are studying alongside other passionate, artistic, talented young individuals who are pursuing success in one of several fields - visual art, theatre, dance, music or creative writing. Since I was a student I believe they have added even more concentrations and expanded their curriculum to include a wider variety of pursuits. The school itself is very small - only about 100 students total in my graduating class. This ensures that each student receives individual attention and forms personal relationships with teachers and faculty.
2.) What was the best thing that happened to you in boarding school?
The college admissions process was really incredible. Our teachers and advisors worked with us one on one to inform us of the schools they thought would be the best fit for our needs and made sure we were prepared for college auditions. I never would have chosen USC on my own but I am so glad I went there. It was a great fit for me. I also am still friends with many of the people I met at Walnut Hill. My current roommate is a Walnut. I'm performing in a play with another one of my Walnut friends this weekend in LA. I keep in touch with so many of my friends from WHS and it's honestly a real joy to see how they've grown and continue to succeed as artists.
3.) What might you have done differently during your boarding school experience?
I probably would have worked harder in my arts classes if I had the chance to do it over again. Most of the kids at Walnut Hill were used to being the best and brightest in their hometown, but the caliber of talent is so high at Walnut Hill, it can be easy to feel like you don't measure up. My advice would be to remember how much of an accomplishment it is to get in, and not worry about how you compare to anyone else. Just do your best, and keep working to improve your craft.
4.) What did you like most about your school?
The people I met were by far the best part of my time at Walnut Hill. So many of them continue to inspire me to this day and I feel so lucky to know so many young artists who are as passionate and hardworking as I am. I am incredibly lucky to have been able to pursue my passion from such a young age, in such supportive environment. Attending Walnut Hill really was a dream come true. I remember when I got my acceptance letter as a sophomore in public high school, my mom called me and read it to me over the school phone and I burst in to tears. I'm so thankful for the opportunity to attend WHS.
5.) Do you have any final words of wisdom for visiting or incoming students to your school?
Definitely go tour the campus and spend a day shadowing a student. I did this as a perspective student and it really helped me see what it would be like to attend the school. Everyone there was incredibly warm and welcoming and made me feel like I fit right in. I would definitely recommend shadowing if you can, even if you are absolutely sure you want to attend. It is also a great way to meet students who will be your peers when you arrive at school the next year.
Academics:
1.) Describe the academics at your school - what did you like most about it?
The academics were not as rigorous as I was used to coming from a public high school. They were very comprehensive, though, and I felt that the academic teachers really cared about their subject matter, especially in the English and Science departments. One thing that will always stick out to me was when I finished Physics 1 during my senior year, I was disappointed that there wasn't an upper level science class beyond what I had already completed. Because of my interest, and interest expressed by a few other students, they created a Physics 2 class for us to continue our education, even for a class of only about 6 students.
Athletics:
1.) Describe the athletics at your school - what did you like most about it?
Hah. We did not have athletics. Although we did have a fitness center on campus, and regular shuttles to a larger gym off campus. We also did a lot of walking from campus into town, and across campus from dorms to classes.
Art, Music, and Theatre:
1.) Describe the arts program at your school - what did you like most about it?
The arts classes were fantastic. As a theatre major I can really only speak to the theatre classes. They created an incredibly professional environment in which you took your work very seriously. This is way beyond a typical high school drama club. We had acting class and musical theatre, twice a week I think, and movement once a week. (It's been a few years but I believe that's correct...) We had two large productions - one each semester. A straight play in the fall and a big musical in the spring. We also had student directed productions, a children's play and blackbox shows so there were many opportunities to perform. I was lucky enough to be selected to direct a student show my senior year, which was a great opportunity to learn what goes into putting up a production, from chasing a script, to holding auditions, rehearsing, and ultimately performing. The faculty are passionate, seasoned professionals who teach and direct the majority of the shows. The Main Stage shows were professional quality productions and students also had the opportunity to work on various crew positions for each show.
Extracurricular Opportunities:
1.) Describe the extracurriculars offered at your school - what did you like most about it?
Given the demanding academic and artistic schedule, there wasn't a lot of time for extracurricular activities apart from the ones I mentioned (student activities, school-wide events, etc.) We did a lot of socializing in the campus center and the dining hall and the dorms. We watched movies, went on outings to the town of Natick or took the shuttle to the Framingham mall. We were allowed to leave for weekends (with our parents permission of course) and I had many friends who lived close to campus whose homes we would visit regularly. We could take trips into Boston as well, which was just a short 45 minute train ride away. There's a lot to do :-)
Dorm Life:
1.) Describe the dorm life in your school - what did you like most about it?
Dorm life was great. All the dorms have dorm parents residing in rooms right alongside the students, but we still felt a sense of privacy and independence. Due to the fact that it is such a small, tight nit community, it was easy to make friends in my dorm and we were allowed to have occasional overnights in other dorms (of the same sex) as well. There were regular dorm activities like movie nights and every night our dorm parents would have snacks available to us at check in. I have very fond memories of my time in the dorm with my friends. And for my senior year I was able to request and get a single room, so that was great.
Dining:
1.) Describe the dining arrangements at your school.
The dining hall had a ton of options - hot meals, a full salad bag, panini presses, cereal selections, a sandwich station, a soup bar, a juice bar, ice cream, coffee and tea - although I remember wishing it was open 24/7 (read: hungry teenager). We had a school store as well where we could purchase snacks and we could also get a shuttle to the local grocery store if we wanted to stock up on supplies. We regularly visited the local Dunkin' Donuts in Natick, as well as many of the local restaurants. We also could get food delivered to campus. We never went hungry :-) (Although it could get expensive at times if you were eating out a lot.) There was no assigned seating, but people tended to sit with their friends from their own major, although I definitely had friends from majors other than mine.
Social and Town Life:
1.) Describe the school's town and surrounding area.
Natick is a small town, so you get the cute little diners, local library, and safety of a small community. The school is right outside Boston and easily accessed by the T (right down the hill) so there is a sense of freedom and you're able so go explore all the Boston has to offer very easily. There's also the Framingham mall, which is huge, if you need some retail therapy. And there are plenty of movie theaters and restaurants nearby as well. Lots of things in walking distance, plus the school has a shuttle service to the mall and the movies and lots of places nearby.
2.) Describe the social life at your school - what did you like most about it?
Social life as school is very active. There are school events, parties, dances, (not like your typical prom - ours was on a boat in Boston Harbor, for example). We have events like mountain day where all the seniors climb a mountain together. There are a ton of student performances so you get to see your fellow classmates working at what they love and do best - ballet recitals, music concerts, theatre shows of course. There are gallery openings for the visual artists and readings for the creative writing majors. You will always see students hanging out on the quad or in the campus center. When I was there, it was before everyone had a cell phone, but I could still always find people to hang out with just by walking outside. It's a very social campus.
Daily Schedule:
Weekday
Weekend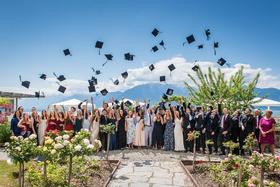 Nurturing Futures: A Journey through Boarding at Haut-Lac School in Switzerland
Nestled in the hills overlooking Lake Geneva in the French-speaking part of Switzerland lies an educational gem that embodies a unique blend of academic excellence, cultural richness and a profound sense of community. Founded over 30 years ago, Haut-Lac International Bilingual Day and Boarding School is now home to both 600 day students and a maximum of 30 boarders from around the world.
What To Wear at Your Job Interview
Navigating job interviews can be stressful, but knowing what to wear shouldn't be. Our comprehensive guide covers the essential dress code tips for men and women interviewing at boarding schools. Make your first impression count with style and professionalism.
Navigating the Modern Maze: Emerging Challenges for Boarding Schools
Explore the pressing challenges facing boarding schools, from marketing difficulties and rising insurance costs to facility maintenance and recruitment of competent trustees and teachers. This article delves into these complex issues and proposes innovative strategies to overcome them.