Reflections and Advice:
1.) What do you think makes your school unique relative to other boarding schools?
As our school is an art school, it was unique that all academic classes end at 2pm and resuming art classes from then.
2.) What was the best thing that happened to you in boarding school?
Yes, I absolutely became independent person, and had times to reflect on myself - who really I am. I think I really enjoyed when they were special assemblies, with special people speaking to us about their life.
3.) What might you have done differently during your boarding school experience?
I think I've done everything that I could do as first experiencing dorm life in total different culture. I would advise kids going to boarding school to be brave and believe in their selves. Everyone could impact world and they are the people who will eventually change the world in the future. And make sure to make many friends.
4.) What did you like most about your school?
More like everything except strict rules. Strict rules on dorm life, academics, attendance, etc.
5.) Do you have any final words of wisdom for visiting or incoming students to your school?
Have fun enjoying nice weather at the hill and enjoy the dining service. Just make sure to not overwork yourself and get exhausted.
Academics:
1.) Describe the academics at your school - what did you like most about it?
Yes, however, sometimes was demanding even though three was the maximum number of classes we could take. I really liked science classes there. Classes are very descriptive and informative which give students an opportunity to follow instructors without troubles.
Athletics:
1.) Describe the athletics at your school - what did you like most about it?
There was only one small gym which had no obligation for class credits. It would've been fun if there were more classes for gym activities or anything related to athletics.
Art, Music, and Theatre:
1.) Describe the arts program at your school - what did you like most about it?
It is absolutely amazing that all students get to experience or watch many art works made by students in different majors. I really liked every theater shows, art shows, and ballet shows besides music performances.
Extracurricular Opportunities:
1.) Describe the extracurriculars offered at your school - what did you like most about it?
There were some trips to go watch shows, museums, fun places if we sign up. Also, going to mall or recreational also could be signed up to go those places for free. I think that is really nice that the school provides the students rides for free (sometimes).
Dorm Life:
1.) Describe the dorm life in your school - what did you like most about it?
Being with friends all together is the most amazing thing ever. It was generally fun just to be experiencing dorm life for the first time, and being away from my parents was also interesting.
Dining:
1.) Describe the dining arrangements at your school.
I liked my school dining hall. It was a buffet and we get to eat anything we want. Food quality was great and I liked when they have a special food for special events.
Social and Town Life:
1.) Describe the school's town and surrounding area.
Natick is a small town which I somewhat enjoyed. However, most of the time I went out to downtown Boston, and it's really different setting compare to Natick. I like most of the things about Boston! It's such a cool place.
2.) Describe the social life at your school - what did you like most about it?
People are friendly and I made really best friends from the school. Community is really small but bounding, and I miss it time to time.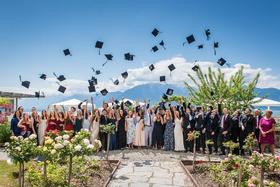 Nurturing Futures: A Journey through Boarding at Haut-Lac School in Switzerland
Nestled in the hills overlooking Lake Geneva in the French-speaking part of Switzerland lies an educational gem that embodies a unique blend of academic excellence, cultural richness and a profound sense of community. Founded over 30 years ago, Haut-Lac International Bilingual Day and Boarding School is now home to both 600 day students and a maximum of 30 boarders from around the world.
Navigating the Modern Maze: Emerging Challenges for Boarding Schools
Explore the pressing challenges facing boarding schools, from marketing difficulties and rising insurance costs to facility maintenance and recruitment of competent trustees and teachers. This article delves into these complex issues and proposes innovative strategies to overcome them.
What To Wear at Your Job Interview
Navigating job interviews can be stressful, but knowing what to wear shouldn't be. Our comprehensive guide covers the essential dress code tips for men and women interviewing at boarding schools. Make your first impression count with style and professionalism.