Reflections and Advice:
1.) What do you think makes your school unique relative to other boarding schools?
Gould Academy's four-point program is what sets it apart from other schools. This program is defined by what each grade does during the weeks between 2nd trimester and Spring break. Grade 9 embarks on an international trip to visit another country and experience world travel. Grade 10 remains on campus to serve the community through volunteer work and connect with classmates. Grade 11 goes on an intense winter camping trip, learning survival skills unique to the New England climate. Grade 12 accomplishes a personal senior project, and this time serves to solidify college plans and work on personal development. These 4 years help to prepare each student for their futures by giving them the chance to connect to the world, to the community, to their inner strength, and to their budding life's purpose.
2.) What was the best thing that happened to you in boarding school?
Although I did not graduate from Gould, I still value my time spent there. Being a student at Gould taught me to put forth my best effort, and to expect from others what I would expect from myself. Gould does a good job at igniting the spark of lifelong love of learning. Traveling to China in 2008 with my freshman class was incredibly irreplaceable, and brought out leadership skills that may never have emerged.
3.) What might you have done differently during your boarding school experience?
My advice is to get a planner, and learn how to use it. Time management is an essential skill in order to thrive in college. The sooner you learn how to create an effective schedule for yourself, the better. Some other advice specific to boarding school is to speak up if your room mate is not a good fit for you. A year is a long time to share a room with someone, and you could be missing out on having a positive room mate experience if you never ask for change.
4.) What did you like most about your school?
I think that Gould Academy truly cares about each individual student reaching his or her dreams. The school inspires students to put forth their best effort, to support peers, to give back to the community, and to never quench your thirst for knowledge.
5.) Do you have any final words of wisdom for visiting or incoming students to your school?
For some students, boarding school is a world of freedom that has never been experienced before. During my first week, an older student showed me how to make a peanut butter and bacon sandwich on the panini press in the dining hall. Broaden your horizons. Talk to people you normally wouldn't expect to have anything in common with. Spend time in the pottery studio even if you've never tried art. Lend a helping hand with the animals down at the barn if you've never fed a goat or pet a bunny. My words of wisdom are to make the most of your time at Gould, since there are so many opportunities to be had there.
Academics:
1.) Describe the academics at your school - what did you like most about it?
The academics at Gould were challenging in that they aimed to bring out the best in each student. The teachers at Gould loved to teach, and it reflected positively on the students in that it made them eager to learn in a way that other schools lacked. The teacher to student ratio was perfect in that it allowed the learning styles of each student to become known, and the teachers would do their best to work with each student individually in that aspect. One thing that was unique about Gould was the rotating class schedule that was designed to let students experience each course at a different time of day depending on the week. This was especially helpful for me as I struggled with mornings, and the rotating schedule helped to prevent any one course from always being in the morning.
Athletics:
1.) Describe the athletics at your school - what did you like most about it?
Extracurriculars are mandatory at Gould, with at least 1 physically active or athletic activity per year. I am not particularly fond of athletics, but I found that mandatory participation helped me to venture out of my comfort zone and develop more skills that I wouldn't have otherwise. My softball sports team was so supportive and really helped me build up my self-esteem and sense of team effort. Being able to learn snowboarding speaks for itself since the opportunity to learn such a cool sport isn't available at most schools.
Art, Music, and Theatre:
1.) Describe the arts program at your school - what did you like most about it?
Arts are a highly valued subject at Gould. I can only speak from experience for the theatre program, which I participated in 3 times. The building where theatre is taught and performed is absolutely incredible. The century-old charm and warm acoustics make it a place that I came to call home as I developed my acting skills there many of my afternoons. The teachers selected to teach the arts are passionate about what they do, and it shows in the accomplishments of their students.
Extracurricular Opportunities:
1.) Describe the extracurriculars offered at your school - what did you like most about it?
Opportunities for student involvement are endless at Gould. There are many ways to occupy extra-curricular time, and lots of organizations and clubs to find your niche. The student body is encouraging and supportive of one another, and if you come up with a new idea for a club or cause you will find that the community wants to hear about it. What I liked best about extra-curriculars at Gould was that they were all-inclusive.
Dorm Life:
1.) Describe the dorm life in your school - what did you like most about it?
While living at Gould Academy, I stayed in the only female dormitory. I started out with a room mate that wasn't a good match for me. After a trial period to see if we could resolve it, I ended up switching to another room whose room mate had left school. My new room mate turned into my best friend, and we requested each other as roomies for the following year. The dorm rooms at Gould are spacious and updated, with generous closet space to fit everything you need. The bathroom situation is well-planned for, with a small group of girls being assigned to use each bathroom for the year, with a large communal sink area.
Dining:
1.) Describe the dining arrangements at your school.
I loved how flexible the dining felt at Gould. Lots of options to choose from, with lots of familiar classics as well as new flavors to try. The dining building has lots of room for seating, and accommodates the entire school at once for formal dinner nights. Groups of students are rotated to help with dish-washing for dinner time, which is such a unique factor about Gould. The students may complain about having to help clean up at the time, but looking back this helped instill a better sense of personal responsibility, and helps to keep one humble and respectful of all jobs that needs doing.
Social and Town Life:
1.) Describe the school's town and surrounding area.
Bethel's best feature is the winter resort that is Sunday River. It lends a relaxed, hip vibe to the town. Each winter the town builds a world famous snow person the height of a building. Even when there is no snow on the ground, the area that surrounds Gould Academy is beautiful and begging to be explored via outdoor activity. Relatively close to Gould are several shopping outlets, which the school sends buses to on the weekends for the students to enjoy.
2.) Describe the social life at your school - what did you like most about it?
The part of social life that I liked best at Gould was how supportive students were of one another. Being different was celebrated, and I saw many unlikely groups of friends who came together from common interests that they may not have shared in any other school environment. Living with classmates added an extra level of security to friendships. Friends who studied together, stay together!
Gould Academy has an incredible history of experiential learning that continues on to the present. Learning happens in the classroom, but it also happens outside of it. From the 4 Point programs, most notably, to. . .
Gould Academy's four-point program is what sets it apart from other schools. This program is defined by what each grade does during the weeks between 2nd trimester and Spring break. Grade 9 embarks on an. . .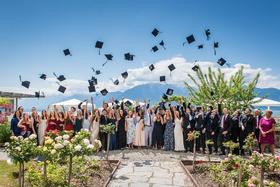 Nurturing Futures: A Journey through Boarding at Haut-Lac School in Switzerland
Nestled in the hills overlooking Lake Geneva in the French-speaking part of Switzerland lies an educational gem that embodies a unique blend of academic excellence, cultural richness and a profound sense of community. Founded over 30 years ago, Haut-Lac International Bilingual Day and Boarding School is now home to both 600 day students and a maximum of 30 boarders from around the world.
What To Wear at Your Job Interview
Navigating job interviews can be stressful, but knowing what to wear shouldn't be. Our comprehensive guide covers the essential dress code tips for men and women interviewing at boarding schools. Make your first impression count with style and professionalism.
Navigating the Modern Maze: Emerging Challenges for Boarding Schools
Explore the pressing challenges facing boarding schools, from marketing difficulties and rising insurance costs to facility maintenance and recruitment of competent trustees and teachers. This article delves into these complex issues and proposes innovative strategies to overcome them.