Reflections and Advice:
1.) What do you think makes your school unique relative to other boarding schools?
Gould Academy has an incredible history of experiential learning that continues on to the present. Learning happens in the classroom, but it also happens outside of it. From the 4 Point programs, most notably, to pursuing certification as a Ski Patroller to working with the animals at the barn on campus, there are so many ways in which Gould prepares its students to apply those classroom learnings to real situations.For those unfamiliar with the 4 Points program, students participate in programs and projects outside of the classroom right before the end of Winter term. Freshmen travel to a foreign country (China, Peru, Tanzania), sophomores engage in community service projects, juniors take an 8 day winter camping trip, and seniors pursue an independent project of their choosing, which they report on to their peers and to faculty when they return.Additionally, Gould has an incredible sense of community that remains strong. And there's no better campus view than the one from the upper fields looking out at the Mahoosuc mountain range.
2.) What was the best thing that happened to you in boarding school?
My love of French was instilled thanks to my advisor and teacher, Madame (Ouwinga). Without her teaching, patience, and guidance, I never would have pursued a language, nor gotten a Master's in it! The advisor/advisee relationship was one of the most powerful things Gould can give to its students. I know many of my fellow classmates who still talk to and meet up with their advisors.Gould also prepared me to seek out opportunities and not shy away from challenges. The school pushed me to grow in ways I never would have sought out for myself, and I have only benefitted from them. Anytime you mention to colleagues at work or new friends that you spent 8 days winter camping at the age of 16 will make their jaws drop.
3.) What might you have done differently during your boarding school experience?
I wish I had taken advantage of going outdoors to hike and to go skiing more while I was in Bethel. As someone living in NYC now, it is always a goal to get back to nature when you can.There's now a swing outside of Hanscom Hall that overlooks the upper field and the Mohoosucs. I always seek out that spot when returning to campus to soak it all in.
4.) What did you like most about your school?
Everything? Gould is a wonderful place in the world that may seem remote, but has this almost magnetic energy when you arrive. Maybe it's the stunning beauty of the local area, the vibrancy of the faculty, or something intangible, but it will always have a special place in my heart.
5.) Do you have any final words of wisdom for visiting or incoming students to your school?
Don't be scared. Make friends. Try new foods. Do activities that you've never done before. Take pictures. Seek out advice from the faculty and your advisor. Take a gander on the swing outside of Hanscom. Enjoy the outdoors.
Academics:
1.) Describe the academics at your school - what did you like most about it?
Experiential learning permeated through even the work you were assigned in the classroom. Most crucially, teachers would push you for more when they knew you could provide and there was a sense of ownership given to students that I never remembered having in my freshman year at my public high school. The relationship between you and your teachers was also much different from public schools, as you interacted with them much more regularly, be it through sports, weekend activities, or larger school events, like Mountain Day,What I also appreciated was while there were core curriculum requirements, you could pursue topics most interesting to you, especially as you got to senior year. This prepared me for college, as I was already thinking more strategically about the coursework I wanted to pursue and how that would impact my path in college.I was able to pursue courses in evolutionary psychology, music theory, philosophy, gothic literature, and more. Currently, the IDEAS center now offers courses where it challenges students to problem solve, collaborate, and innovate.
Athletics:
1.) Describe the athletics at your school - what did you like most about it?
You needed to participate in at least 2 trimesters of competitive sports. This runs the gamut from soccer, skiing, snowboarding, equestrian, basketball, tennis, mountain biking, field hockey, lacrosse, etc. I was happy to be able to explore new sports.
Art, Music, and Theatre:
1.) Describe the arts program at your school - what did you like most about it?
Robust programs. Jim McLaughlin, the chair of the music program, is an excellent teacher. He was always there to push you to try new things when the time was right and entertained my ideas of fun songs to play at school concerts. As alumnae, I have been able to see an expansion of the school's music program (band and choir) with a connection to the Manhattan School of Music and students giving amazing concerts with the Guzhang.There were quite a few theatre productions in the year and the musical was always in the spring. As for Visual Arts, there was drawing, painting, black and white photography, pottery, blacksmithing, and silversmithing. Lauren Head, now the longest serving faculty member, is a leader in this area. Dirk McKnight has also been a great addition to the Visual Arts team and saved much of the film cameras and the tools from the former darkroom that was on campus in Hanscom Hall.Many of my friends went on to pursue theatre, music, or art in college upon graduation.
Extracurricular Opportunities:
1.) Describe the extracurriculars offered at your school - what did you like most about it?
There were quite a few student organizations and since my time on campus, I have heard of many more starting. Weekend activities are varied. Yes, there are trips to go clothes shopping and trips to downtown Portland. But there are also special Maine events like attending the Fryeburg Fair, Carnival (on campus), skiing Tuckerman's Ravine, and many other events to keep students occupied. Polar Bears in the spring was the most fun and a test of not only your endurance for the cold but also your willpower. If you missed one morning, you were out for the rest of the trimester.MLK Day is also a day of service, where the entire school will complete different volunteering around the state.
Dorm Life:
1.) Describe the dorm life in your school - what did you like most about it?
I lived in Gehring, the girls' dorm, all three years I attended and I loved it. Gehring is the newest of the dorms and was completely redone in the late '90s. They have maintained it very well over the years. Freshmen were usually on the first floor, the upper classes spread out among floors 2, 3, and 4. Each room has bunk beds (but you can separate them if you want), 2 dressers, 2 desks, and 2 chairs. There are 2 closets.Floors 2 and 3 have a larger restroom block with 2 communal sinks and several private bathrooms. The 4th floor has 4 private bathrooms, no communal sinks. There is laundry and a kitchen in the basement.When I attended, your first year you are placed with someone in a dorm. The next years, you can pick your roommate.
Dining:
1.) Describe the dining arrangements at your school.
The dining hall is called Ordway and is one of the newer buildings on campus. The food service has changed quite a bit since I attended. However, from recent trips there are now menus online, as well as gluten-free and allergy information. There is no assigned seating. Food options range from vegan, vegetarian, to omnivore's delight.Tuesdays were formal dinner night, where you would have arranged seating and meet other folks (students and teachers) from the school. It was a dress up night and someone at the table would go into the kitchen to bring out the main meal and serve.
Social and Town Life:
1.) Describe the school's town and surrounding area.
Bethel is a beautiful town with a lot of restaurants, stores, a cafe, and even a movie theatre. Students have the benefit of being in a ski town, where the winter doesn't shut down the businesses that might have opened over the summer. This is unlike other boarding schools, like Fryeburg Academy, where there are only a handful of stores and restaurants. Even for kids at Bridgton Academy, it is not a walkable distance for them to get to the proper downtown.For parents visiting, there is a cool brewery on Mechanic St with a food truck.
2.) Describe the social life at your school - what did you like most about it?
It was a place to meet people from the local area to across the globe. It's a small school, so you know of everyone and you're familiar with all the faculty. As is wont to happen in high school, different groups emerge.I was a happy member of the music and theatre group. I didn't experience bullying and even the "popular" group didn't harass others (to my knowledge). It was a very different feel than from my public high school where kids were often ostracized and bullied.I loved being able to connect with many different people from all around the country and globe. I also loved the (relative) freedoms we had at that age to explore.
Gould Academy has an incredible history of experiential learning that continues on to the present. Learning happens in the classroom, but it also happens outside of it. From the 4 Point programs, most notably, to. . .
Gould Academy's four-point program is what sets it apart from other schools. This program is defined by what each grade does during the weeks between 2nd trimester and Spring break. Grade 9 embarks on an. . .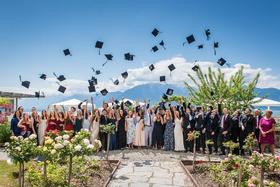 Nurturing Futures: A Journey through Boarding at Haut-Lac School in Switzerland
Nestled in the hills overlooking Lake Geneva in the French-speaking part of Switzerland lies an educational gem that embodies a unique blend of academic excellence, cultural richness and a profound sense of community. Founded over 30 years ago, Haut-Lac International Bilingual Day and Boarding School is now home to both 600 day students and a maximum of 30 boarders from around the world.
What To Wear at Your Job Interview
Navigating job interviews can be stressful, but knowing what to wear shouldn't be. Our comprehensive guide covers the essential dress code tips for men and women interviewing at boarding schools. Make your first impression count with style and professionalism.
Navigating the Modern Maze: Emerging Challenges for Boarding Schools
Explore the pressing challenges facing boarding schools, from marketing difficulties and rising insurance costs to facility maintenance and recruitment of competent trustees and teachers. This article delves into these complex issues and proposes innovative strategies to overcome them.