Reflections and Advice:
1.) What do you think makes your school unique relative to other boarding schools?
The atmosphere of the campus was amazing. The actual layout of the campus made it very easy to feel like a close community. We gathered as a school pretty often and that made us a very tight knight community. The small classes (4-16) made us focus strictly on the material which is an unrivaled way of learning.
2.) What was the best thing that happened to you in boarding school?
The best thing would be the friendships that you've made. I still keep in touch with my closest friends, and see them pretty often. At Westminster, teachers believed in me and that gave me the confidence to be a better public speaker and overall a better citizen.
3.) What might you have done differently during your boarding school experience?
I probably would not have done any that much differently. Any mistakes that I've made made me the person I am today. You should definitely learn from your mistakes.I would probably try to train more to make the varsity team, actually.
4.) What did you like most about your school?
The people and teachers. All the teachers were very receptive and they truly cared about us. The campus itself was beautiful and it got more beautiful recently. The community life is like not other and it is something I will always cherish.
5.) Do you have any final words of wisdom for visiting or incoming students to your school?
Don't be afraid to ask for help. Be confident. Don't fear rejection. Live in Memorial. Go Martlets!
Academics:
1.) Describe the academics at your school - what did you like most about it?
Academics are rigorous and challenging, but the professors are also there for you. You have all the resources to succeed. Since it is a boarding school, and you are independent you can face distractions but that is part of growing up. It actually teaches you to be responsible and mature. Teachers are also attentive to any problems that you may have, both personal and academic.
Athletics:
1.) Describe the athletics at your school - what did you like most about it?
Our sports teams were top notch and very competitive. Our lacrosse, hockey, squash, and field hockey usually won championships during my time there. Sports are mandatory and it is a great form of bonding even if you don't consider yourself athletic. Attending the games was also very fun. One of the most memorable experiences was attending the hockey games.
Art, Music, and Theatre:
1.) Describe the arts program at your school - what did you like most about it?
Our theatre was very nice. We had a couple of plays a year, but since sports are the majority of the extracurricular the theatre program isn't the most popular.
Extracurricular Opportunities:
1.) Describe the extracurriculars offered at your school - what did you like most about it?
There were a lot of extracurricular activities at Westminster. You could be part of the acapella group, tour guide club, photography club, investment club, dance club, music club, ski club, and others I am forgetting.
Dorm Life:
1.) Describe the dorm life in your school - what did you like most about it?
Dorm life was the best. During my time there there were 6 dorms, 3 for each gender but after I left more were built. All the dorms now have high-end finishes and spacious rooms. Each floor has a common room with TV and games. Also a small kitchen.
Dining:
1.) Describe the dining arrangements at your school.
Food was great. Three meals a day. As much food as you want. For breakfast: tater tots, potatoes, eggs, coffee, muffins, bagels, toast, french toast, bacon, etc. Memorable lunches were: tacos, chicken nuggets, chicken parm, burgers, turkey.Formal dinner as a school happened twice a week with family style seating.
Social and Town Life:
1.) Describe the school's town and surrounding area.
Great town for a boarding school. Simsbury is a very nice suburb of Hartford and has all the things you would need. Pizza place, Chinese food, Japanese, Italian, and American. There was supermarket. You could also get a haircut. Best part is that these were all in walking distance.There were also vans that took you to Walmart and other places that required driving.
2.) Describe the social life at your school - what did you like most about it?
You will know everyone's name. Social life is promoted by dances, concerts, school events, hanging out at the student center, and the dorm life.Teachers are usually aware of the social life on campus so any deviation usually gets corrected.
You mostly have all of your classes besides arts and theatres in one building. The Armour Academic Center is a four-floor building that will host most if not all of your classes. It's home to. . .
While Westminster is in the Founder's League, its overall size hovers closely to 400, making it a tightly-knit community where a student at the very least knows everyone's face on campus. The newly built. . .
Family-style dinners bring the community together and are unique to Westminster - twice a week when I was a student - now they do it during lunch.The senior lawn ceremony was special - at. . .
Show more reviews (

7 reviews

)
Mastering the Boarding School Selection Process: A 5-Step Guide
Discover the ultimate 5-step guide to choosing the perfect boarding school for your child. Explore essential factors, such as academics, campus facilities, extracurricular activities, and more. Make an informed decision to provide your child with an enriching and transformative educational experience. Read now!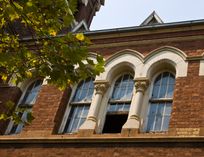 5 Founders and Their Boarding Schools
What prompts somebody to start a boarding school? The motives range from idealism to munificence right on through to capitalism. The common thread seems to be ample capital and a vision of what education can do.