Reflections and Advice:
1.) What do you think makes your school unique relative to other boarding schools?
The most unique, and in my opinion best, thing about Exeter is the Harkness method. You won't be lectured by teachers all day but will instead be expected to learn and help to teach others through discussion. I really enjoyed this because I thought it reinforced concepts better and also allowed for some fluidity, particularly in English classes etc, where we could focus on what was interesting to us. The caliber of students and faculty is also amazing. I came from an average public middle school. I was smart, but I didn't want to flaunt that fact because it wasn't "cool." At Exeter, I felt like I was surrounded by people like me. It was ok to nerd out and appreciate my intelligence. It was also great to be surrounded by people who were brilliant in other fields and could teach me so much.
2.) What was the best thing that happened to you in boarding school?
Exeter was amazing. I grew so much during my time there. I don't think I would be nearly as confident as I am without having gone there. The friends I made there are absolutely my dearest. I cannot say enough good things and look forward to reunions more than pretty much any other life event. If you are someone who is intelligent and feels like you need a place to grow and nurture that intellectual curiosity, no matter the field, Exeter is the place for you. It was hard and I didn't always love it in the moment, but looking back, I appreciate the experience so much.
3.) What might you have done differently during your boarding school experience?
Keep an open mind and try new things. I didn't get very involved my prep year because I was still trying to figure things out and make friends. I didn't want to put too much on my plate. I found activities later that I wish I had participated in for all four years.
4.) What did you like most about your school?
Exeter is the best environment if you are someone who is intellectually curious and wants to surround yourself with similarly minded people. You've got to be a bit outgoing and comfortable sharing your opinions for the Harkness method to be most beneficial. If you have these qualities, the growth that Exeter encourages is amazing. I felt so confident in myself, my study habits, speaking with adults and prioritizing my time when I left. I also felt much more independent than many of my peers in college.
5.) Do you have any final words of wisdom for visiting or incoming students to your school?
Get lunch at Szechuan Taste or Pad Thai. Take the train to Boston at least once. Try a new sport (crew!). Enjoy your time there because you will miss it afterwards!
Academics:
1.) Describe the academics at your school - what did you like most about it?
Exeter was the most challenging academic environment I have ever been in. It was worse than college or either of my master's degrees from a workload standpoint, but I also felt like I learned so much. Teachers aren't going to take it easy on you and they expect you to put in the work, but they are definitely willing to go the extra mile to make sure you get it. You can also take electives more suited to your skills or pair easier electives with harder courses or semesters to make it easier. There was some competition, but I didn't find it cutthroat or detrimental. For the most part, I think Harkness really encourages collaboration.
Athletics:
1.) Describe the athletics at your school - what did you like most about it?
The athletic facilities and offerings are great. Since you have to do some sort of sport each semester there are tons of offerings from varsity sports down to basic fitness classes. Things like dance, theater and group fitness classes can also satisfy the sports requirement. I loved being able to try out new sports like squash and crew as well as play sports like hockey intramurally without the pressure of being on the team. Having the gym was also nice to stay in shape outside of these required activities. Exeter is very competitive in many sports so it is fun to participate and watch. Exeter Andover is also probably the best prep school rivalry.
Art, Music, and Theatre:
1.) Describe the arts program at your school - what did you like most about it?
I didn't participate in the arts much. I took the required courses but not much beyond that. I have never been particularly artistic so I loved being able to take courses like ceramics, printmaking and film-making that seemed less intimidating than something like drawing or painting. The facilities are very nice and I have heard great things about other arts though. I also enjoyed watching singing and dancing group performances as well as plays put on by theater groups.
Extracurricular Opportunities:
1.) Describe the extracurriculars offered at your school - what did you like most about it?
There are so many clubs it's insane. There is literally an option, or many, for everyone. Popular clubs include volunteer organizations (grouped under ESSO), activist groups for various issues, diversity and special interest groups including racial/ethnic, religion and LGBT, political groups and fun things like pirate club. Club fairs are great ways to learn about options and get involved.
Dorm Life:
1.) Describe the dorm life in your school - what did you like most about it?
I was a day student, so my "dorm" was the student center and library. Dorms vary, but for the most part were very nice with rooms improving as you rise in seniority. Spaces for day students were also nice, with the library being my main hangout. The student center was opened before my upper year so I didn't spend much time there, but the younger day students did. Parking was sometimes a pain, but the parking garage being built should help that.
Dining:
1.) Describe the dining arrangements at your school.
2 dining halls are open pretty much all the time. Elm Street vs Wetherell was a heated debate (Elm St for the win) but they serve pretty much the same food. It certainly wasn't gourmet but it was way better than typical cafeteria food. Tons of options were available for all sorts of dietary preferences. Grill was also a solid option for snacks or meals, but is not free like dining hall. I was happy with the food and often ate at lest 2 meals a day there despite being able to eat at home.
Social and Town Life:
1.) Describe the school's town and surrounding area.
Exeter is super cute with a nice downtown area. There are plenty of shops and restaurants within walking distance. The beach is about 15 minutes away and there is a train to Boston within walking distance of campus. It was a great mix of small town charm while still being accessible.
2.) Describe the social life at your school - what did you like most about it?
Frequent activities like dances and athletic events upped the social factor of the school. For the most part people were friendly and engaging. I don't think it was as cliquey as a typical high school. Dorms tended to be the first source of friends, but I also made plenty of friends through classes and sports. I am still very friendly with a number of people from Exeter, more so than college for sure.
Daily Schedule:
Weekday
7:00 PM
Study, Hangout with Friends
Phillips Exeter is distinct for its use of the Harkness Method and its unique athletic opportunities afforded by a robust alumni network and excellent teachers from various high-level academic positions within their fields. Harkness, a. . .
The Harkness method is one of Exeter's unique and best aspects. Teachers have very little involvement in class — homework is either reading or problem based, and nearly every class, from Math to English. . .
Exeter is the founding place of the Harkness method, in which students gather around a round table to discuss their homework and class material as a group. The idea of this method is that. . .
Show more reviews (

27 reviews

)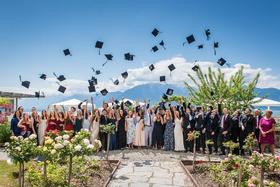 Nurturing Futures: A Journey through Boarding at Haut-Lac School in Switzerland
Nestled in the hills overlooking Lake Geneva in the French-speaking part of Switzerland lies an educational gem that embodies a unique blend of academic excellence, cultural richness and a profound sense of community. Founded over 30 years ago, Haut-Lac International Bilingual Day and Boarding School is now home to both 600 day students and a maximum of 30 boarders from around the world.
What To Wear at Your Job Interview
Navigating job interviews can be stressful, but knowing what to wear shouldn't be. Our comprehensive guide covers the essential dress code tips for men and women interviewing at boarding schools. Make your first impression count with style and professionalism.
Navigating the Modern Maze: Emerging Challenges for Boarding Schools
Explore the pressing challenges facing boarding schools, from marketing difficulties and rising insurance costs to facility maintenance and recruitment of competent trustees and teachers. This article delves into these complex issues and proposes innovative strategies to overcome them.