Reflections and Advice:
1.) What do you think makes your school unique relative to other boarding schools?
When I was there it was an all boys school, merged with Chaffee and at the time they were a day school. smooth transition. Small classes and no coed classes until junior year.
2.) What was the best thing that happened to you in boarding school?
The people I met from all over the country. the academic challenge which helped me get into a hood college
3.) What might you have done differently during your boarding school experience?
I might have pushed myself into courses that I thought about taking Russian, Greek, Latin, Acting
4.) What did you like most about your school?
Just being there! A wonderful experience. The people I met, the faculty that cared for me!
5.) Do you have any final words of wisdom for visiting or incoming students to your school?
The campus has changed so much in 45 years. I would say find your passion and incorporate into your life there
Academics:
1.) Describe the academics at your school - what did you like most about it?
I liked the small classes, and a large variety of course offerings. English classes ranged from "Mans Question for meaning in an absurd world", "Comedy", Black Poetry and Drams", "Mass Communication" teacher availability
Athletics:
1.) Describe the athletics at your school - what did you like most about it?
Mandatory 4 years if you didn't play varsity sports a very detailed intramural program Sports ranged from riflery, wrestling, tennis, lacrosse, track, and field, soccer. Great coaching staff and faculty-coached intramural.
Art, Music, and Theatre:
1.) Describe the arts program at your school - what did you like most about it?
I loved it. I was in the orchestra pit for a musical, I was an actor in another production, I was the business manager or another production, I was an officer in the glee club and a member of the band and the male acapella group. I participated in the dance programI like most that I was able to participate and it didn't matter your expertise.
Extracurricular Opportunities:
1.) Describe the extracurriculars offered at your school - what did you like most about it?
I participated in choral, instrumental, theater and dance. I like the opportunity it gave us to help lead. I took African Dance. I was also tutor to local students.
Dorm Life:
1.) Describe the dorm life in your school - what did you like most about it?
friendly, well managed with staff on most floors. rooms were a respectable size and doubles were a good size. Dorm food good, student union was open later for snacks.
Dining:
1.) Describe the dining arrangements at your school.
1st two years meals were formal with a master at each table and students served as waiters. meals were family style. after Chaffee moved over, lunches became cafeteria style, but dinners had selected family nights. I liked the family style. Very traditional.
Social and Town Life:
1.) Describe the school's town and surrounding area.
a five-minute walk into town grocery store, movie theater, restaurants and some shops lots of variety and the bus to Hartford stopped at the entrance to school (5-minute walk) There were major department stores and theater and art events.
2.) Describe the social life at your school - what did you like most about it?
A lot of planned activities. Sports events were made exciting based on traditional rivalries Social activities with other schools. Movies on campus, theater and art exhibits/Cultural events speakers
Daily Schedule:
Weekday
Weekend
Approachable teachers and staff, overwhelming pride in the school from everyone on campus. Close relationship of day students and boarding students. Post graduate students integrated very well into the senior class. . .
The close-knit campus. The fact that the campus was small (or at least the buildings being so close together) made everyone close like a family. It made my transition from my class with a graduation. . .
The location of the school definitely shaped the school dynamic of Loomis. It isn't necessarily isolated but it's formed in a very large location of its own. As a result, Loomis is very secure for. . .
Show more reviews (

27 reviews

)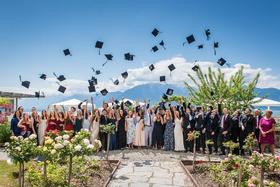 Nurturing Futures: A Journey through Boarding at Haut-Lac School in Switzerland
Nestled in the hills overlooking Lake Geneva in the French-speaking part of Switzerland lies an educational gem that embodies a unique blend of academic excellence, cultural richness and a profound sense of community. Founded over 30 years ago, Haut-Lac International Bilingual Day and Boarding School is now home to both 600 day students and a maximum of 30 boarders from around the world.
Navigating the Modern Maze: Emerging Challenges for Boarding Schools
Explore the pressing challenges facing boarding schools, from marketing difficulties and rising insurance costs to facility maintenance and recruitment of competent trustees and teachers. This article delves into these complex issues and proposes innovative strategies to overcome them.
What To Wear at Your Job Interview
Navigating job interviews can be stressful, but knowing what to wear shouldn't be. Our comprehensive guide covers the essential dress code tips for men and women interviewing at boarding schools. Make your first impression count with style and professionalism.