Reflections and Advice:
1.) What do you think makes your school unique relative to other boarding schools?
The one subject program allowed me to focus on a subject and master it before moving on to the next...this immersion made a big difference for me. The Military, religious atmosphere give me an extremely solid foundation for the rest of my life.
2.) What was the best thing that happened to you in boarding school?
Fork Union is the foundation on which I built my life. They truly developed my Body, Mind and Spirit. I got the education and moral foundation to allow me to have a very successful Navy Career.
3.) What might you have done differently during your boarding school experience?
Fork Union is a great place for a boy who needs focus in his life. It is a place where you can develop lifelong friendships and get the skills you need to have a successful life.
4.) What did you like most about your school?
The faculty really did care about the students and would take the time to help whatever the issue.
5.) Do you have any final words of wisdom for visiting or incoming students to your school?
Embrace the opportunity, try everything.
Academics:
1.) Describe the academics at your school - what did you like most about it?
I thrived in the one subject plan and the discipline of a mandatory study hours was good for me. I was challenged and developed a lifelong love of learning. Spending all day with a professor in a class with just 13-15 students allowed you to develop a relationship with your teacher and get personalized help when needed.
Athletics:
1.) Describe the athletics at your school - what did you like most about it?
The Varsity Football program was really about red shirt College level men who needed an an extra year to prepare for college level football. The JV program where I played was a traditional HS program...my friendships some of which last to today came from that experience. The coaches knew none of us have a future in football and the experience was one about mentoring for life.
Extracurricular Opportunities:
1.) Describe the extracurriculars offered at your school - what did you like most about it?
Chess Club, Military training
Dorm Life:
1.) Describe the dorm life in your school - what did you like most about it?
The dorm life made my transition into the Naval Academy easy. There was not good access to late night food. The rooms were large with 2-4 per room.
Dining:
1.) Describe the dining arrangements at your school.
We had a mess hall for meals.....good cafeteria food
Social and Town Life:
1.) Describe the school's town and surrounding area.
The town's major industry was supporting the school... not a lot to do....major focus was the comic book store.
2.) Describe the social life at your school - what did you like most about it?
No real social life....all male school....my interaction with women in high school was very limited. The school had dances 2-3 times a year. They were strained affairs.
Fork Union is a tough place to be, but a great place to be from. As a young man you learn accountability, discipline, and how to follow direction.. . .
Fork Union will change your son's life. I'm not exaggerating. I'm not using hyperbole. I have no vested interest in convincing you of this fact. FUMA is a special place, and it will take the. . .
There is no other school in the country that takes immature boys and turns them into total men. Body/Mind/Spirit are the three core values that FUMA strives to advance, and they do one helluva job. . .
Show more reviews (

3 reviews

)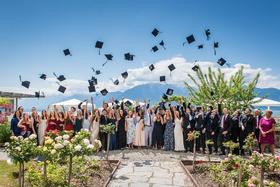 Nurturing Futures: A Journey through Boarding at Haut-Lac School in Switzerland
Nestled in the hills overlooking Lake Geneva in the French-speaking part of Switzerland lies an educational gem that embodies a unique blend of academic excellence, cultural richness and a profound sense of community. Founded over 30 years ago, Haut-Lac International Bilingual Day and Boarding School is now home to both 600 day students and a maximum of 30 boarders from around the world.
Navigating the Modern Maze: Emerging Challenges for Boarding Schools
Explore the pressing challenges facing boarding schools, from marketing difficulties and rising insurance costs to facility maintenance and recruitment of competent trustees and teachers. This article delves into these complex issues and proposes innovative strategies to overcome them.
What To Wear at Your Job Interview
Navigating job interviews can be stressful, but knowing what to wear shouldn't be. Our comprehensive guide covers the essential dress code tips for men and women interviewing at boarding schools. Make your first impression count with style and professionalism.