Reflections and Advice:
1.) What do you think makes your school unique relative to other boarding schools?
Fork Union's One Subject plan was instrumental in regaining my place among my peers when it came to class standing. The ability to completely focus on one subject for a 8 week semester was absolutely the best. Fork Union also stresses the importance of self discipline and accountability when it comes to maintaining one's grades and classwork. The regimented atmosphere absolutely provides the best environment for study and education.
2.) What was the best thing that happened to you in boarding school?
The best thing that happened to me at Fork Union? Wow. There entire experience of my time a FUMA was something I will never forget and always cherish. My brothers are the best thing about the school. Our shared experience forged our bonds that have stood the test of time.
3.) What might you have done differently during your boarding school experience?
I would have gone earlier in my high school career.
4.) What did you like most about your school?
The lifelong brothers I have made, and the sense of accomplishment of attending a demanding structured school will stay with me for the rest of my life. Fork Union provides the means and the environment where boys become good men of outstanding moral character.
5.) Do you have any final words of wisdom for visiting or incoming students to your school?
My only words of wisdom for those considering attending is this:Leave your attitude and ego at home. Listen to the cadets that have been here the longest. Come prepared to work, and study. It's not easy, and it's not for everyone; but if you complete the journey, you will have done something that only a very select number of men have done.
Academics:
1.) Describe the academics at your school - what did you like most about it?
The instructors at FUMA are top notch and are willing to go the extra mile, or two, to make sure that each student fully, and completely, understands the material being studied. The class sizes are such that each student can receive the individualized attention that they might require to help them succeed in class. The nightly study sessions are well enforced by the faculty and staff.
Athletics:
1.) Describe the athletics at your school - what did you like most about it?
Fork Union has some of the best athletic coaches in the country, and the Football program is Nationally recognized. All of the athletic facilities are the best that anyone could expect.
Art, Music, and Theatre:
1.) Describe the arts program at your school - what did you like most about it?
There was not much of a visual arts program when I attended
Extracurricular Opportunities:
1.) Describe the extracurriculars offered at your school - what did you like most about it?
I participated in DeMolay. It is related to the Masons. We had weekly meetings, and once or twice a month went to dances off campus hosted by girl's clubs.
Dorm Life:
1.) Describe the dorm life in your school - what did you like most about it?
Living in the barracks (dorms) was the BEST! That was where my lifelong friendships were made and the bonds of brotherhood were forged.
Dining:
1.) Describe the dining arrangements at your school.
The dining hall was not bad. The quality of the food was excellent.
Social and Town Life:
1.) Describe the school's town and surrounding area.
Fork Union is set in a very rural area. The town of Fork Union is quaint and unassuming.
2.) Describe the social life at your school - what did you like most about it?
There are plenty of things to get into at FUMA. There is always a pick up game of basketball, or football going on. We also liked to hang out in our rooms and listen to the latest music, and watch TV.
Daily Schedule:
Weekday
9:30 AM
Morning break/Mail call
3:30 PM
Drill/Parade practice
7:00 PM
Recall/Evening formation
Weekend
8:00 AM
Morning CQ for inspection
9:00 AM
Formation for Saturday Formal Inspection
Fork Union is a tough place to be, but a great place to be from. As a young man you learn accountability, discipline, and how to follow direction.. . .
Fork Union will change your son's life. I'm not exaggerating. I'm not using hyperbole. I have no vested interest in convincing you of this fact. FUMA is a special place, and it will take the. . .
There is no other school in the country that takes immature boys and turns them into total men. Body/Mind/Spirit are the three core values that FUMA strives to advance, and they do one helluva job. . .
Show more reviews (

3 reviews

)
Mastering the Boarding School Selection Process: A 5-Step Guide
Discover the ultimate 5-step guide to choosing the perfect boarding school for your child. Explore essential factors, such as academics, campus facilities, extracurricular activities, and more. Make an informed decision to provide your child with an enriching and transformative educational experience. Read now!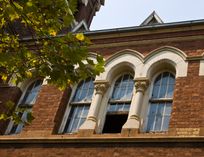 5 Founders and Their Boarding Schools
What prompts somebody to start a boarding school? The motives range from idealism to munificence right on through to capitalism. The common thread seems to be ample capital and a vision of what education can do.