Reflections and Advice:
1.) What do you think makes your school unique relative to other boarding schools?
The classrooms are VERY modernised and you always feel immersed in classes. Uniforms are mandatory, but there is a LOT of variety in them. All of the teachers want you to succeed and will really work with you to get there. They offer regular classes, AP, and IB courses for high school students. Dorms are actually houses off campus, with house parents that are super kind!
2.) What was the best thing that happened to you in boarding school?
The best thing that happened to me is that I met my house mom, who is now one of my best friends. We still meet whenever I'm in the area and go to Disney together. She has made me a better person and is an inspiring figurehead.
3.) What might you have done differently during your boarding school experience?
I would have worked harder on my studies, rather than on my robotics team. I would recommend to focus on your studies while you are there, rather than on extracurriculars.
4.) What did you like most about your school?
The campus. It truly is a work of art and is so well kept. There are so many events that happen on campus that make you feel welcome and it is always so fun to be a part of.
5.) Do you have any final words of wisdom for visiting or incoming students to your school?
If you come to school, try to get Mr. Becker as a teacher for mathematics since he will always make class fun. The visual arts departments are so well kept and have great classes as well, so try to be a part of one of them.
Academics:
1.) Describe the academics at your school - what did you like most about it?
I personally enjoyed the IB classes the best. My teachers had tough classes, but they helped me through them for both years. I have never before had such wonderful teachers. While I did struggle a bit, I maintained great study habits because my teachers helped me to organize everything.The classes are the same for each day throughout the week generally, which can become monotonous, especially if there is one teacher that you do not look forward to seeing. There is a high workload if you do decide to do IB and the students are very competitive.
Athletics:
1.) Describe the athletics at your school - what did you like most about it?
There is a wide array of sports at the school, but the primary sports are American football, lacrosse, swim team, cross country, baseball, softball, basketball, and volleyball. There are some students that golf as well. The school is very competitive, although it is a smaller school, with less choices for students. Facilities are well kept and clean.
Art, Music, and Theatre:
1.) Describe the arts program at your school - what did you like most about it?
I enjoyed that the students worked well together in the visual arts, music, and theatre programs. They worked together to perform in musicals and other performances and the students took part in art programs where they could compete. However, the school tends to focus more on sports than arts. The music rooms are a bit small compared to the student size. Likewise goes for theatre.
Extracurricular Opportunities:
1.) Describe the extracurriculars offered at your school - what did you like most about it?
There is a wide diversity of extracurricular, ranging from sports to robotics to astronomy. Our school has a team associated with it for FIRST Robotics, as well as a dance and cheer team.
Dorm Life:
1.) Describe the dorm life in your school - what did you like most about it?
I enjoyed that the dorms were in houses rather than dorm rooms. I was in a room with two other girls and had access to a large closet for all of my belongings. I came late into the year and was placed into the dorms, but I had no trouble with other students so I did not need to transfer. There was a lot of leeway with food and drinks, although they were eventually not allowed in the rooms, only in the kitchen and downstairs area.
Dining:
1.) Describe the dining arrangements at your school.
Dining was usually on campus and the food quality was great. Seating is not assigned and you may sit anywhere on campus. If you wanted to bring your own meals, it was easy to prepare at the dorms. Snacks and outside food were easy to purchase as well. Sometimes there would be themed meals or sushi nights.
Social and Town Life:
1.) Describe the school's town and surrounding area.
Surrounding area is pretty dull, since the school is very isolated. There aren't any places to go unless you take the bus to the mall after school or on weekends.
2.) Describe the social life at your school - what did you like most about it?
There are many social groups that are easy to get along with, although it might be hard to find a place at first.
Mastering the Boarding School Selection Process: A 5-Step Guide
Discover the ultimate 5-step guide to choosing the perfect boarding school for your child. Explore essential factors, such as academics, campus facilities, extracurricular activities, and more. Make an informed decision to provide your child with an enriching and transformative educational experience. Read now!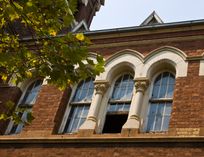 5 Founders and Their Boarding Schools
What prompts somebody to start a boarding school? The motives range from idealism to munificence right on through to capitalism. The common thread seems to be ample capital and a vision of what education can do.