Reflections and Advice:
1.) What do you think makes your school unique relative to other boarding schools?
It's been 50 years but the school has developed a partnership with the town of Pottstown which is unique across the country. Several alumni (in my class of '67, including the Governor of Pennsylvania) have worked with the town to develop low cost housing using public private partnerships. The Hill was also more of a 'blue collar" boarding school. While there were those with wealth and privilege who attended, many of us came from middle class and more traditional families.
2.) What was the best thing that happened to you in boarding school?
Athletic achievements were many. Academic ones, few. The most memorable thing that happened was the week of graduation. At the Hill, if you failed a final exam, you failed the course. If you failed the course, you could not graduate with your class. I was so involved with recruiting visits and the wonders of being a Sixth Former (Senior) that I gave little effort to my studies. As a result, I failed Russian History. Most of us went off for a week before graduation to "party" with friends and returned just the day before graduation weekend. I will never forget the letter in my mailbox. Imagine calling and telling your parents (who had scraped to send you to such a place) en-route to the school, that you would not graduate and would need to attend the academic summer camp in Wolfeboro NH. Scholarships to a number of colleges pulled. Ready to sell all my things, pack up and take the proverbial tramp steamer to Europe, I was interrupted by the Asst. Headmaster, James V. Moffat, who told me to gut it out, put a smile on my face, walk the graduation line, receive a blank diploma, goto Wolfeboro and finally capitalize on something other than athletic ability. I mention this only to highlight that there are many Jim Moffat's at the Hill, even today. This is what you pay the money for. The mentor-ship and guidance. Changed my life.
3.) What might you have done differently during your boarding school experience?
See above.
4.) What did you like most about your school?
Aside from a group of lifelong friends, the dedication of staff and faculty, many of whom had spent their lives at the school. The opportunity to succeed was always there for those who wanted to reach out and seize it.
5.) Do you have any final words of wisdom for visiting or incoming students to your school?
I'll leave that to the current students but you will not find a better school experience anywhere in the country than The Hill School. It continues to improve to this day and offers opportunities for every student, no matter your financial background. I've gone back to every 5 year reunion since 1972. So have my mates. Now we're 50 years out in June 2017. I can't say that about my college even though it's one of the top schools in the country. Nowhere will you find a group of staff and faculty making sure you become the best "you", whatever that might be.
Academics:
1.) Describe the academics at your school - what did you like most about it?
Rigorous to say the least. I was a gregarious, unmotivated student who did not apply himself and required an additional summer to graduate. This was not for lack of intellect or ability, but merely ambition. Too heavily focused on sports and social activities. I was actively recruited by a number of Division 1 colleges for soccer and lacrosse. That said, Hill graduates are taught to think critically and write with impact. While the College of William and Mary is a highly regarded academic institution (usually among the top 5 public colleges), for me it was an easy transition. I owe that to the educational foundation of The Hill School.
Athletics:
1.) Describe the athletics at your school - what did you like most about it?
First class. In my sports we routinely competed against college freshman teams in the area (Westchester, Lehigh, Penn, Princeton and others). Coaching was first rate. Most of our coaches were outstanding college athletes as well as professors. Everyone had a chance to participate from Varsity levels to what we called the Far Fields. We had some antiquated athletic facilities but they improved greatly over the years. We even built new swimming and ice hockey facilities while I was there. Remember, this was 50 years ago.
Art, Music, and Theatre:
1.) Describe the arts program at your school - what did you like most about it?
Not my forte but we had excellent arts and music programs. I wish i had taken greater advantage,
Extracurricular Opportunities:
1.) Describe the extracurriculars offered at your school - what did you like most about it?
While this changed nearly 15 years ago, the school was not co-ed when we attended. There were positives and negatives to that philosophy. Social growth is every bit as important for 13-18 year old boys as academic and athletic development. Going back with a magic want, that would be the one thing I'd change. However there were so many extracurricular activities at the Hill, they are too numerous to mention. Like most high school athletes, I was involved in training and sports seasons that there was not much time for other endeavors.
Dorm Life:
1.) Describe the dorm life in your school - what did you like most about it?
There's nothing like growing up with 100 brothers. We still tell stories to this day about questionable behavior and other activities and there are 10-12 of these guys who have been close friends for nearly 54 years, much closer than my college classmates. Like most boarding schools of the 60's, life was pretty regimented, much more conservative than today.
Dining:
1.) Describe the dining arrangements at your school.
I sat at team tables but everyone, no exception had kitchen, wait staff and other dining room duties on a regular basis. Since this was near Philadelphia our traditional dishes were scrapple and cheese soufle' which we had every Sunday! As I recall, the food was excellent and plentiful. We did, however, relish the care packages from home.
Social and Town Life:
1.) Describe the school's town and surrounding area.
Town life (Pottstown) was interesting but we were limited by days and by class (Seniors more than freshman) on how frequently we could go into town. This was the home of Mrs. Smith's pies and I remember going to the bakery, paying a nickel for cherry pies. In the 60's there was a definite separation between the "townies" and the so called privileged class at the Hill. The irony was that a majority of our class was in the same socio-economic strata as them. We also had 10-12 in our class from the town. Montgomery County PA is a beautiful area.
2.) Describe the social life at your school - what did you like most about it?
Social life was restricted. We had highly regimented (or at least they tried to be) dances on weekends (infrequently) with the girls boarding schools in the area (Shipley, Baldwin etc). I liked the social interaction with my classmates but the lack of young ladies stifled things a bit.
Daily Schedule:
Weekday
8:00 AM
First period class
9:00 AM
Second period class
10:00 AM
Third period class
11:00 AM
Arts, crafts, music
1:00 PM
Fourth period class
1:00 PM
Fifth period class
5:45 AM
Chapel followed by dinner
Weekend
9:00 AM
social activities, study hall
11:00 AM
training table lunch
2:00 PM
Game (if away, we would leave in the morning)
7:00 PM
Movie, play, free time
The Hill was not only crucial to my education as a student, it also afforded the pleasure of learning how to be a gentleman. While I retain my "book knowledge" to a great degree, my. . .
Faculty "hall masters" and students live in dormitories and take meals together in the dining hall. There is a true sense of mentorship and family. . .
It's been 50 years but the school has developed a partnership with the town of Pottstown which is unique across the country. Several alumni (in my class of '67, including the Governor of Pennsylvania). . .
Show more reviews (

5 reviews

)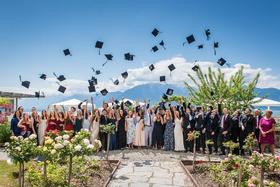 Nurturing Futures: A Journey through Boarding at Haut-Lac School in Switzerland
Nestled in the hills overlooking Lake Geneva in the French-speaking part of Switzerland lies an educational gem that embodies a unique blend of academic excellence, cultural richness and a profound sense of community. Founded over 30 years ago, Haut-Lac International Bilingual Day and Boarding School is now home to both 600 day students and a maximum of 30 boarders from around the world.
What To Wear at Your Job Interview
Navigating job interviews can be stressful, but knowing what to wear shouldn't be. Our comprehensive guide covers the essential dress code tips for men and women interviewing at boarding schools. Make your first impression count with style and professionalism.
Navigating the Modern Maze: Emerging Challenges for Boarding Schools
Explore the pressing challenges facing boarding schools, from marketing difficulties and rising insurance costs to facility maintenance and recruitment of competent trustees and teachers. This article delves into these complex issues and proposes innovative strategies to overcome them.