Reflections and Advice:
1.) What do you think makes your school unique relative to other boarding schools?
The Hill was not only crucial to my education as a student, it also afforded the pleasure of learning how to be a gentleman. While I retain my "book knowledge" to a great degree, my overall approach to life remains grounded in truth in large part due to The Hill's "family" aspect.
2.) What was the best thing that happened to you in boarding school?
Discipline may sound harsh to a 13-14 boy however, the boy that entered The Hill in 1973 became a young man in four short years!
3.) What might you have done differently during your boarding school experience?
I was horribly homesick my first few months. Stick it out if you find you're homesick. Much, much better and joyful things await!
4.) What did you like most about your school?
Every single person I met from The Headmaster and his wife to guest speakers. I feel privileged and proud to have attended The Hill.
5.) Do you have any final words of wisdom for visiting or incoming students to your school?
In forty years I'm sure much has changed. However, if Welsh Rarebit is STILL on the menu, AVOID it at all costs!
Academics:
1.) Describe the academics at your school - what did you like most about it?
Small class size and individual attention whenever needed. Encouragement from Masters. Interaction with parents.
Athletics:
1.) Describe the athletics at your school - what did you like most about it?
Diverse, inclusive, team spirit whether Varsity or intra-mural.
Art, Music, and Theatre:
1.) Describe the arts program at your school - what did you like most about it?
The encouragement, joy, absolute FUN of honing my voice!
Extracurricular Opportunities:
1.) Describe the extracurriculars offered at your school - what did you like most about it?
Our opinions and choices matter. Dance Committee was a blast organizing "regular" dances to Square Dances!
Dorm Life:
1.) Describe the dorm life in your school - what did you like most about it?
Camaraderie. No matter your background, every dorm hall was united.
Dining:
1.) Describe the dining arrangements at your school.
Sit down, formal meals. No "devices" back then as I'm sure they're off during meals now. We interacted with people from campus we might not have otherwise gotten to know as well, especially first year!
Social and Town Life:
1.) Describe the school's town and surrounding area.
Pottstown was diverse...Sunday brunch was nearby, as we're numerous fast food places, and Sunday van trips to the malls etc.
2.) Describe the social life at your school - what did you like most about it?
Making friends who are still friends forty years later!
Daily Schedule:
Weekday
Weekend
11:00 AM
Half classes 7-11
1:00 PM
Free till Sunday chapel
A smaller number of students attend the Hill School than most other boarding schools that I know of. This allows a more personal approach to be taken by the teachers and dorm parents, the. . .
The two aspects of The Hill School that make it unique are the professors' relationship with the students and the traditions at The Hill. First off, professors are involved in all aspects of school life. . .
It's been 50 years but the school has developed a partnership with the town of Pottstown which is unique across the country. Several alumni (in my class of '67, including the Governor of Pennsylvania). . .
Show more reviews (

5 reviews

)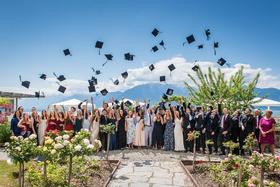 Nurturing Futures: A Journey through Boarding at Haut-Lac School in Switzerland
Nestled in the hills overlooking Lake Geneva in the French-speaking part of Switzerland lies an educational gem that embodies a unique blend of academic excellence, cultural richness and a profound sense of community. Founded over 30 years ago, Haut-Lac International Bilingual Day and Boarding School is now home to both 600 day students and a maximum of 30 boarders from around the world.
Navigating the Modern Maze: Emerging Challenges for Boarding Schools
Explore the pressing challenges facing boarding schools, from marketing difficulties and rising insurance costs to facility maintenance and recruitment of competent trustees and teachers. This article delves into these complex issues and proposes innovative strategies to overcome them.
What To Wear at Your Job Interview
Navigating job interviews can be stressful, but knowing what to wear shouldn't be. Our comprehensive guide covers the essential dress code tips for men and women interviewing at boarding schools. Make your first impression count with style and professionalism.