Ashbury College - Review #1
About the Author:

College Enrolled
Elon university
Home Town, State (Country)
Wake forest, NC
Years Attended Boarding School
2
Activities During Boarding School
I participated in SMART Team, Track and Field, and Varsity Soccer.
Review

Description

Elon university

Ashbury college offers a wide variety of beneficial teaching methods that differs from class to class, and always encourages students to pursue an international baccalaureate degree. They provide the right resources that the students need. . .

Western University

One of the best aspects that I found with my experience at Ashbury was the fact that you had to take a mandatory amount of extra-curricular activities. At the beginning I was a bit worried. . .

University of British Columbia

1. Unique campus set up, a good blend of both academic life and dorm life 2. Programs to encourage volunteer work as well as involvement programs for dorm residents. . .

Carleton University

The approach to physical activity was surprising as a boarder. During warmer months, weekly runs were required (different lengths for boys and girls). Tennis, badminton, and basketball courts were available on-campus along with. . .

Show more reviews

(-1

reviews)
April 20, 2018
Actually, there is no secret to getting your child into boarding school. Just a lot of hard work and a heavy commitment of time.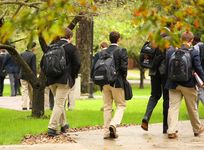 March 22, 2018
Some cynics think single-sex education is old-fashioned. The Kiski School shows how educating boys in a single-sex school is successful.
March 08, 2018
The wide range of fine academic, athletic, and other facilities found in boarding schools underscores the determination of schools to provide the very best for their students.