Reflections and Advice:
1.) What do you think makes your school unique relative to other boarding schools?
The writing program was quite special. All sophomores had to take a Writing Workshop class where we were taught a particular way of enhancing our analytical skills with "interpretive sentences." We also had workjobs -- weekly chores at the school.
2.) What was the best thing that happened to you in boarding school?
The main change I experienced at Loomis was realizing that I did not have to hide my intelligence, even as a woman. I became more confident, more outspoken, and happier over the course of my three years there. I transformed from a very shy student into an unabashedly opinionated, passionate person. At the end of my high school career, I opened up to people more easily and had higher self-esteem.
3.) What might you have done differently during your boarding school experience?
I would spend less time worrying about my appearance. I had serious body image issues, and the fashion standard at LC exacerbated it to an extent. I did not take care of myself senior spring, when I was obsessed with looking thinner on the prom pictures. I would advise the incoming students to prioritize their physical and mental health because there is no success if you are ailing. Seek help when you need it -- there are therapists available for you.
4.) What did you like most about your school?
I loved that it allowed me to grow intellectually and really envision my academic future. It was at LC that I first got enticed by the idea of getting a Ph.D., for example, and I will start grad school next year. I loved that there was always space for intellectual discussion and for mature students. It was very important for me to be acknowledged as a human, not as a "millennial," and it definitely happened.
5.) Do you have any final words of wisdom for visiting or incoming students to your school?
The senior path is very fun to look at -- each class gets their own design! Do read about the Founders, too -- it's a compelling story.And check out the "snug" below the amphitheater -- it's a prime hangout spot.Palmer dorm is hands down the best, although Ammidon is alright as well.
Academics:
1.) Describe the academics at your school - what did you like most about it?
I thought we had a really strong English department -- we had outstanding teachers who have really made sure to find the balance between instruction and discussion. I thought that the books were a good combination of well-known classics and some less commonly taught but still amazing literature.I liked Loomis because unlike at my previous school, here caring about academics did not disqualify me from being cool. I felt encouraged by my peers and teachers alike. Although the environment got somewhat competitive during senior year, when everybody was stressed about college admissions, overall it was relatively noncompetitive, which is the climate that worked for me.
Athletics:
1.) Describe the athletics at your school - what did you like most about it?
I liked that we had a lot of choices for what to do. It was mandatory to do some sort of sport, although you could substitute it with community service, which I did on most terms. I never wanted to do JV or varsity, because I did not want to waste away my weekends on the bus all the time, and I wasn't pushed into it. You could also just work out at the gym if you didn't feel like doing sports that term. I liked the horseback riding opportunity -- I hadn't even imagined being able to do that at the school.The facilities were good, to the extent that I often wondered why the school spent so much money on the gym and the fields instead of improving academic facilities.
Art, Music, and Theatre:
1.) Describe the arts program at your school - what did you like most about it?
I mostly interacted with the music part. I took individual guitar lessons and found those very helpful, and they enabled me to join the jazz band later on. I liked the plays put on by the theatre groups -- they were always innovative, although the casting was selective and thus full of... well, drama. I liked that in the spring, we put on plays written and directed by students.
Extracurricular Opportunities:
1.) Describe the extracurriculars offered at your school - what did you like most about it?
I loved being able to do community service! It created a great space and a community of volunteers where I bonded with fellow students and faculty alike. It was wonderful to be involved in knitting hats, gloves, and blankets to be donated -- it was a relaxing and useful space.I also really liked the day when all the international students, myself included, brought and/or made food from their home countries. It was a very relaxed way of learning new things about my peers.I liked that we had a World Bulleting, which was dedicated specifically to world affairs, in addition to the school newspaper. It taught me that despite the strength of my convictions, nuance was a necessary part of a compelling argument.
Dorm Life:
1.) Describe the dorm life in your school - what did you like most about it?
I loved living around my friends, and I had a single in both my junior and senior year. I definitely made friends more easily that way. I liked that the late check-in at the dorm often turned into a social time, with snacks and almost pajama parties. The dorm parents were mostly very kind and considerate. There was a kitchen at each dorm, which I found very useful, although it can be difficult to share the kitchen with thirty others.
Dining:
1.) Describe the dining arrangements at your school.
The staff were very friendly, and the school was always on the way to improve the dining options. The salad bar was great. There was pineapple each morning, and it may have been one of the primary reasons I got out of bed on time. There were also a few themed events - e.g. MLK day and the World Hunger Day, where it was randomly determined what kind of a meal you would get to mimic how poverty and hunger affect the world population.The hours were reasonable, with dining halls open three times a day. There was no assigned seating, however, it was semi conventional that underclassmen sit in the new dining hall and upperclassmen in the old one.We also had family style dinners, where we had to sit with our dorm mates and dorm parents and had to rotate being waiters for the night. I remember barely having time to shower and dress up for those, but they definitely taught me to make more polite conversation.
Social and Town Life:
1.) Describe the school's town and surrounding area.
Windsor is... fairly low key. There is a tavern very close to the school, and it serves the best nachos I've ever tried. I spent a lot of time biking around, as it gave me more mobility. I biked to a nearby Target just to get to Starbucks, which felt like an adventure. There were a few fun antique stores in town, but not much else otherwise. I guess there was a grocery store nearby, which was good.
2.) Describe the social life at your school - what did you like most about it?
I liked that the boarding students from far away were very close -- the people who don't go home on weekends become friends very quickly. There was no rigid popularity hierarchy, either, and people were mostly friendly with each other. I liked that it was never too late to make friends, and seniors socialized with freshmen quite often. I got a lot of useful advice that way.
Approachable teachers and staff, overwhelming pride in the school from everyone on campus. Close relationship of day students and boarding students. Post graduate students integrated very well into the senior class. . .
The close-knit campus. The fact that the campus was small (or at least the buildings being so close together) made everyone close like a family. It made my transition from my class with a graduation. . .
The location of the school definitely shaped the school dynamic of Loomis. It isn't necessarily isolated but it's formed in a very large location of its own. As a result, Loomis is very secure for. . .
Show more reviews (

27 reviews

)
Mastering the Boarding School Selection Process: A 5-Step Guide
Discover the ultimate 5-step guide to choosing the perfect boarding school for your child. Explore essential factors, such as academics, campus facilities, extracurricular activities, and more. Make an informed decision to provide your child with an enriching and transformative educational experience. Read now!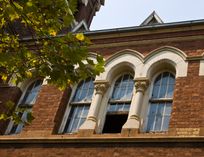 5 Founders and Their Boarding Schools
What prompts somebody to start a boarding school? The motives range from idealism to munificence right on through to capitalism. The common thread seems to be ample capital and a vision of what education can do.